1934 SS 1 4-Light Saloon BHX 234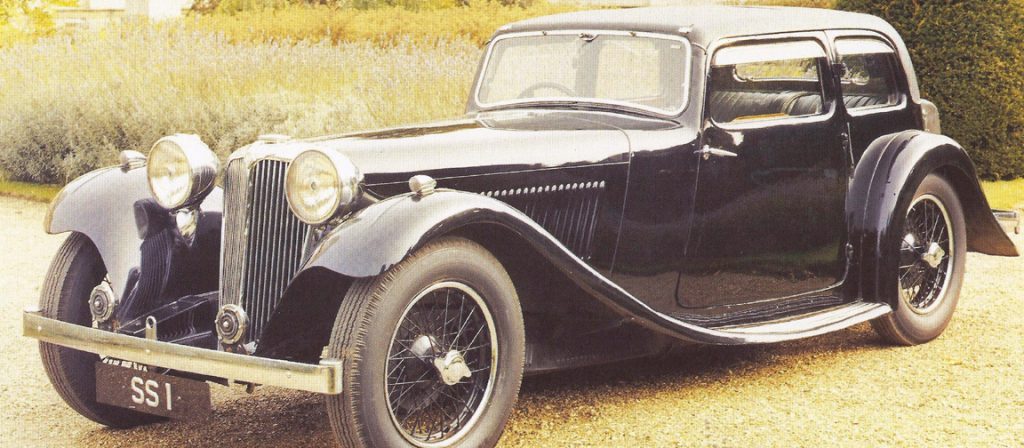 The SS1 was produced in various forms between 1931 and 1936, a time of immense upheaval in Britain and the rest of the World.  The beginning of this period of our history was marked by a severe financial crisis which eventually caused the value of the pound sterling to fall by around one third.  By 1932, unemployment in Britain had risen to three million and that state of affairs was mirrored in America, where fifteen million people were out of work, and in the rest of Europe. Governments around the World took the view that the only way out of the crisis was to reduce the cost of goods and of wages.  With less money around, the car manufacturers were driven to find ways of producing cars at an ever cheaper price.
William Lyons, the founder of the company, knew what he wanted and he persuaded Standard Cars to modify an existing chassis and one of their engines for Swallow's exclusive use.  The result was the new SS1 – a car that had been designed by Lyons and his team.
The revised SS1 that was introduced in 1932 had an extra seven inches in the chassis.  This allowed more room in the rear seat so that the car could take four adults in comfort.  The comfort of the rear seats was emphasised by their armchair-like design.  In reality, this was brought about by the fact that the transmission tunnel intruded into the body.  The centre armrest, which was a permanent fixture, camouflaged the tunnel.
The main benefit of this new model was that the rear seat passengers had side windows for the first time.  The earlier models had been styled to look like drophead coupés and the area of the body alongside the rear seats had no windows.  On 26 October 1933 Lyons registered a new company – SS Cars and, in due course, the Swallow name faded from the scene.
The cars that were exhibited in that year had new engines – 2,143 cc and 2,663 cc as well as having synchromesh on 2nd, 3rd and 4th gears.  Self-cancelling trafficators were fitted as well as reversing lamps and the SS badge appeared on the radiator for the first time.
Registration Mark: BHX 234
Chassis Number: 248270
Owner: The Jaguar Daimler Heritage Trust
Inventory Number: 27/S.14
Price when new: £340
Price: 118 Weeks Average Wage