1962 Jaguar Mark X 3.8 Litre - Sir William Lyons' Car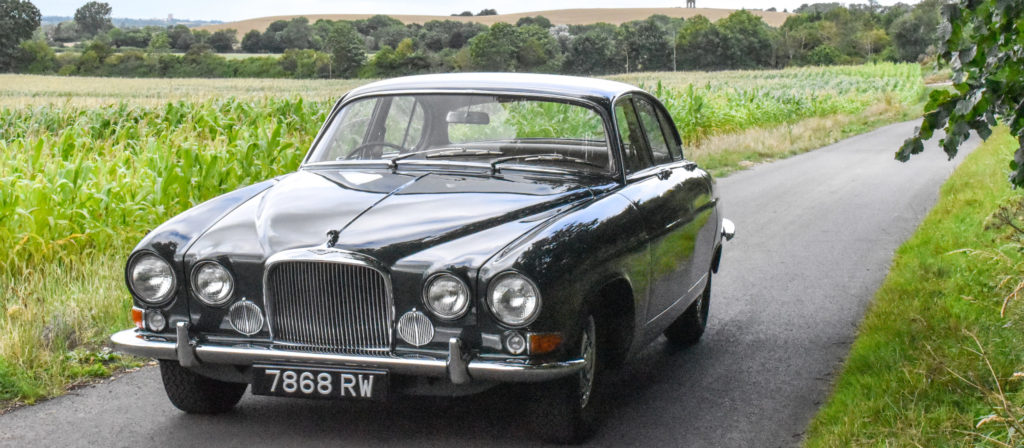 This is Sir William Lyons' personal Mark X saloon registered in 1962 but built, on 17 December 1961.  7868 RW wasn't entirely standard having the automatic transmission option, plus power-assisted steering.  It also had six coats of opalescent dark green paint as opposed to the production norm of two, and had electric rear windows added to those normally fitted at the front.  The walnut-veneered picnic tables on the backs of the front seats were standard Mark X features, but these incorporate flip-up mirrors for last-minute checks before disembarking.
After a couple of year's use it was sold by Jaguar's main agent in Cheltenham in 1966 and the owner kept it until his death in 2011 when it was sold.  It changed hands again in 2014 and was restored both mechanically and cosmetically following which it was acquired by the new owner of Sir William's house at Wappenbury Hall on the edge of Coventry.  He was kind enough to loan the car to the Trust for display in the Collection Centre during 2021 and 2022.
We have now convinced him to part with it.  In May 2023 we collected it from Wappenbury Hall and it is in the process of undergoing some light re-commissioning work before we put it on display alongside Sir William Lyons' XJ6 PHP 42G.
The Mark X was launched in October 1961 to replace the ageing Mark IX and was the biggest car Jaguar had built, weighing approximately 2 tonnes.  It was 5½ in (14 cm) longer than the car it replaced and although only 3 inches wider at 76 in (6ft 4 ins – 193 cm) its lower bonnet line made it appear even wider.  Launched in the same year as the E-type, but at the autumn London Motor Show, so as not to detract from the E-type launch in Geneva, it benefitted from being fitted with the same independent rear suspension system designed by Jaguar engineer Bob Blake.  This gave the car an exemplary ride and road-holding despite its size.  The car was fitted with the same 3.8 litre XK engine, with triple SU carburettors.  The launch price was only £2,500 including purchase tax, continuing Jaguar's reputation for producing high performance, well finished cars, that were excellent value.
Jaguar tried installing the 4.5 litre V8 engine which they inherited when the company bought Daimler in 1961.  While it fitted into the engine bay and increased both acceleration and top speed, the Daimler production line could not produce engines in sufficient quantity, so in 1964 the 3.8 litre XK engine was replaced with the enlarged 4.2 litre version, which also went into the E-type.  In 1966 the model designation was changed to 420G prompted by the American market with 420 representing the engine and G meaning Grand.
In 1968 Jaguar launched the ground-breaking XJ6 saloon to replace both the Mark II compact saloon and the 420G.  Jaguar had produced only 25,211 in the nine years from 1961 to 1970 and it wasn't long before they were selling more than 25,000 XJ6s in a single year.
Registration Mark: 7868 RW
Chassis Number: 300044-BW
Owner: Jaguar Daimler Heritage Trust
Price when new: £2,500
Price: 227 Weeks Average Wage