1966 Daimler 2½ Litre V8 Saloon FTA 848D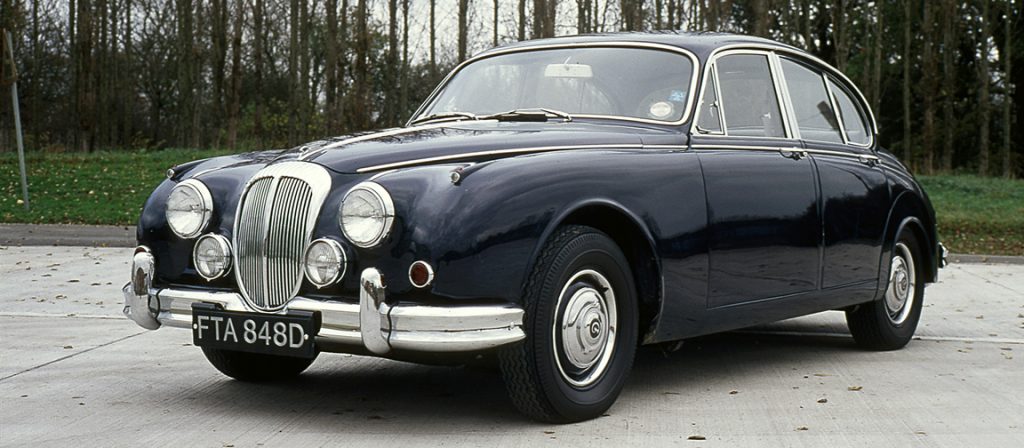 This dark blue car, built in October 1965, was originally supplied to an owner in Devon who kept it until 1993.  It then went into a private collection and was the subject of extensive restoration work, before being purchased for the Jaguar Daimler Heritage Trust in 1998 with a documented mileage of 89,000.  This is a fine example of the car which represents a milestone in Daimler history, combining the best characteristics of both the Daimler and Jaguar marques.
The Daimler company was purchased by Jaguar in 1960, and it did not take the engineers at Jaguar long to realise the potential of the Daimler 2½ litre V8 engine, designed by Edward Turner.  With very little work, the engine was adapted to fit the Mark II saloon.  Little other mechanical work was required, other than revising front suspension spring rates due to the lightness of the aluminium V8. The Borg Warner type 35 automatic gearbox was fitted as standard.
Externally, the Daimler was distinguished from the Jaguar by the fitment of a fluted grille and boot plinth, a swept 'D' on the bonnet and hubcaps, and a Daimler script on the bootlid.  Inside, the Jaguar dashboard was retained, but a split bench front seat was fitted, with a revised centre console.  Veneer quality was improved, and a bold 'D' was featured on the steering wheel.
Without incurring vast development costs, the new model gave the Daimler marque a new lease of life, satisfying the Daimler dealers and customers.  Launched in 1962 it was aimed at a more traditional and professional clientele, which was reflected in the price £1,568, around £100 dearer than the equivalent Jaguar.  The new Daimler saloon outperformed the 2.4 litre Jaguar, by having a 0-60 mph time of 13.8 seconds, and a top speed of 110 mph.  The model offered remarkable standards of smoothness and quietness.
Total production was 13,018 vehicles between 1962 and 1967, with a further 4,897 examples of the revised V8-250 until 1969.
Registration Mark: FTA 848D
Chassis Number: 1A/9671-BW
Owner: The Jaguar Daimler Heritage Trust
Inventory Number: 061/D.30
Price when new: £1,568 19s 7d
Price: 102 Weeks Average Wage