Stirling Moss
Racing Driver for Jaguar from 1950 to 1954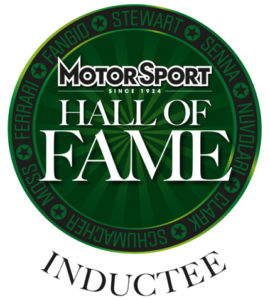 Sir Stirling Craufurd Moss, OBE (born 17 September 1929) is a British former Formula One racing driver.  An inductee into the International Motorsports Hall of Fame, he won 212 of the 529 races he entered across several categories of competition and has been described as "the greatest driver never to win the World Championship".  In a seven-year span between 1955 and 1961 Moss finished as championship runner-up four times and in third place the other three times. 
Stirling Moss first drove a Jaguar in competition in 1950 which led William Lyons to ask him to lead the Jaguar Team, on the day before his 21st birthday!   He drove for Jaguar Cars until the end of 1954 and remains a dedicated Jaguar fan. 
Sir Stirling died on 12 April 2020, at age 90, after a long illness.
In 2004 Sir Stirling talked at length to François Prins about his life with Jaguar.
Stirling Moss was born to racing, as both his parents were involved in motorsports.  His father Alfred Moss raced, pre-war, at Brooklands and when his studies took him to America he raced at Indianapolis.  Stirling's mother competed in various trials and rallies.  Alfred Moss bought an old Austin Seven for his nine-year-old son, who would drive it around the fields surrounding their home.  The family was also involved in horses and competitive riding which saw Stirling and his sister Pat entering various horse show competitions.  While his sister continued to compete, Stirling's heart lay more in horsepower of the mechanical variety.
It was show jumping that allowed Stirling to realise his dream of driving cars competitively, but it did not go smoothly, as Sir Stirling remembers: "I had already owned a small three-wheel Morgan and was using an MG for daily transport.  I had some money from show jumping and ordered a racing car with an Aspen engine, without my father knowing.  He then found out and blew his stack!  He also cancelled the order and said, 'No son of mine is going to do this'.  Anyway I had to massage him quite a bit and he said, 'Well you can borrow my BMW' I am talking about when I was sixteen. He lent me his BMW to do a certain amount of sprints, this was in 1947. Then in 1948 I said to him that I really would like to buy a car, he relented and agreed and suggested we use the horse-box without the centre divide to take it around."
There were still obstacles in the way, as Alfred Moss was still not certain about a racing career, as Stirling says, "My father was a successful dentist and he hoped I would take over the family business.  But my indifferent school record made that impossible."  Moss was sent to a 'crammer' but this was also unsuccessful.  Then at the age of seventeen it was decided that the young Moss would go into the hotel trade.  His training included serving as a waiter and later night porter – another occupation he was totally unqualified for.  There was no contest.  Stirling was born to drive cars.
Fortuitously, the Mosses had a former German prisoner-of-war working on the farm, and he had worked at BMW in pre-war days.  So he accompanied the family as the mechanic on hill climbs.  "My father was very good, I owe a lot to him.  He would check the car after each practice and change something to make it more efficient.  He explained what he was doing, so I had a grasp of basic engineering from early on.  There were few races in those days, Goodwood and Silverstone, but not much else," recalled Moss. 
"So we went to Italy and won the class at Lake Garda.  When 1950 came along, John Heath had already signed me up to drive for HWM, but I was going too fast for my experience.  I was very inexperienced.  No one would give me a car.  I tried MG, Jaguar and others.  It was my age and lack of experience that held me back.  The Dundrod RAC Tourist Trophy (TT) was the classic race and I wanted to take part.  Then Tommy Wisdom came to the rescue.  He had a Jowett and asked me if I would like to borrow his XK120, which were like hen's teeth then, but he told me that we could share the car fifty-fifty.  It was fantastic."
Moss went over to Dundrod with his precious car to take part in the Dundrod Tourist Trophy Race on 16 September.  Moss led from the start and won the 1950 race at an average speed of 75.15 mph (121 km/hr); two of the other XK120s in the race came second and third.  That particular event was run in appalling weather conditions, which was beneficial to Moss.  "It was pouring with rain, therefore one could not use the brakes that hard otherwise the wheels would lock up, which saved the brakes.  At that time the brakes on the Jaguar were as good as you could get, but that was not very good, as there were no disc brakes then.  It was a difficult track, with some dangerous corners, but the Irish were great, they came out in the rain and really enjoyed it enormously.  I really enjoyed driving that car.  It was one of the best looking cars in the world, I was very proud to drive it."
This race win meant that Moss came to the notice of William Lyons.  "Mr. Lyons came and saw me that evening and invited me to lead the Jaguar team the following year.  I was delighted, it was on the eve of my twenty-first birthday, so that was an excellent present."  It was the first time that Moss had met Lyons, and as he put it, "I had not met anyone at all, as I had been in Europe and racing in this country at meetings they (Lyons and others) would not be at.  It's not like it is now.  I flew back to England that night and raced at Brands Hatch the next day in a Cooper."
Moss continued to race his Cooper and in May 1951 led the Jaguar works team in the annual Production Sports Car race held at Silverstone in conjunction with the International Trophy.  Once again Stirling Moss won the race, driving his XK120 at an average 84.5 mph (136 km/hr).  Jaguar XK120s took the first five places.
Moss continues: "In 1952 I did the Mille Miglia, in the C-type, with Norman Dewis as my passenger.  Again in the pouring rain and we were doing reasonably well, we got up to third or fourth, but ultimately something did break and we were out of the race."  The C-type that they were driving was fitted with experimental disc brakes (the first international race for a disc brake equipped car) and did give trouble, mainly in keeping up with the Mercedes-Benz 300SL coupé.  Moss sent a telegram back to Browns Lane with, "Must have more speed at Le Mans."  This spurred the team on and Malcolm Sayer altered the body of the C-type.
In June that year Moss won the Grand Prix de France at Reims.  He drove a C-type, fitted with Dunlop disc brakes, at an average speed of 98.2 mph (158 km/hr) in the Sports Car Race.  Two months later he came first – driving a C-type – at the West Essex Daily Mail meeting at Boreham.  The faith Lyons had placed in the young Moss was justified.  All that remained was to get the cars right for Le Mans.
However, there were other things for Moss to deal with, and one that he remembers with fondness:  "It was at Montlhéry.  We took a Jaguar XK120 and established new records in the World's and Class C International Records.  We averaged 105.55 mph over 72 hours.  We also took the four days' record, the 15,000 kms, 10,000 miles and 10,000 kms records.  It was over seven days and the XK never gave any trouble.  I have always thought it is a hell of an achievement, to take a normal production car, which it genuinely was, and go to Montlhéry, which is very rough, and four of us thrashing about in it at an average 100 mph.  Going round day and night."
This XK120SE LWK 707  is now with JDHT and in recent years Moss has been reunited with the car.  His co-drivers were Bert Hadley, Leslie Johnson and Jack Fairman.  [For more details of the Montlhéry record breaking 24/7 run see the Leslie Johnson page.]
He was also busy testing the disc brakes.  "I did a lot of work on that as I had more time between races at the time.  We had enormous amount of problems.  I remember going up the escape road time after time, as I had no brakes at all.  The heat seal would go and the brakes would boil, all I had was air, no brakes.  Of course when I came in and said that I had no brakes, they tested them and found them working.  They had cooled down by then so of course they worked!  I had to take them out and show them.  Dunlop worked on the problem and cured it.  We take it for granted now."
In 1953 the Jaguar team was back at Le Mans with a much-improved C-type.  Moss and Dewis had worked hard on the problems with brakes and the small team at the factory prepared the cars.  The Jaguars faced stiff opposition but the C-types finished first, second and fourth.  Tony Rolt and Duncan Hamilton sped into first place at an average 105.841 mph (170.329 km/hr), with Moss and Peter Walker second.  Peter Whitehead and Ian Stewart took fourth place.  This was the first time a disc-braked car had won at Le Mans and the first time the average speed exceeded 100 mph.  To complete the sweep, a privately-entered C-type, with drum brakes, driven by Belgians Roger Laurent and Guy De Tornaco took ninth place.  It was a magnificent race win that is still talked about.
Driving C-types in 1953, Stirling Moss won the Reims 12-Hour Race and the Dundrod TT.  He was also pleased to race production cars and take part in various rallies, as he says,  "That was the great thing to me in those days, the complete spread.  For example, the Daily Express Trophy Race was important, it was not a World Championship, but the same people would come as they paid good money. 
There I would be allowed to drive in three or four events, the Grand Prix, then the sports car race, touring car race and a thing called Race of the Champions.  They would take six champions from various countries, give them identical Jaguars and then we would go out and race against each other.  They did not pay anything!"
By now the Jaguar D-Type was ready to be tried on the circuit.  Moss preferred the earlier car.  "I did not like the D-Type as much as the C-type, that was great for normal use, not for Le Mans, for that the D-Type was excellent with its aerodynamic body.  The C-type was a really nice car; the D-Type was never such a user-friendly car.  I think maybe now, with the modifications people have done, it probably is."
Race results – Jaguar Related
Year

Date

Race

Result

Car / Co-driver

Entrant / Team
(if not himself)

1950
16 September
RAC Tourist Trophy, Dundrod, Northern Ireland
1st
Jaguar XK120
Tommy Wisdom
 
September
Montlhéry, Paris – 24 hour record run.
The first time a production car had averaged over 100 mph for 24 hours.
107.46
mph for
24 hours
Jaguar XK120 with
Leslie Johnson
Jaguar Cars Ltd
1951
29 April
Mille Miglia, Italy
DNF
Jaguar XK120 with
Frank Rainbow
Jaguar Cars Ltd
 
5 May
Silverstone Sports Car Race
1st
Jaguar XK120
Stirling Moss
 
23-24 June
Le Mans 24 Hours
DNF
Jaguar C-type XKC002 with Jack Fairman
Stirling Moss
 
15 September
RAC Tourist Trophy, Dundrod, Northern Ireland
1st
Jaguar C-type
Jaguar Cars Ltd
 
29 September
Goodwood September Meeting (Sports)
1st
Jaguar C-type
 
 
29 September
Goodwood September Meeting (2nd Handicap Sports)
1st
Jaguar C-type
 
1952
14 April
Goodwood Easter (1st Handicap Sports)
4th
Jaguar C-type
W. Lyons
 
4 May
Mille Miglia, Italy
DNF
Jaguar C-type with
Norman Dewis
Jaguar Cars Ltd
 
10 May
Silverstone International
1st
Jaguar C-type
W. Lyons
 
10 May
Silverstone International (Champions)
1st
Jaguar XK120
Jaguar Cars Ltd
 
2 June
Grand Prix, Monaco
DNF
Jaguar C-type
Jaguar Cars Ltd
 
15 June
Le Mans 24 Hours
DNF
Jaguar C-type XKC011 with Peter Walker
Peter Walker
 
29 June
Reims, Grand Prix
1st
Jaguar C-type
Tommy Wisdom
 
2 August
Boreham International
1st
Jaguar C-type
Bill Cannell / Tommy Wisdom
 
6 to 12 August

Montlhéry, Paris – record breaking run. 

First car to run at over 100 mph for 7 days and 7 nights

100.31 mph for 7 days and 7 nights
Jaguar XK120 FHC LWK 707 with
Leslie Johnson,
Bert Hadley and
Jack Fairman
 
 
16 August
Goodwood 9 hours
5th overall  1st in class
Jaguar C-type with
Peter Walker
W. Lyons
 
23 August
National Turnberry (S+1.5 Final)
1st
Jaguar C-type
 
 
23 August
National Turnberry (S+1.5 Heat 2)
1st
Jaguar C-type
 
 
27 September
Goodwood International 
2nd
Jaguar C-type
Bill Cannell / Tommy Wisdom
 
4 October
National Castle Coombe (S+1.5)
DNS
Jaguar C-type
 
 
11 October
Charterhall International (Sports Unlimited)
2nd
Jaguar C-type
Tommy Wisdom
1953
26 April
Mille Miglia, Italy
DNF
Jaguar C-type with Mortimer Morris-Goodall
Jaguar Cars Ltd
 
9 May
Silverstone International
7th
Jaguar C-type
Jaguar Cars Ltd
 
14 June
Le Mans 24 Hours
2nd
Jaguar C-type XKC053 with Peter Walker
Jaguar Cars Ltd
 
18 June
British Empire Trophy
4th
Jaguar C-type
Jaguar Cars Ltd
 
5 July
Reims 12 Hours
1st
Jaguar C-type with Peter Whitehead
Peter Whitehead
 
26 July
Monsanto, Portugal
2nd
Jaguar C-type
Jaguar Cars Ltd
 
22 August
Goodwood 9 Hours
DNF
Jaguar C-type with Peter Walker
W Lyons
 
5 September
RAC Tourist Trophy, Dundrod, Northern Ireland
3rd
Jaguar C-type with Peter Walker
Jaguar Cars Ltd
1954
13 June
Le Mans 24 Hours
DNF
Jaguar D-type XKC403 with Peter Walker
Jaguar Cars Ltd
 
4 July
Reims 12 Hours
DNF
Jaguar D-type with Peter Walker
Jaguar Cars Ltd
 
11 September
RAC Tourist Trophy, Dundrod, Northern Ireland
14th
Jaguar D-type with Peter Walker
Jaguar Cars Ltd
Driving old cars today is unlike driving them when they were new.  Moss finds that they have been improved with more modern fittings.  Until a few years' ago, Moss raced competitively at various historic events but as he commented in 2007: "At Goodwood, which has remained the same as it always was, when I get to certain corners, which I know I would have taken flat-out when I was a kid, now I ease back a bit.  It is due to age and also my threshold of fear has got closer, so therefore I think 'this is as fast as I want to go', also I was young and professional and racing every week.  I was in a racing car some 170 days a year.   If I were driving the same amount now I would probably be quicker.  I enjoy myself and do the best as I can.  I am as fast as I comfortably can be.  When I was younger, I tried to go faster.  I get a kick out of it, although the races are short, I enjoy it very much.  I also enjoyed driving the Mark VII (Rowan Atkinson's) at Goodwood.  It leans like hell, but it stays on the road and goes where you want it, but you slid about on the bench seat!"
Sir Stirling Moss retired from professional motor racing in 1962 after an horrendous crash at Goodwood, one that saw him in a coma for months and one that he was not expected to survive.  He did survive and from then on became an ambassador for motor sport.  He always gave good value wherever he was and his name guaranteed quality and excellence.  Moss was in demand all over the World and boundless energy kept him on the move.  When we last met a few years' ago he had just come back from Australia and a classic race,  "I really enjoyed that it was very competitive!" He was then planning a trip to the United States, another country that holds him in high esteem.  Moss broke a hip in the summer of 2003 but this did not slow him down much and he made a remarkable recovery.  He commented: "I broke my back when I was racing and so I am a bit stiff first thing, but I work out at home and am soon back to normal.  My scooter had to go as Susie (Lady Moss) thought it was best.  So now I have a Honda Gyro Canopy, really a three-wheeled scooter.  It has this large storage box on the back, and I think I will have to have a tradename painted on.  As it is Susie calls me the 'Yo Sushi' delivery driver.  It is marvellous around London, there is no other way I can get around quickly to my various appointments."
Apart from the Honda, Moss used to drive a Jaguar X-Type, of which he said in 2003:  "It is a lot better that I thought it might be!  I like the four-wheel drive; it's very good.  My regret is that living in London the automatic gearbox would be better.  I have the manual version.  I am looking forward to the diesel version when it comes out.  I still take a great interest in cars as they come out and do some testing of cars for the Orient Express magazine from time to time."  During 2015 Moss and his wife did have an Aston Martin Cygnet for use in London as it was small (Smart car size), easy to park and bore that famous name.
I asked about his name.  "Well my father stamped on my mother's idea to call me Hamish.  Imagine Hamish Moss!  She was Scottish and had ties with Stirling, so that was the name.  It also means that people remember my name, after all I drove 525 races in 84 different types of car.  People remember my name, even though I retired in 1962; people still like to consult me about things.  It's rather nice.  I have had a good life and enjoy myself."
Stirling Moss remains dedicated to Jaguar.  Apart from his X-Type he bought the ex-Graham and Peter Walker C-type, which won at Goodwood in 1953.   Don Law prepared it for him to race.  "I hope to race the C-type at the Monaco Historics next year (2005)."  Moss has since sold the car, which he did not really want to do but as he could not race it much it had to go.
Moss has various business interests, the main one is property in London, which keeps him busy, and he is not beyond tackling some maintenance jobs himself.  "I always think if you want something doing, do it yourself.  It never gets done if you wait, and I am not good at delegating!"  What does he think of the current racing scene?  "I enjoy watching and I follow the season, but I think that I was very lucky to have been racing when racing was fun.  I had complete flexibility, the people I was racing for were very realistic, they would give you quite a lot of freedom.  I am glad I am not racing now."
Sir Stirling's health deteriorated during the latter half of the 2010's and he retired from public life in January 2018. 
His death was announced on 12 April 2020, at age 90, after a long illness.
To the Jaguar community Moss will always be a racing legend.
Author: François Prins
Race results from www.RacingSportsCars.com
© Text and Images – Jaguar Daimler Heritage Trust
Sources and Further Reading:
Sainty, Peter J, An Artist at the Game (Peter J Sainty, 2011)

Parker, Chas and Porter, Philip, Jaguar C-Type: The Autobiography of XKC 051 (Porter Press International Ltd, 2017)

Porter, Philip and Page, James, Jaguar Lightweight E-Type: The Autobiography of 49 FXN (Porter Press International, 2017)

Roe, Geoff, Bert Hadley A Son of Birmingham: A Tribute (The Pre-War Austin Seven Club Ltd, 2013)

Harvey, Chris, E Type: End of an Era (The Oxford Illustrated Press 1977)

Grimsdale, Peter, High Performance: When Britain Ruled the Roads (Simon & Schuster UK, 2020)

Lord Montagu of Beaulieu and foreword by HRH Prince Michael of Kent, Jaguar (Quiller Press, 1997)

Mennem, Patrick, Jaguar: An Illustrated History (The Crowood Press Ltd, 1991)

Parker, Chas, Jaguar D-Type: Owners' Workshop Manual – 1954 Onwards (All Models) (Haynes Publishing, 2017)

Elmgreen, John, Jaguar D-Type: The Story of XKD 526 (Porter Press, 2020)

Whyte, Andrew, Jaguar: The Definitive History of a Great British Car (Patrick Stephens Limited, 1990)

Porter, Philip, Jaguar: E-Type The Definitive History (Porter Press International, 2015)

Martin, Brian James, Jaguar: From the Shop Floor (Veloce Publishing Ltd, 2018)

Berry, Robert, Jaguar: Motor Racing and the Manufacturer (Distributed by E.P. Dutton, 1978)

Porter, Philip, Jaguar: Sports Racing Cars (Bay View Books, 1995)

Clausager, Anders Ditlev, Le Mans (Littlehampton Book Services Ltd, 1982)

Skilleter, Paul, Norman Dewis of Jaguar: Developing the Legend (PJ Publishing Ltd, 2017)

Porter, Philip and Skilleter, Paul, Sir William Lyons: The Official Biography (Haynes Publishing, 2001)

Porter, Philip, Stirling Moss: The Definitive Biography – Volume 1 (Porter Press International, 2016)

Bingham, Phillip, The All-American Hero and Jaguar's Racing E-types (Porter Press International, 2020)

Porter, Philip, The Most Famous Car in the World: The Story of the First E-type Jaguar (Cassell, 2000)

Wilson, Peter D., XJ13: The Definitive Story of the Jaguar Le Mans Car and the V12 Engine That Powered It (PJ Publishing, 2011)