The Archive
Jaguar Daimler Heritage Trust is home to the most extensive archive of Jaguar Cars in the world, with records dating back to the 1890s. We preserve and make accessible the documented history of Jaguar Cars and its predecessor companies; from the very beginning of The Swallow Side Car Company, established in 1922, through to SS Cars of the 1930s and up to the present day custodians, Jaguar Land Rover. We also collect records from the Lanchester and Daimler marques, which were both acquired by Jaguar Cars in 1960.
The archive holds records which celebrate Jaguar Cars' corporate and engineering achievements but also records which contribute to our understanding of the social history of the automotive industry. We ensure that these fascinating and unique records are preserved and enjoyed by future generations.
Collections include*:
Original product and build related documentation
Company business records including original Minute Books and Annual Reports
Extensive photographic and moving images collections
Memorabilia, artefacts and engineering artefacts- including clothing, trophies and leapers
Technical literature such as owners' handbooks, workshop service manuals and parts lists
Original engineering information
Advertising and Marketing records such as Sales brochures and Advertisements
Magazines and Rare Books
Racing and Competition Department records
Original Artwork and Posters
Personal papers of prominent employees, including Sir William Lyons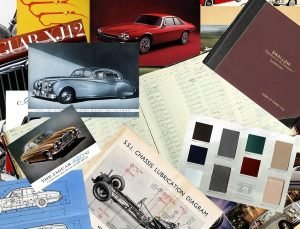 * Please note, some of our collections are not available to the general public and are subject to statutory closure periods or restrictions in line with Intellectual Property and Data Protection Legislations.

We provide a variety of services where enthusiasts, owners, researchers and broadcasters/ publishers can enjoy and access the unique Jaguar Daimler Heritage Trust Archive. Charges will apply. All income generated is put towards the work of Jaguar Daimler Heritage Trust in its role of preserving the heritage of Jaguar and its predecessor companies for the future.


Services Available:
Heritage Certificate: This is a certified copy of a particular vehicle's entry from the original build records. Please click here for further details.
Paint Codes: This is a certificate which supplies the original paint name and code as well as the colour codes used by different manufacturers. Please click here for further details.
Technical Data Certificate: This is a certificate which provides the technical information for a particular vehicle (dimensions, weight, power, engine capacity etc.). 
Vehicle Specification Sheet: This is a certificate which provides the details of a particular vehicle's specification including optional extras. 
Statement of Build Certificates: This is a certificate which provides the date of a particular engine or body. 
Research Services: We can undertake private research for researchers unable to visit the Archive. Please click here for further details.
Access to Archive Records: We welcome researchers who would like to visit and consult original archival material. Please click here for further details.
Images and Moving Footage: We can provide high-resolution digital copies of archival photographs and moving footage for personal and commercial use. Please click here for further details.

For any Archive enquiries, please contact enquiries@jaguarheritage.com