Chief of Engine Development at SS Cars and then Jaguar
While the names of William Lyons, Malcolm Sayer and William Heynes are well-known in the history of Jaguar Cars, there were also others who contributed to the success of the Coventry marque; one of the most gifted was Claude Baily.
These days the process of designing and engineering cars is extremely complex and involves a myriad of highly qualified engineers, designers, technicians and systems experts. The resulting car or component is researched and reviewed by a whole range of management and potential users before being finally signed-off for production. Back in the 1940s and '50s, and certainly in the smaller concerns like Jaguar, decisions were made by a handful of influential key men. Claude Baily was one such man.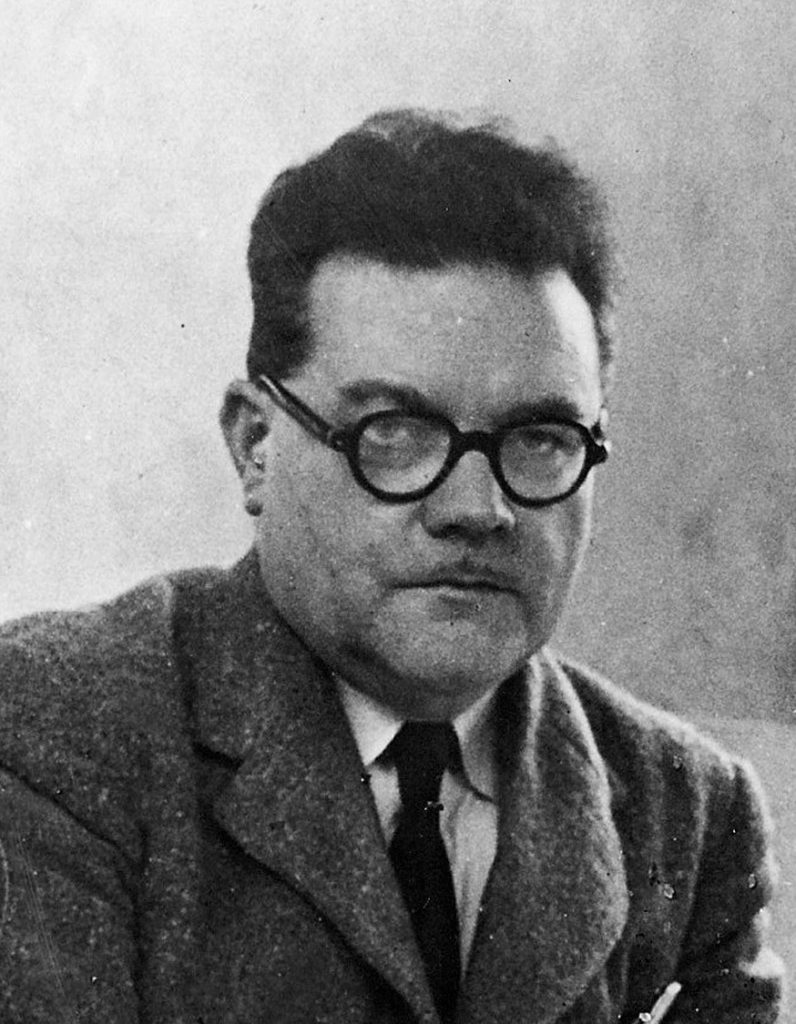 Early Life and Apprenticeship at British Anzani Engine
Claude Baily was born on 21 September 1902 at Twickenham, Surrey. Baily's father owned and operated his own coachbuilding business and this interested young Claude. However, the engineering background may have been influenced by the fact that his paternal grand-father was Walter Pyton, a civil engineer who had been a pioneer in the design of pneumatic tools and mining equipment. Educated locally Claude Baily was an above average pupil and on leaving school he attended the London Polytechnic in Regent's Street, London, where he studied mechanical engineering. Baily was too young to be conscripted for military service in World War One and was apprenticed to the British Anzani Engine Company.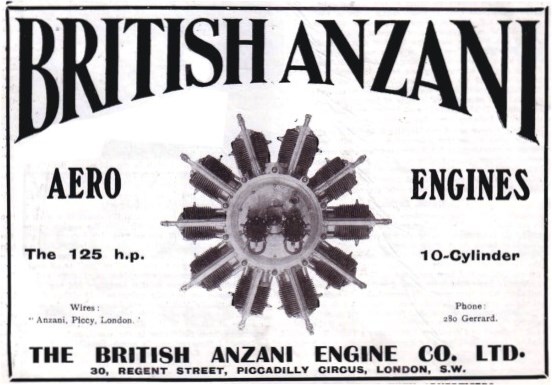 This business had been set up by Alessandro Anzani in 1908 to design and manufacture air-cooled aero-engines. Anzani was a motorcycle engineer and chose a W or fan configuration with three air-cooled cylinders spaced at 60 degrees. These early Anzani engines were, in common with other types of the day, not that reliable.
Indeed when Louis Blériot made the first air crossing of the English Channel in 1909 his monoplane was powered by an Anzani engine and though he made landfall at Dover he was glad of a passing shower of rain which cooled down his engine. In the years that followed Anzani produced many different engines but neglected to test and develop them.  
Baily's apprenticeship would have covered the large Anzani ten, fourteen and a remarkable four-row twenty cylinder design. He assisted the engineers with work on the twenty-cylinder unit but such engines had been superseded by more reliable designs from Rolls-Royce and others. Anzani, therefore, turned to making small engines for the emerging cyclecar and light racing car industries.
One of the projects that Claude Baily worked on at Anzani was for a side-valve, four-cylinder engine of 1,496 cc which was introduced after the War in the Thames-Ditton-built AC Cars 12 hp tourer. This engine had a long life and was developed by AC for use in their Fast Tourer of 1925. Later the side-valve unit was adapted by Baily and others into an overhead twin-cam engine which appeared in the AC catalogue and many years later in the Henly-on-Thames-based Squire TT of 1935. Before that, Baily helped with the design of a water-cooled Anzani V-twin that was one of several different engine options offered on the post 1918 Morgan three-wheeler and also on some other light cars of the time.
Alessandro Anzani retired from business in late 1927 and sold his various engine interests to other manufacturers. British Anzani was purchased by the Coventry Ordnance Works (COW) and they carried on producing the existing Anzani engine types; the Anzani design office and engineering departments were not required and the staff were made redundant. 
Baily was not unemployed for long and worked, variously, for Sunbeam, Villiers and Meadows until 1928 when he joined the Morris Engine works in Coventry as a draughtsman. Here he was soon immersed in the work of the vast Morris empire with engines for commercial vehicles as well as for day-to-day saloons and (later) MG cars. Claude Baily's nine-years at Anzani held him in good stead as, apart from designing engines, he was well-versed in adapting them, thus he was able to update and design in changes required to existing engines with minimal disruption to the production process. This ability of his was noted and in 1931 Baily was appointed Chief Draughtsman to Morris Engines. It is worth noting that the term 'draughtsman' in the 1930s carried far more design responsibility than the same role of today. This new post put Baily at the forefront of engine development for Morris Motors.
Morris had a 10 hp 1,292 cc side-valve engine that was fitted to the 1933 Morris 10/4 and Baily was tasked with converting the engine into an overhead valve (ohv) unit. Work commenced and the ohv engine – coded MPJM – was first used in the Morris 10/4 Series II which was introduced in 1936 for sale the following year. In the event the model only lasted one year but a virtually identical 1,292 cc engine, as the MPJM, was fitted to the 1936 MG TA Midget and the 1937 Wolseley Ten/40. 
In 1936 Baily was appointed Assistant Chief Designer at Morris Engines and, working under Chief Designer Arthur Pendrell, Baily further modified the 1,292 cc engine for the 1939 Morris Ten series M keeping the Morris engines current.
Baily set to work and his designs led him to reduce the stroke from 102 mm to 90 mm and increase the bore from 57 to 63.5 mm for 1,140 cc. The resulting engine was known within the Morris works as the Short-stroke Morris Ten M Engine and coded XPJM. Baily took the XPJM, strengthened its internals, improved the ports and breathing and the engine was used in the 1939 Wolseley Ten/40 Series 3. As the 1,140 cc engine was deemed sufficiently different to be regarded as a new engine, Morris Motors referred to this range as the X series and they were to last from 1938 through to 1956.
Though the TA was a success, MG were not satisfied with its performance and looked to using the XPJM engine. Baily's ohv engine was further developed to give 1,250 cc, and given additional crankcase stiffening, stronger connecting rods, redesigned big end bearings, lighter pistons and a cylinder head with larger valves and ports. As such it was coded XPAG and, with a dry clutch and new gearbox, installed in the 1938 MG TB Midget. 
Unfortunately, the TB was short-lived as with the coming of war, car production ceased as MG turned their Abingdon factory over to manufacture products for the war effort. 
After the cessation of hostilities and a return to car manufacture the XPAG engine was back in production for use in the post-war 1945 MG TC sports and 1951 YA saloon and, as the XPAW, the 1952 Wolseley 4/44 saloon.
Moving On – From MG to SS Cars
When World War Two was declared on 3 September 1939 the motor industry was one of the first to feel the pinch and mobilised for the war-effort. The Nuffield Organisation, of which Morris was a key part (William Morris was made Lord Nuffield in 1934), was geared up to provide materiel for the armed forces. Initially Baily was involved with adapting existing engines for use by the military and also in providing new or revised drawings for Nuffield products that would be used by the military. He also spent brief periods with Electrolux and Rotol adapting auxiliary engines for use in aircraft.
At Swallow Lane, Foleshill, Coventry  William (Bill) Heynes had been following the various engine developments that had been going on during the 1930s and had been impressed by Baily's work at Morris. Soon after War had been declared, Walter (Wally) Hassan of SS Cars was seconded to work on engines at Bristol Aircraft and this left a gap in the SS engineering department. Heynes asked Baily to come and see him and offered him a job at SS Cars as Chief of Engine Development.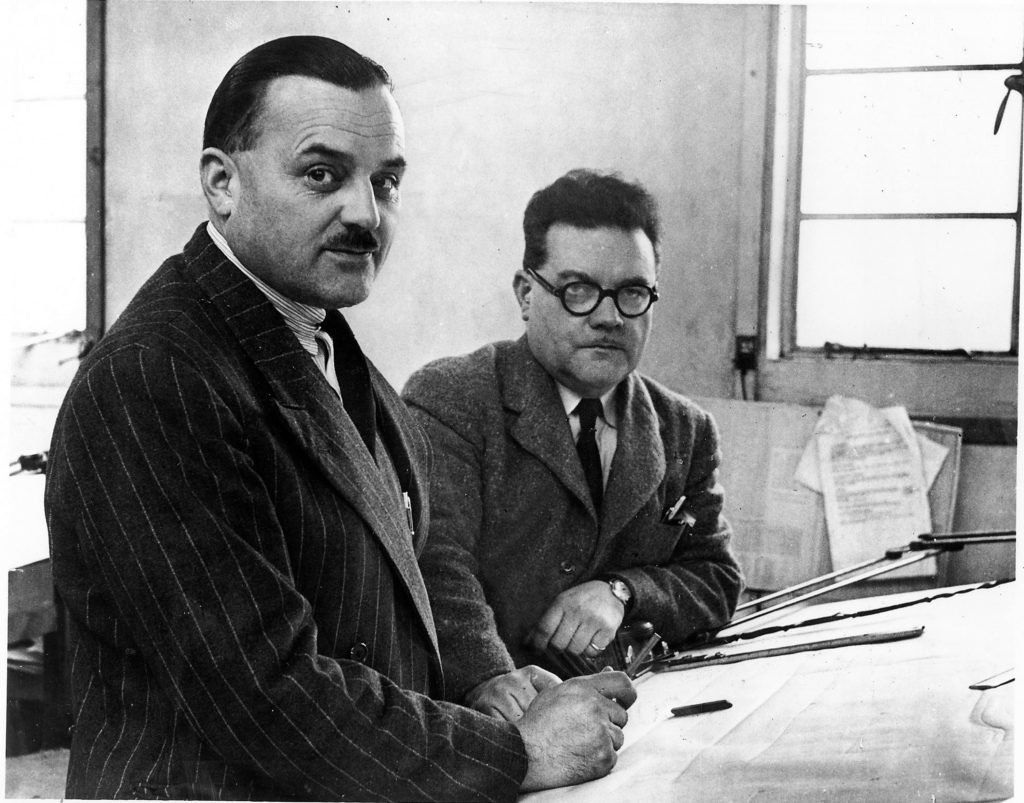 Baily had never liked the politics within the large Nuffield organisation (William Morris became Lord Nuffield in 1934) and was ready to make the move to the smaller business in early 1940. As there was no scope to develop car engines during these war years Baily assisted Heynes with a number of projects to do with aircraft repair, aero engine manufacture and adapting the Swallow sidecars for military use.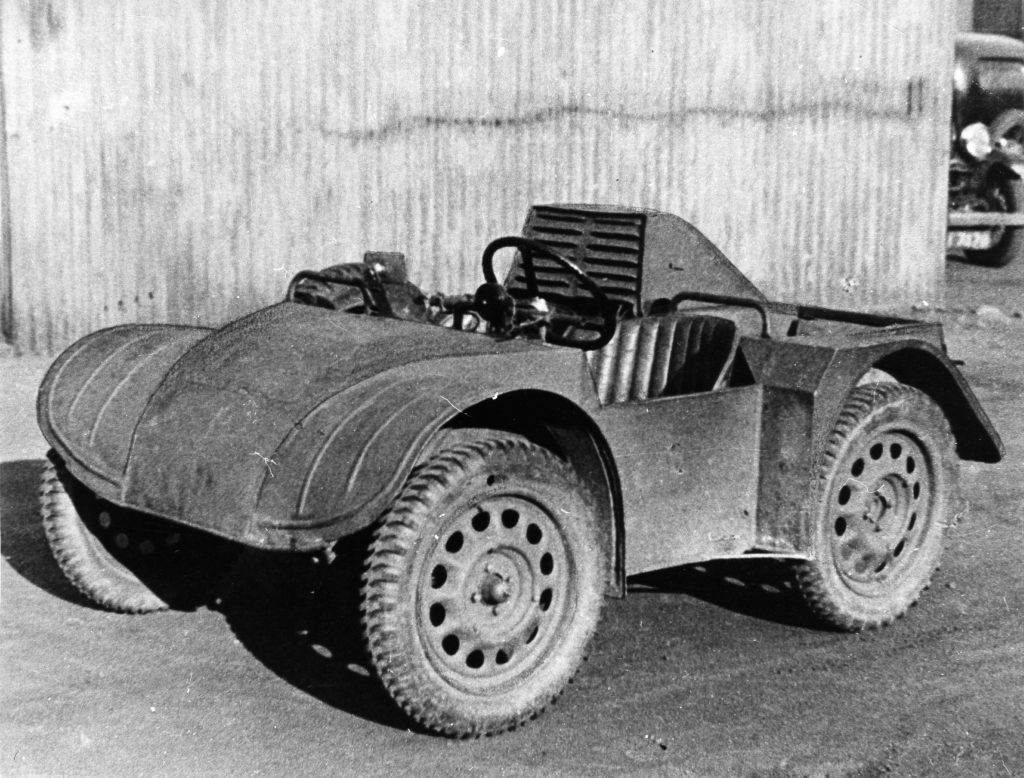 Baily carried on with work on various SS projects with Heynes and later with Hassan, who returned to SS Cars from Bristol Aircraft in 1943. One of the reasons for Hassan's return was to work on a War Department contract for a new vehicle.  
The army wanted a range of lightweight vehicles that could be dropped by parachute alongside airborne troops, land without damage and be driven off straightaway without further assembly.
Hassan led a four-man team, which included Baily, on two designs of a really basic easy-to-manufacture vehicle; the first was quite simple with a monocoque body (a first for SS/Jaguar) made from folded steel and with independent suspension all round. Power was supplied by a 10.9 hp V-twin JAP twin-cylinder air-cooled engine mounted on the right above the back wheels. Given the suffix 'VA' the two-seater was left-hand-drive (it was intended to be dropped into Europe) and trials were carried out. 
The second design was more conventional with four seats and power from a front-mounted side-valve Ford Ten engine driving the rear wheels. Known as the 'VB' the vehicle used many Ford and Standard parts, including the wheels, transmission and some instruments. Long travel independent suspension used coil springs and wishbones at the front and a swing axle arrangement at the rear. An option to fit twin rear wheels was also incorporated but there is no record of the VB being tested in this configuration. 
Both the VA the VB were driven on and off road and were tested against similar vehicles at the Wheeled Vehicle Experimental Establishment (WVEE) at Long Valley near Aldershot, Hampshire. However, the two lightweight vehicles were not developed further, as the Jeep could be air-dropped or carried into theatre by transport aircraft and gliders. The VB prototype was bought by the WVEE and appears to have been used by them for some years after the war.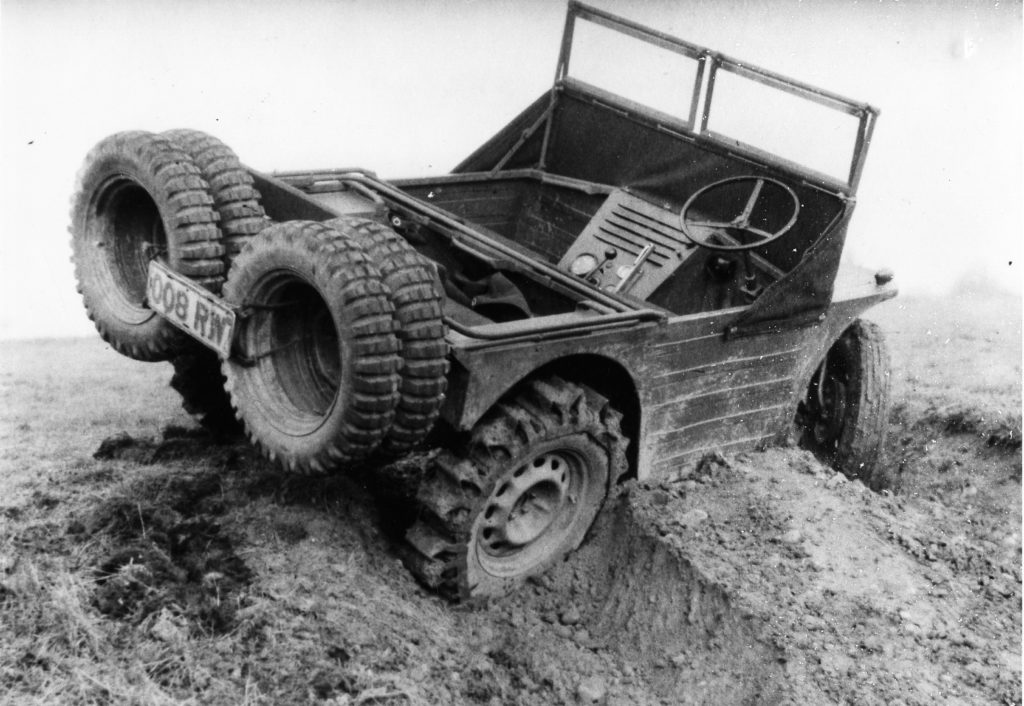 Hassan recalled of the VA: "It was very light, not top heavy like the American Jeep, and was very simply engineered, but it was strong and even though only two-wheel-drive it performed reasonably well but it was just not powerful enough and we moved on to the next idea."
And of the VB: "…many years later they actually wrote to the Jaguar Spares Department ordering some replacement parts!"
Apart from adapting Swallow sidecars for the war, Baily and Hassan also worked on a series of trailers for the military and by the end of the War the range of Swallow-SS trailers and sidecars was quite comprehensive. Along with Heynes, Hassan and William Lyons, Baily found himself on weekly fire-watching duties at Foleshill.  
There were teams around the country, it was their job to take up positions where they could see a raid in progress and keep an eye out to locate the fall of any incendiary bombs. Fortunately, Foleshill was not in the centre of Coventry and escaped any Luftwaffe bombs, though the Swallow-SS works were clearly marked on German maps. The SS fire-watching team used the time to discuss post-war plans for engines and cars.
Perhaps the most famous project was for a post-war engine; this was discussed by Heynes, Hassan, Baily and Lyons during their long hours of weekly fire-watching duties. The engine was of paramount importance as those supplied to SS Cars by the Standard Motor Company would be discontinued.  
In October 1942 John Black, head of Standard, offered to sell the manufacturing tools and equipment for the two six-cylinder (2½ and 3½  litre) engines to SS Cars. Though car production had stopped in 1940, Lyons acted quickly, took up Black's offer and had the various machines and tooling transported to Foleshill. Lyons was thinking of the future and knew that this move would give SS Cars greater independence and the ability to be self-contained as a car manufacturer.
Development of New Engine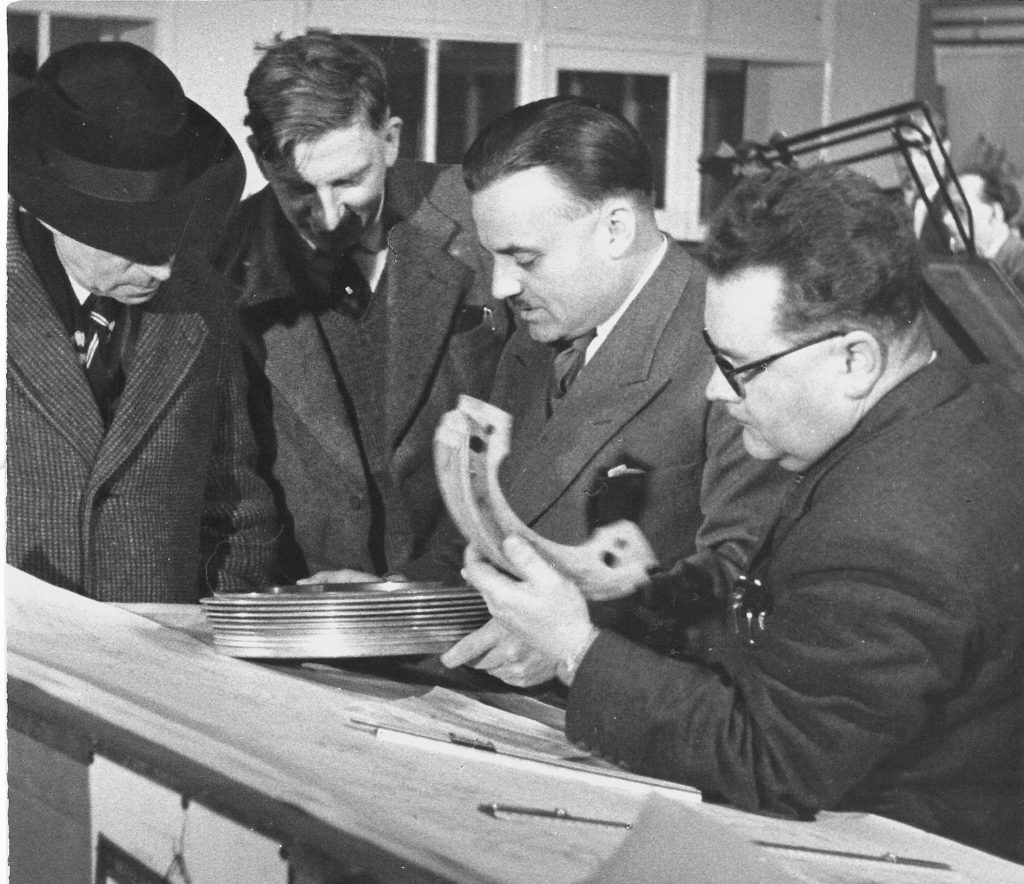 Naturally, the SS engineers were interested to see what could be achieved with the new engine manufacturing facility. Heynes, was keen to build a series of engines with a high power output to keep Jaguar ahead of any competition. The fire-watchers discussed the future and emerging from the talks was the need for a new engine to power a fast new saloon that Lyons had in mind for sale post-war.  
William Heynes later remembered that regarded as essential was "…the need for the engine to be capable of propelling a full-size saloon at a genuine 100 m.p.h. in standard form and without special tuning. To attain this without sacrificing bottom-end performance it was obvious that the normal safe operating range of the engine would have to be increased well above that of any series production engine operating at that time."
Discussions were wide and varied; from a four-cylinder to a V8 and a six-cylinder to a V12. Heynes favoured the double overhead camshaft (DOHC) type of unit that was to be found on some pre-war sporting cars. Lyons also wanted the proposed finished unit to not only be technically advanced, but aesthetically pleasing to the eye.  
It must be noted that the SS engineers worked on a variety of projects and (probably) had the tacit blessing from the Ministry so long as it did not hamper or impede the vital war work. Heynes, Hassan and Baily set to work, any one of these men was more than qualified to produce an innovative design on his own, so having three minds to work on the problem was a great advantage.
Harry Weslake, who had worked with SS on their pre-war engines, was consulted to work on the cylinder heads. Weslake was a very gifted man and able to breathe additional life into engines of all sorts; he had already helped to update the Standard six-cylinder engines pre-war. This Weslake-Standard six-cylinder engine could, if required, be used post-war, so work appears to have been concentrated on a new four-cylinder engine and this led the team in the direction of opposed valves in a hemispherical combustion chamber. Heynes favoured the overhead camshaft layout as this eliminated the need for long pushrods and allowed higher engine speeds, but Hassan and Baily veered towards a proven pushrod design that could provide the required power Lyons wanted, and would be easy to produce and at a sensible price. Having discussed the various options, the DOHC found the most favour and work was focussed on designing such an engine. Although Lyons knew that the engine would cost more, he encouraged the DOHC design and left it to the engineers to develop the concept.
Meanwhile, two separate four-cylinder engines were taking shape. One had a conventional single camshaft and the other a double overhead camshaft. The latter immediately gave the unit a better appearance and one that would satisfy Lyons. Heynes designed a four-cylinder engine with twin overhead camshafts and hemispherical combustion chambers and Claude Baily designed the cylinder head and engine block.
Design Advances from XF to XK
The two four-cylinder engines were developed side-by-side, coded XF and XG. The latter appears to have been bench run first in 1943 and was a four-cylinder unit with a bore and stroke of 76 x 106 mm giving 1,776 cc. Heynes wrote that it was "really a conversion of the existing Jaguar four cylinder push rod engine; the head and valve gear, and also the inlet ports were based on the BMW 328 cylinder head. In the Jaguar design the push-rods and the rockers were found to be difficult to silence to the standard necessary for a touring saloon engine."   
The XG consisted of a newly-designed aluminium alloy cylinder head with hemispherical combustion chambers mated to the Standard 1½ litre block, which had been stretched from 1,608 cc (69 x 106 mm) to 1,776 cc for the 1938 model range. All the valves of the XG were operated from the existing single camshaft, tappets and modified pushrods, up to rockers situated in the near-side rocker box. Hassan described the inlet ports as being 'almost vertical, formed in pairs and connected by a large balanced passage and fed by two 1½ inch bore SU carburettors.'
The XF twin-cam engine was first run on 27 November 1944 and as Heynes later wrote: 'This engine was the first example of a double overhead cam (DOHC) engine made. It was designed primarily to prove the type of head and valve gear, which it did very adequately. We found the crankshaft design was inadequate for the very high speed at which the engine would otherwise operate. Nevertheless, the engine fulfilled its function and gave a lot of sound practical data'.  
The XF was bench run on 'Pool' petrol – a mix of various brands, blends and octane ratings mixed or 'pooled' for use in the rationed private sector. This engine was not without its problems and it failed on 8 December, when 'The flywheel securing bolts sheared before the test could be completed and the engine was removed to the experimental shop for strip and examination.'
When the XF engine was rebuilt and returned to the test bench it was rated at 1,732 cc. Tests had established that the DOHC arrangement of the XF was the best. Both XG and XF units were tested against unmodified Standard engines and proved favourable, but it was the XF that was proceeded with. There was nothing fundamentally wrong with the XG, but its power output was inferior and offered little over the small Standard engine. Eventually both the existing XF and XG were side-lined in favour of another four-cylinder engine design of 1,996 cc.
By now the XF had become far-removed from its original design and Jaguar renamed it XJ; it was a four-cylinder engine with a 76.25 mm bore and 98 mm stroke for a capacity of 1,790 cc. This specification is almost identical with that of the XG and XF engines, but the bugs had been eliminated and a much smoother unit was the result. 
The XJ is generally regarded as the real forerunner to the XK engine. The first coded XK engine listed in the engine test charts was not run until October 1945.  
This was 'XK Engine No. 1' – a four-cylinder unit with a three-bearing crankshaft, a bore and stroke of 76.25 x 98 mm and a capacity of 1,790 cc (probably XJ re-coded).  
The engine was still a small capacity unit similar to the XF, XG and even to the pre-war Standard-SS Jaguar units. However, at this stage, even though Heynes mentions a six-cylinder version (with a bore and stroke of 83 x 98 mm for a capacity of 3,181 cc and run for the first time on 15 September 1947), tests appear to have been carried out on the four-cylinder XK which gave 76 bhp during early trials and later 83 bhp.  
Heynes wrote that the XJ was changed so many times that no accurate drawing could be produced to represent the engine at any stage until it was in a settled state.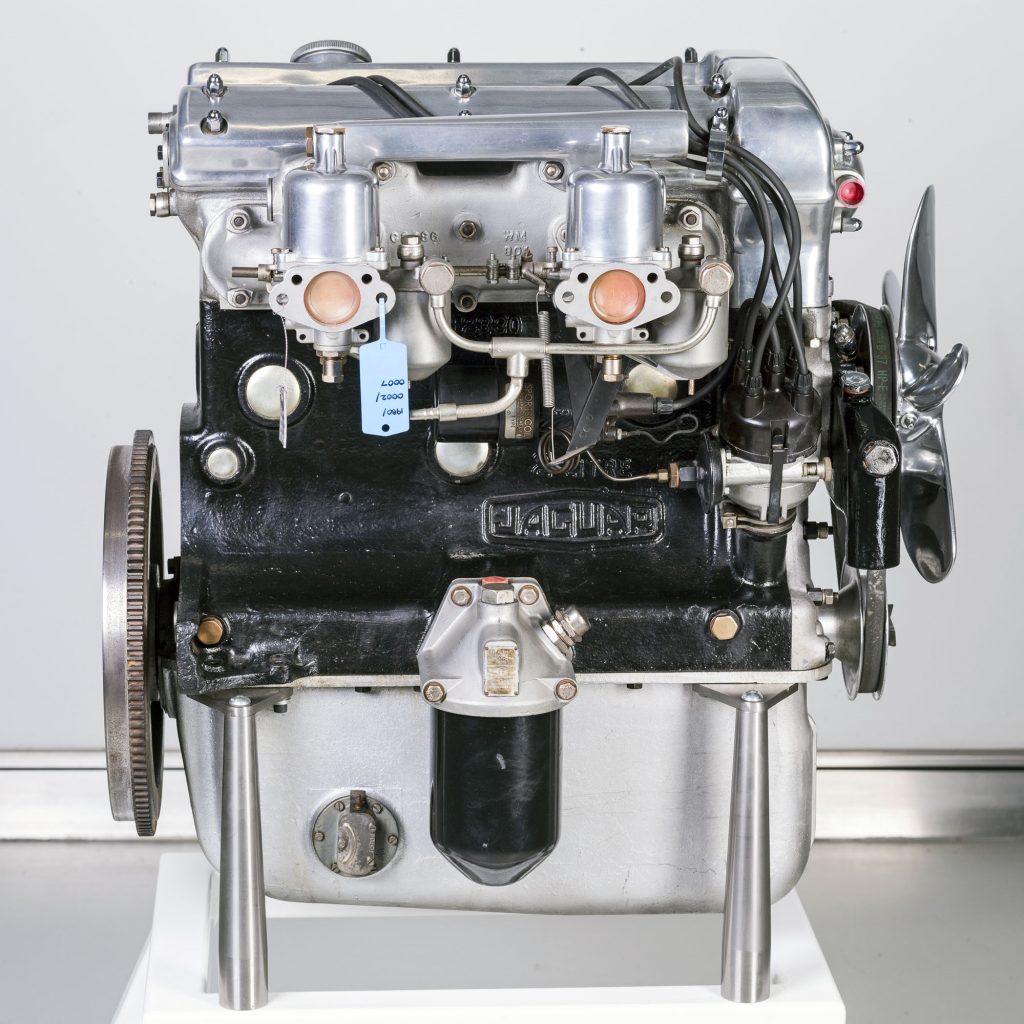 XK Powered Record Breaker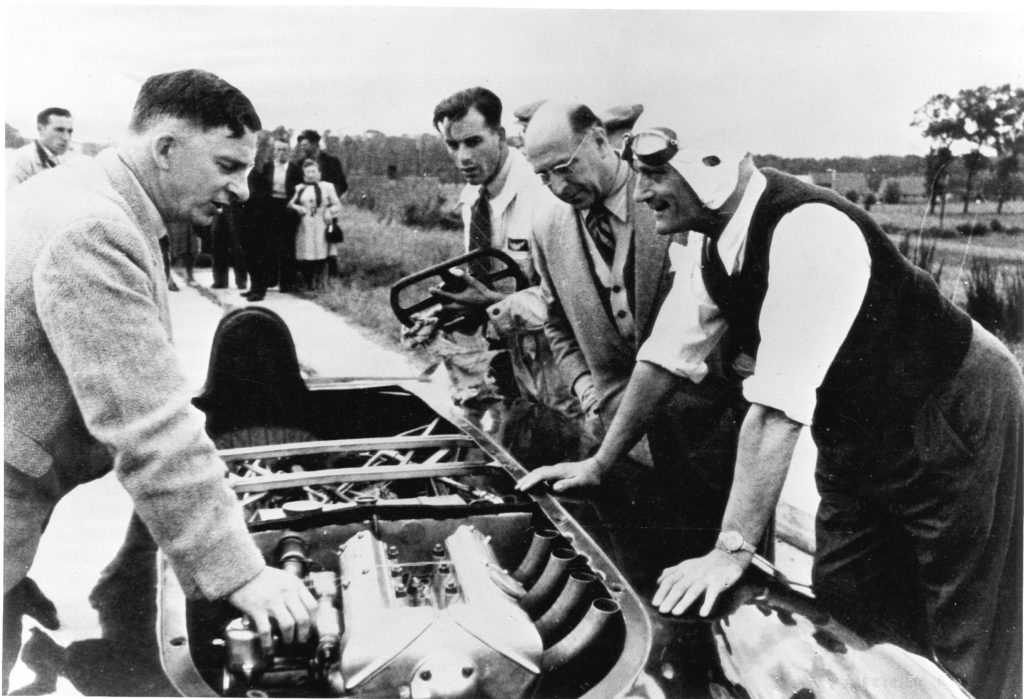 Boosting the progress of the XK engine was an unexpected use in a record attempt when the four-cylinder XK was selected to make its appearance in the record-breaking Gardner MG Special of 1948. Lt. Col. A.T.G. Goldie Gardner wanted to make a record-breaking run in his pre-war MG Special but Lord Nuffield (William Morris), who controlled MG, refused to support the enterprise. Gardner spotted an experimental engine in Harry Weslake's workshop, enquired about it, then approached Jaguar for permission to use it for his record breaking attempt.
The engine had some re-work done including changing the carburettors to handle racing methanol based fuel and was re-assembled as the 'Gardner Special Engine' for bench-running trials. This would appear to be one of the earlier XJ engines fitted with modified pistons and with a bore and stroke of 80.5 x 98 mm and with a compression ratio of 12:1 but for convenience and uniformity the unit was referred to as 'XK' within the plant.
Gardner drove this to over 176.6 mph (284 km/hr) at Jabbeke, near Ostend, in Belgium to set a new speed record in the 2-litre class. He broke the flying mile, kilometre and five-kilometre Class E records. At the time it was considered remarkable that his engine was unsupercharged.   
The new records were: mile 173.678 mph; kilometre 177.112 mph; and five kilometres 170.523 mph.
There is a postscript to this EX135 story; Lord Nuffield was disgruntled by the use of a Jaguar engine in the MG and extended an olive branch to encourage Gardner back to the fold. In the event the Baily designed XPAG engine was developed by Syd Enever and EX135 secured a new class record of 135 mph in 1951.
The Gardner EX135 is on show at the British Motor Museum at Gaydon on a raised platform along with three other MG record breakers.
The four-cylinder XK engine used for this record attempt is owned by JDHT and the plan is to prepare it and put it on display next to EX135.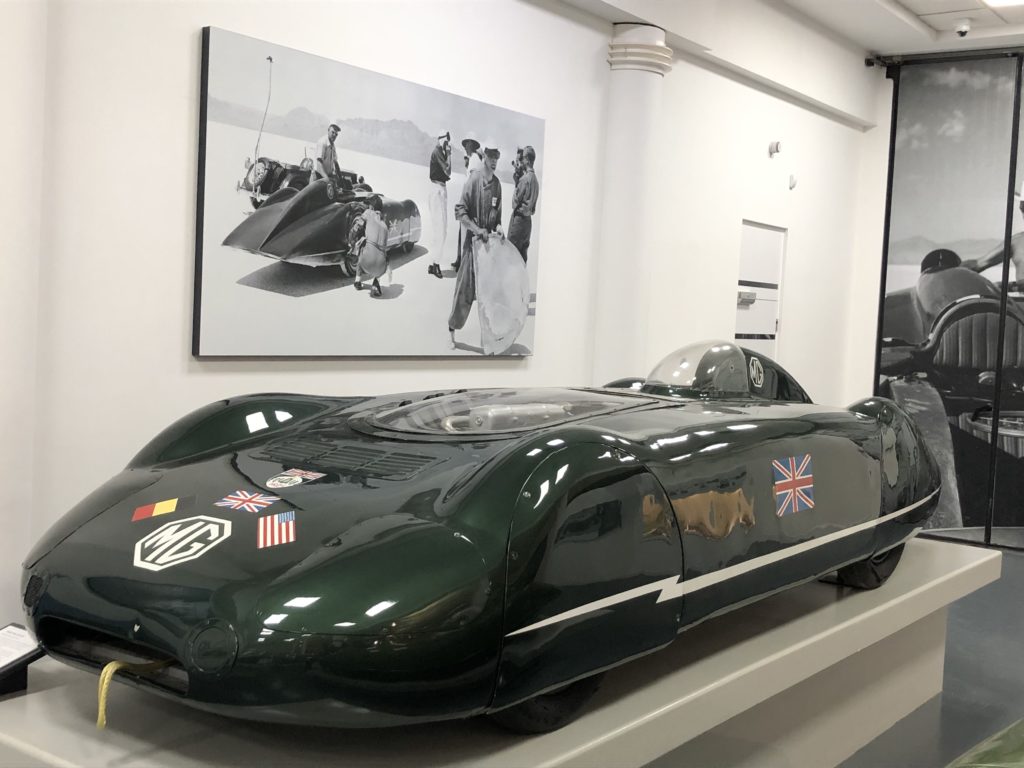 A six-cylinder version of the XK engine was also developed, initially with a bore and stroke of 83 x 98 mm for a capacity of 3,181 cc. This was run for the first time on 15 September 1947 giving a power output of 142 bhp at 5,000 rpm. The six-cylinder layout proved better and smoother than the four cylinder and development work concentrated on this version. The 3.2 litre six-cylinder engine offered no increase in power over the 3.5 litre pushrod engine that was already in use by Jaguar. The stroke was lengthened to 106 mm to give a swept volume of 3,442 cc and power increased to 160 bhp at 5,000 rpm. Jaguar now had a smooth-running, six-cylinder, double overhead camshaft (DOHC) engine and it was this configuration that was put into production.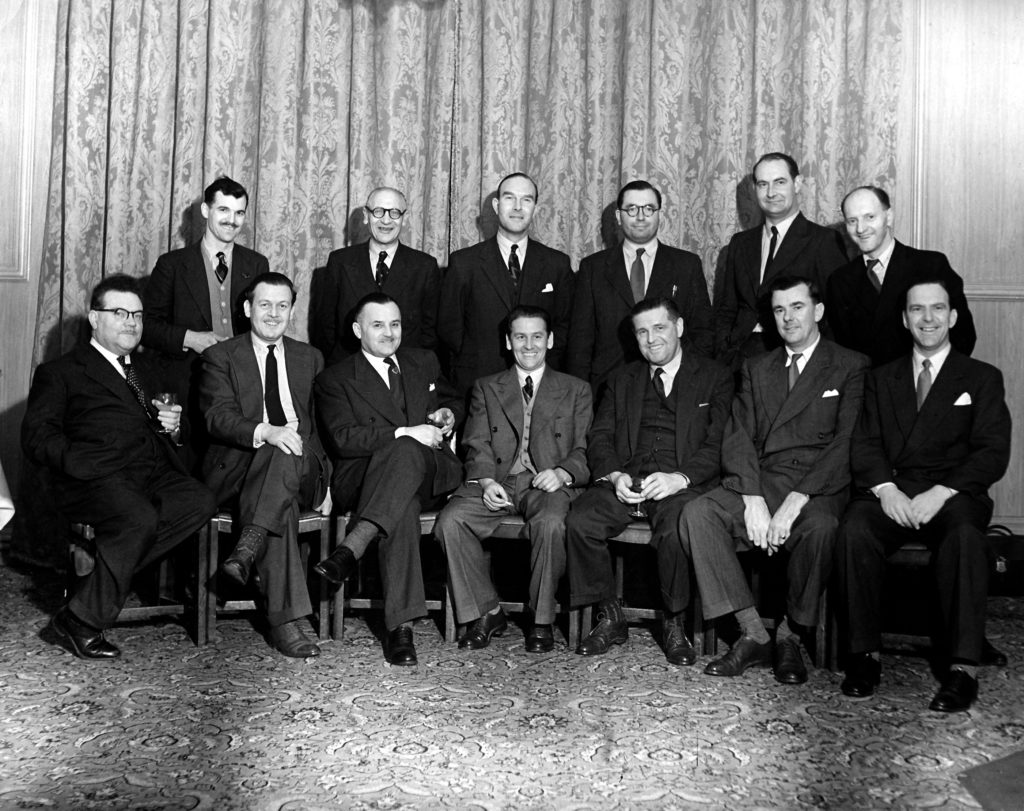 In 1950 Chief Development Engineer Walter Hassan left Jaguar for the post of Chief Engineer at Coventry Climax. This left a gap which was partly-filled by Claude Baily and Jack Emerson who had been responsible for engine development and testing. Baily, now given the title 'Chief Engine Designer' had the main task to develop the XK engine on the production line and with Emerson oversee the units prepared for the Competitions Department.  
Baily worked with fellow designer Malcolm Sayer, who had joined Jaguar in 1950, on the record-breaking XK120s driven by Ron Sutton and later by Norman Dewis in Belgium.
The engineers and designers at Jaguar worked on a variety of projects as a team. They were all concerned with the C- and D-Types and, under Heynes' guidance and F R W (Lofty) England's management, the many racing successes soon made Jaguar a global name.
With the XK engine in production at Browns Lane from 1951, the engineering department commenced a development programme for the next generation of power units. In the early 1950s, Jaguar did not consider the V8 favourably. Notably, Hassan said: "The bank-to-bank firing sequence [of a V8] imposes severe limitations upon the achievement of an efficient induction system if carburettors are used. A V8 needs a two-plane crankshaft with wide outer crankshaft balance weights to eliminate its out-of-balance couple."  That said, Claude Baily and Hassan (before he left) had both investigated V8 configurations but nothing came of this and the V12 was considered the next logical step; Heynes and Claude Baily were left to continue work on the V12.
Initial Thoughts on V12 Engines
A 1952 list of Jaguar Works Orders for experimental projects includes ZX/ZP505 for an 'XK 4.9-litre V12 engine'. The logical approach was to take two XK engines and mount them in a 60° 'V' on a common crankcase and share a single crankshaft. Though the bore capacity would remain the same, as the crankshaft would be newly designed, the most suitable stroke could be chosen by the engineers. Claude Baily started work on such an engine, taking an original XK 3.4-litre bore capacity of 83 mm and selecting a stroke of 75 mm to yield an engine capacity of 4,870 cc, which kept the unit small enough to fit under the bonnet of the existing Jaguar Mark VII saloon. This was encouraging and Heynes asked Baily to make drawings of the proposed engine, with a view to producing an example for testing. Gerry Beddowes assisted Baily with the drawings but it soon became apparent that among the drawbacks encountered of the proposal was the XK's double overhead camshaft arrangement which made the engine very wide. Space was lacking between the 'Vee' for an induction system so downdraught inlet ports from outboard-mounted SU carburettors (three per cylinder bank) were adopted; the exhaust emerged from beneath the carburettor bank. The DOHC configuration led the team to rethink the engine and it seemed that the only option was for a single overhead camshaft arrangement per bank of cylinders.
At the time Jaguar did not have the time to develop the engine further and it was sidelined for work to commence on a military 9.25-litre V8 for the Ministry of Supply. This was intended to power tanks and tank transporters. Heynes had wanted to develop a V12 race engine but, with limited funds and with Jaguar's production and sales increasing, his team had to turn to other more pressing issues and the V12 programme was put to one side but not forgotten. It would appear that all through the 1950s and the early 1960s the V12 engine was never out of sight with Heynes and Baily constantly discussing and making notes about how it should proceed. Certainly, drawings of a V12 engine were in existence in the late 1950s. When Jaguar purchased Coventry-Climax in 1963, Hassan returned to the experimental department and, together with Baily, was tasked to further develop the V12 engine that already existed on paper. Harry Mundy, who had designed the V16 engine for Coventry-Climax, also joined the team. The plan for a race engine – particularly for Le Mans – and a second version for road-going Jaguar sports and saloon cars was revived and work proceeded with a V12.
Hassan returned to Jaguar when the Company bought Coventry Climax in 1963. He brought with him some of the engine technology that had been successful for Coventry-Climax but he was unhappy with the four-cam five-litre V12 engine that had been designed in his absence. It was too heavy, large and complex and would not have fitted the car (XJ) for which it had been intended. As it stood, the V12 would not have fitted any current Jaguar and it would be too costly for quantity production. Heynes was still keen to proceed with the unit but asked Hassan and Mundy to work on an alternative with a single-cam design. However, the four-cam unit was completed and ready to be tested; two versions of the engine were proposed, one with four SU carburettors for road cars and a second with Lucas mechanical fuel injection for racing. 
The first V12 engine, with fuel injection and down-draught inlet pipes, was run on a test bed in August 1964. Phil Weaver (who ran the Experimental Shop and oversaw the Competition car build) made some calculations to make sure the bulky engine would fit under a Mark X's bonnet for testing, and in 1964 the unit was fitted to Mark Ten saloon No 7.
The car was tested by Norman Dewis at MIRA and reached 136 mph without effort and still accelerating. Dewis: "Given the right gearing and a flat piece of road I think it would have exceeded 150mph." 
Three cars were fitted with examples of the five-litre V12 and were tested extensively at MIRA and on Welsh mountain roads.  
These trials were vital for the Le Mans prototype car which was officially sanctioned in 1964 and intended to compete in 1965, but it would be a year before building of the car, coded XJ13, would begin.
With an 87 mm bore and 70 mm stroke for a capacity of 4,991 cc, the V12 delivered 502 bhp at 7,600 rpm and after the XJ13 was completed in March 1966 the engine was fired up outside the experimental department.  
However, it now looked unlikely that XJ13 would compete at Le Mans. It is worth noting that it had been just three years from initial concept to an engine that powered XJ13 to a record lap of 160 mph of the high-speed track at MIRA in 1966.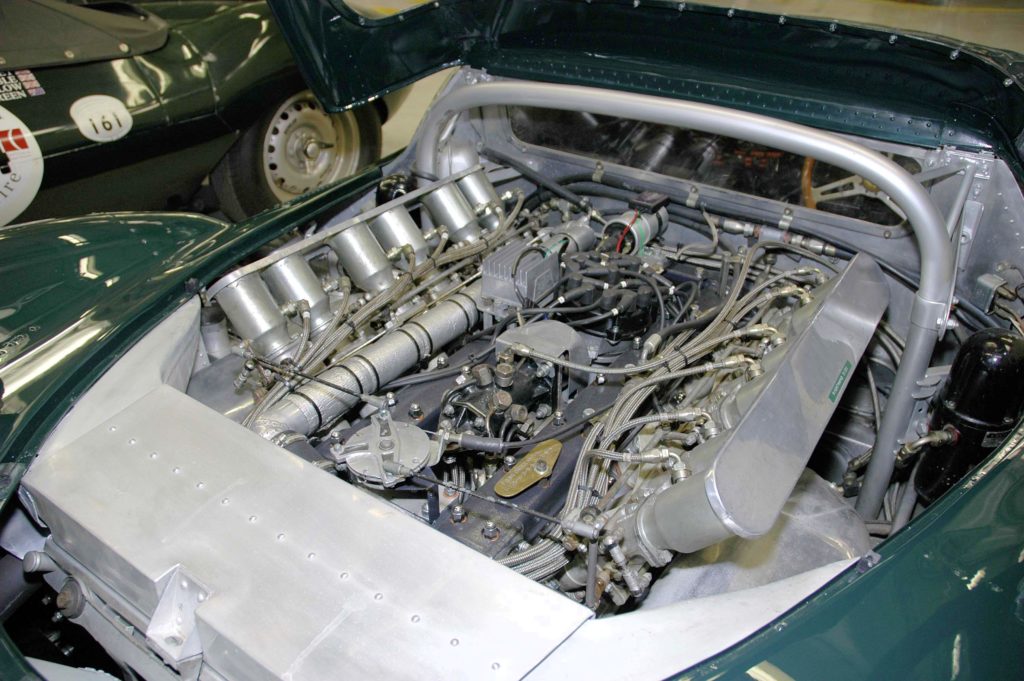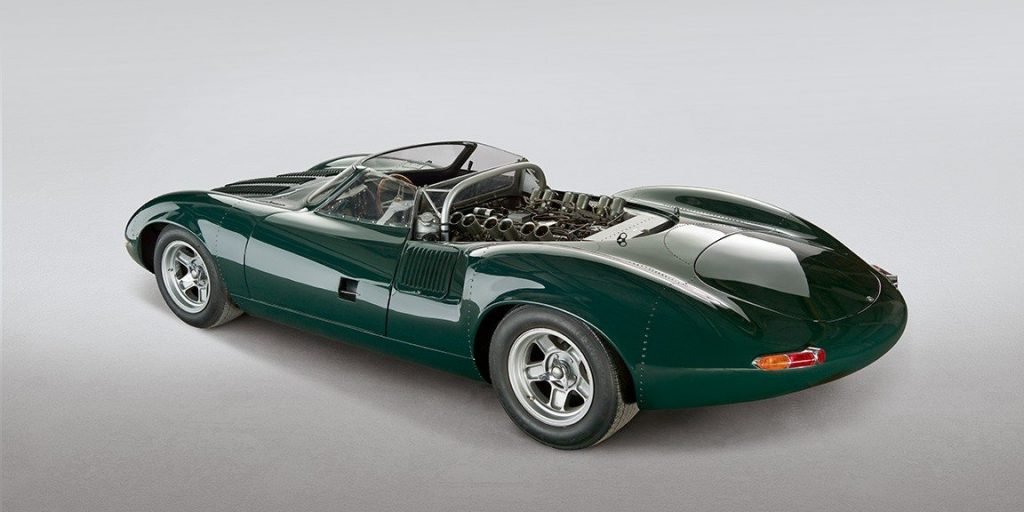 However, the Jaguar-BMC merger in July 1966 further complicated the saga of XJ13 and the V12 engine. Le Mans looked even more unlikely with the Ford GT winning the race that year; then the race rules were changed for a return of a maximum capacity of 3.0-litres for prototypes which excluded the 5.0-litre XJ13.
That left Jaguar and the XJ13 with no race to enter but they still had valuable data and an engine design that warranted further development.
Walter Hassan may not have liked the design of Baily's V12 but he knew that it could be improved and drove the programme to transform the unit to incorporate features from the successful Coventry-Climax engines.  
Meanwhile, Baily was working with Lyons, Heynes and Bob Knight on the XJ6 which would replace the Jaguar range of Mark II and Mark X saloons. With Knight, Baily worked on curing some of the noise and vibration problems of prototype XJ6s, they made changes to the engine mounts, exhaust run and drivetrain to eliminate the problems.  
At the same time Baily continued to work with Hassan and Mundy on the V12. They were concerned that the chain drive to the four camshafts was complex and noisy and were worried about long-term reliability. Such a unit would be acceptable in a race car but not in a conventional saloon so Mundy, Hassan and Baily worked on refining the design.  
To this end, simple single-cylinder test engines were used to evaluate and prove design alternatives. Various single-cylinder flat-heads were built and tested for angle of entry for the inlet port and the sparking plug position. The racing engine was extensively redesigned and the cylinder heads were replaced with a more conventional two-valve design, employing a single overhead camshaft (SOHC) acting directly on vertically inclined valves through bucket tappets.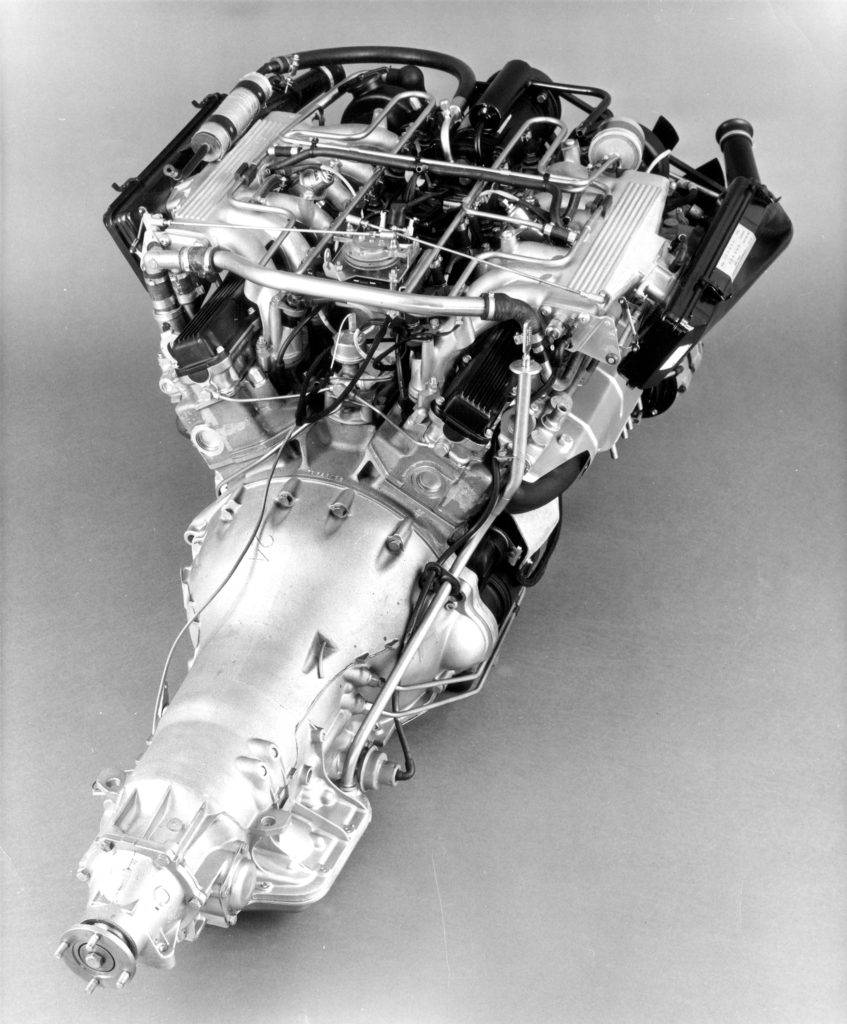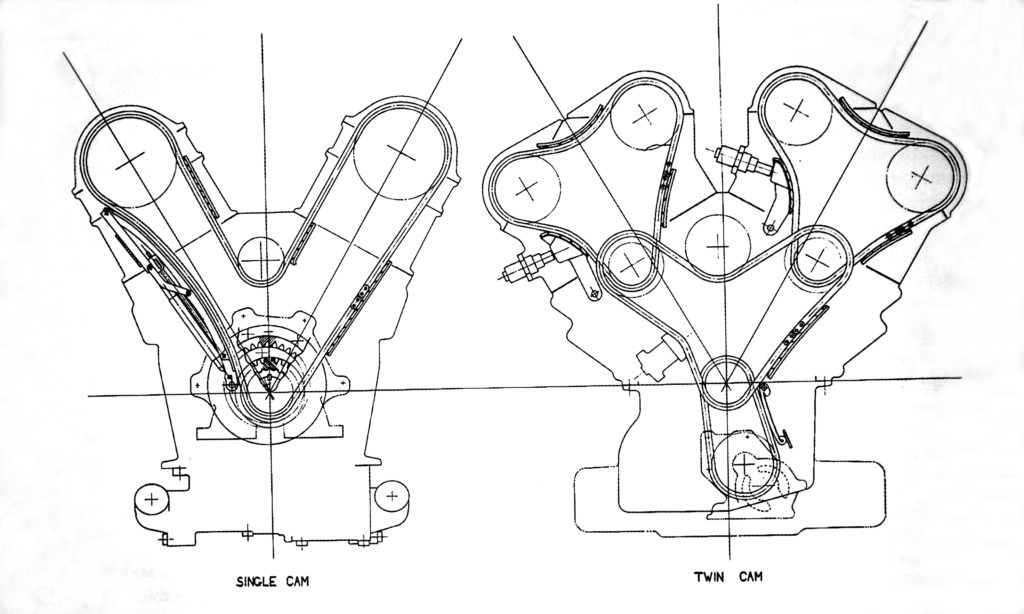 These changes greatly reduced complexity, weight, size and noise and the single cam heads resulted in a more compact unit when compared with the twin cam alternative and now the team were free of the five-litre race engine, they could increase the bore to 90 mm and make the big-end bearings wider.
Gerry Beddowes, now Development Engineer – Engines, produced comparison drawings of the two engines superimposed on each other to demonstrate just how space would be saved and the all-important fact that the V12 would fit into the engine compartment as a replacement for the XK engine, without the need to redesign the XJ6 or the engine bay.

In January 1968 Jaguar became part of British Leyland (BL) and, while BL could not stop the XJ6 they could interfere with other aspects of the Company. The V12 was progressing but key figures at Jaguar were selecting retirement; Bill Heynes left in July 1969, Sir William had stepped back and Claude Baily took retirement in 1970; though not before he had helped Hassan and the team with the final development of the V12 engine.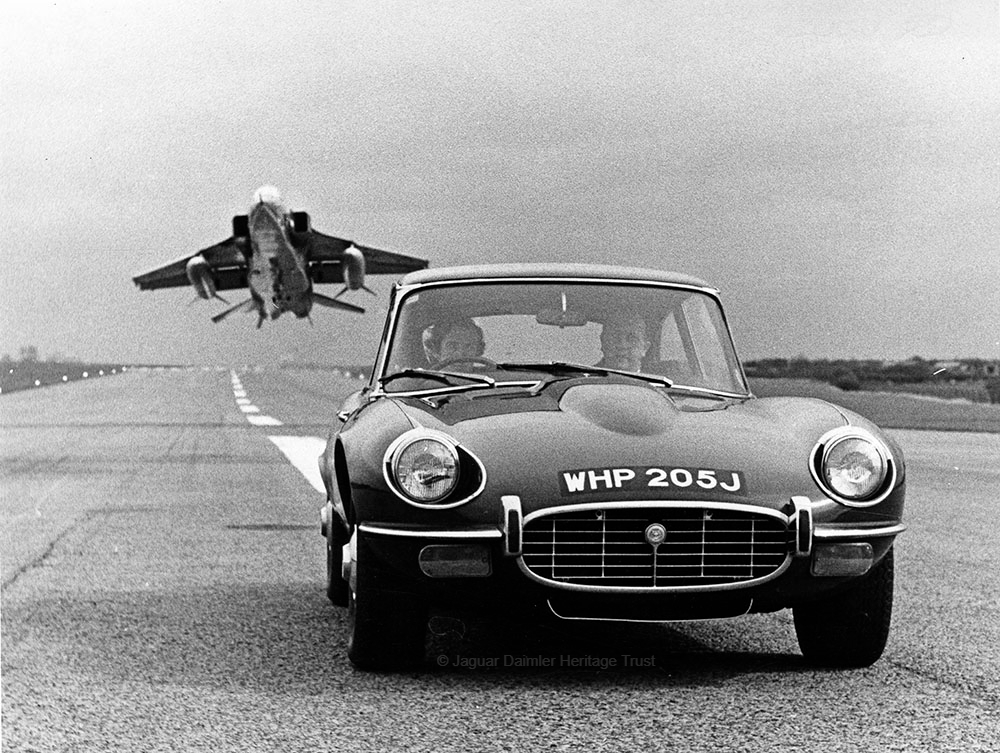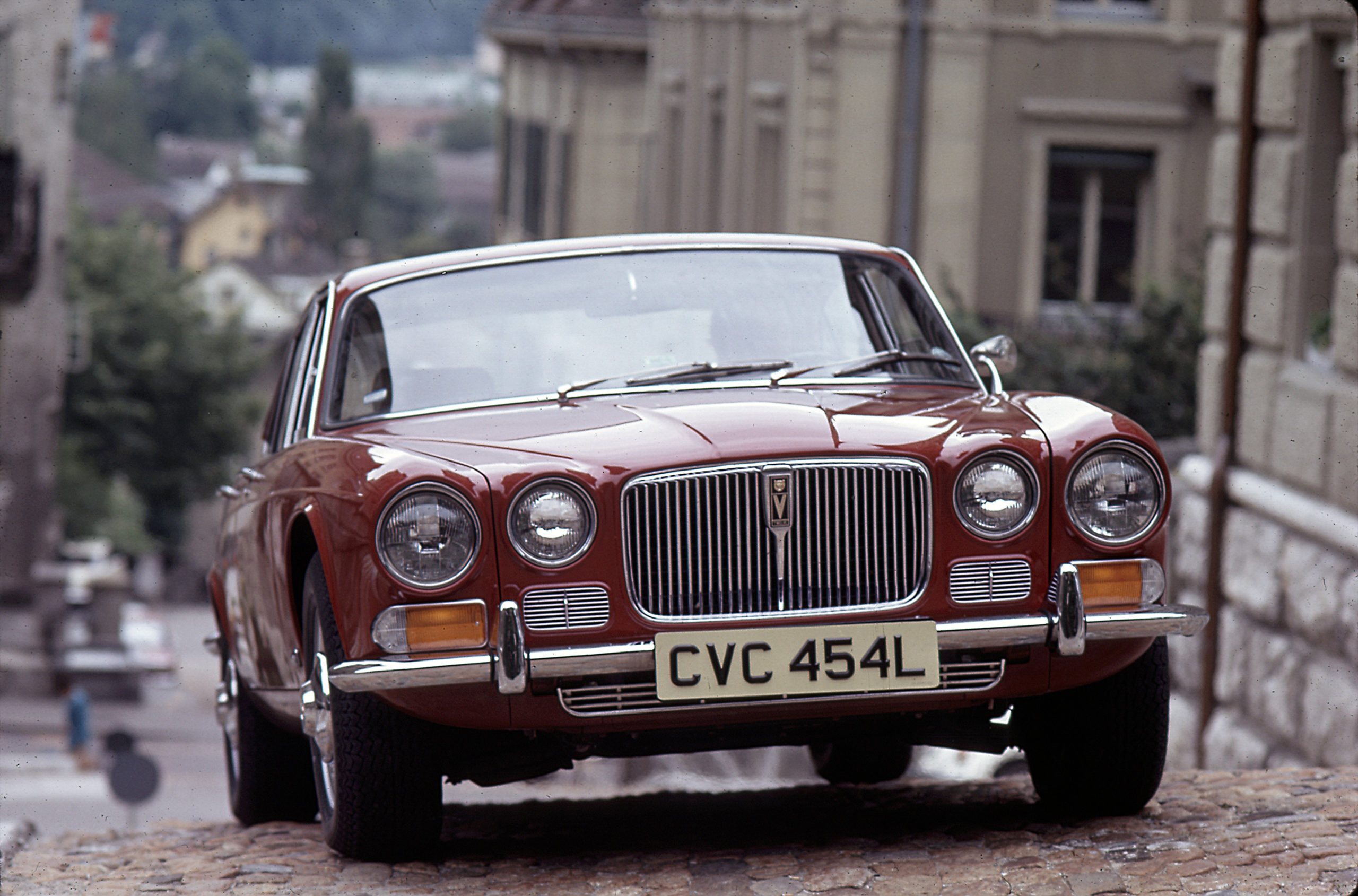 The new V12 engine  first appeared in the E-Type Series III in 1971 and was released in the XJ saloon in 1972, as the XJ12 which was regarded as a masterpiece by the motoring press.  
The model was fast (140 mph/224 kph), as nimble as the XJ6 and a joy to drive. 
It was the first V12 engine to be produced in quantity and was manufactured at the Radford factory.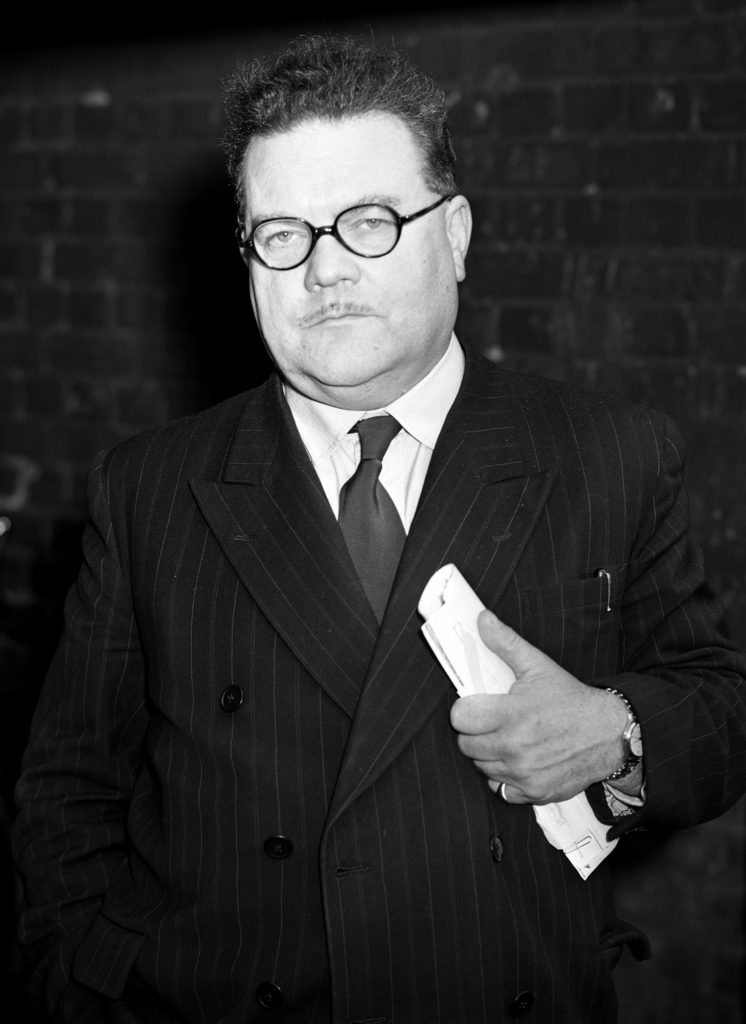 Claude Baily retired to the Lake District and lived in a house near Lake Coniston. He had never sought the limelight but was quietly confident that his contribution had helped to make Jaguar a world success.  
He did miss his colleagues and as he put it "…my drawing board at Jaguar. I did enjoy the time and wish that was back again on layout work." 
Claude Baily died on 15 February 1988.  
Soon after Baily died Trevor Crisp, then Group Chief Engineer in charge of engines and transmissions, wrote: "His attention to detail was remarkable and his influence is still with us in the XK engine and in the V12. The fact that the V12 is not just a smooth and powerful production unit but has proved capable of development into a World Championship-winning race engine illustrates the integrity of Claude Baily's design work very well indeed."
Author: François Prins with additional information from Tony Merrygold 
© Text and Images – Jaguar Cars Ltd and Jaguar Daimler Heritage Trust