SS 100, Michael Turner, 1986
The Artwork
This is one of six paintings by artist Michael Turner in the Jaguar Daimler Heritage Trust's Collection. It was painted in 1986 to commemorate the first win for a Jaguar badged car, fifty years previously.
In 1933 the Swallow Company had supported three private entries in the Alpine Rally, with a team of red, white and blue SS 1 Tourers. Two failed to finished and the best place was Charles Needham finishing 12th. 
The painting is on display at the Collections Centre at the British Motor Museum.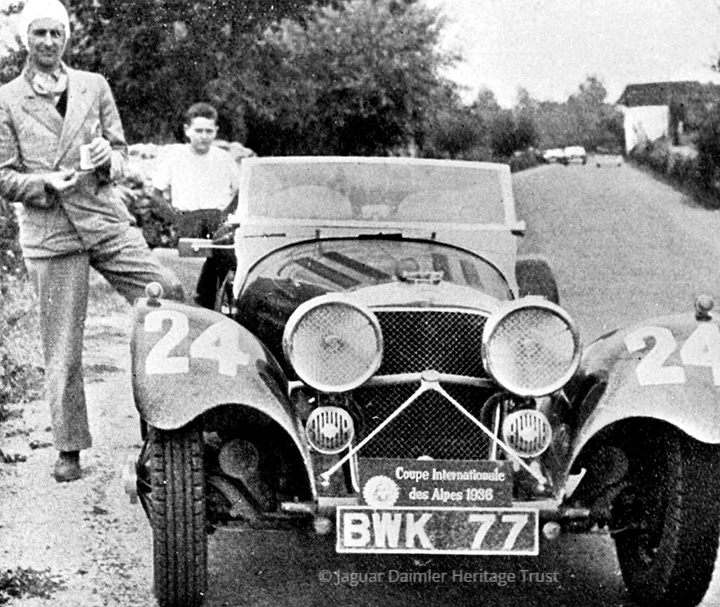 In 1935 the Company (now officially SS Cars Ltd) first used the name Jaguar on an SS model and by 1936 they had developed the SS 100 Jaguar two-seater sports car which was lighter and faster than the SS 1 Tourers.
Motoring correspondent and amateur race/rally driver Tommy Wisdom, with help from Coventry SS distributor Sam Newsome, convinced William Lyons to allow him to enter a completely standard, 2.7 litre, Jaguar SS 100 registered BWK 77, in the 1936 International Alpine Trials.
This painting is very evocative of both the Alpine scenery and the conditions at the time, with the alpine roads consisting of loose gravel and the cars leaving clouds of dust in their wakes.
For most of the route there were no proper barriers to stop competitors disappearing down the side of a mountain. Some of the tighter hairpin bends had small stone walls, while some of the sections merely had occasional stone bollards or white painted rocks to delineate the edge of the road.
The Alpine Trial was a real test of skill and endurance for both the driver and navigator.
The Artist
Michael Turner was born in Harrow, Middlesex, in 1934. Raised in the suburbs of London during the Second World War, he was inspired by the exploits of the R.A.F. and developed an early talent for aircraft recognition, drawing aeroplanes in his school exercise books to the chagrin of his teachers. This enthusiasm for aviation found a parallel passion in the thrill of motor racing after a holiday visit to the Isle of Man in 1947, where he chanced to see the first post war revival of the British Empire Trophy Race. From that moment, with the indulgence of his parents until he reached driving age, he attended as many motor sport events as possible, including the first ever meetings at Silverstone and Goodwood and the Jersey Road Races.
After completing his formal education, he spent a year at Art College followed by two years National Service with the Royal Electrical and Mechanical Engineers. Three years in advertising studios in London provided valuable experience and in 1957 he went freelance. With a strong belief that there is no substitute for first hand involvement in order to portray such demanding subjects with authority and feeling, he travelled to the world's major race tracks to satisfy his need for authenticity, and he continues to visit several Grand Prix each year.
His interest in aircraft led him to become a founder member of The Guild of Aviation Artists, of which he has twice been Chairman and is now President, and an Honorary Fellow of the Guild of Motoring Artists. His clients include many racing drivers, teams, sponsors, pilots, motor and aircraft manufacturers, R.A.F. and Army messes, museums and private collections worldwide. He held one man exhibitions in London, New York, Australia and the U.S.A., and participated in specialist shows in the U.K. and Europe. He had six books of his paintings published covering aircraft of the Royal Air Force and Luftwaffe, Formula One Motor Racing, Aviation Art, Monaco Grand Prix and Motor Sport Art.
The Car 
Tommy Wisdom started racing in 1931 entering the RAC Tourist Trophy in an Invicta which he shared with J Chilton, Donald Healey and Dudley Froy, finishing 19th.
Wisdom's first 'Jaguar' outing was in 1936 in a 2.7 litre Jaguar SS 100, registered BWK 77. Together with his wife Elsie (known as Bill) as navigator, he won the International Alpine Trial being awarded a "Coupes des Glaciers" for their efforts. Not only was this the first win for a Jaguar badged car but also the first time Wisdom had driven for SS Cars.
Coventry proprietor and SS distributor S.H. (Sam) Newsome had helped persuade William Lyons to let him enter the car. This proved the Jaguar SS 100 was fast, reasonably controllable on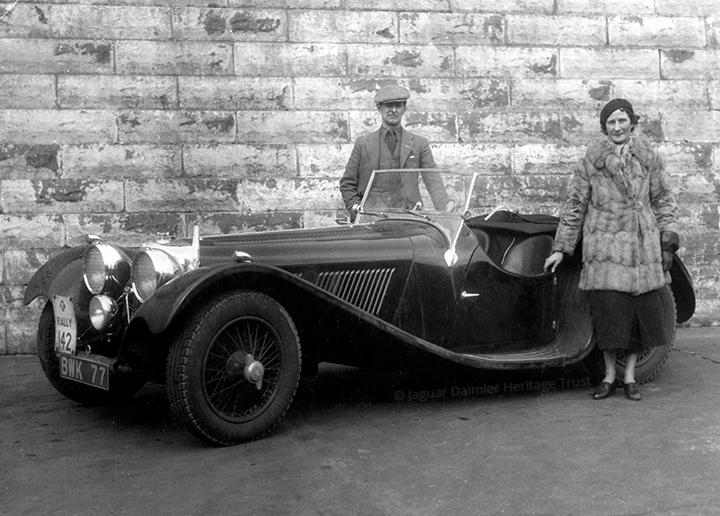 loose surfaces and could handle quick altitude changes. This was the start of Wisdom's association with SS / Jaguar Cars.
BWK 77 still survives.
Known as 'Old Number 8' it was kept at the Moray Motor Museum at Elgin, Moray, Scotland for 25 years and raced every year including Goodwood, Silverstone, Donington, Oulton Park, Snetterton, Castle Coombe, Rockingham, Croft and Knockhill in Scotland. It has been hill-climbed at Shelsley Walsh and Bowness and has had a very quick dash up the test hill at Brooklands.
In 2020 it changed hands and is now owned by JB Racing. It was at the Jaguar E-type 60 celebrations at Shelsley Walsh on the weekend of 12-13 June 2021.
It is still in excellent condition although the original engine has been safely set aside and is now running with a supercharged engine delivering 260 bhp and to help deliver all this power to the tarmac it runs with twin rear tyres.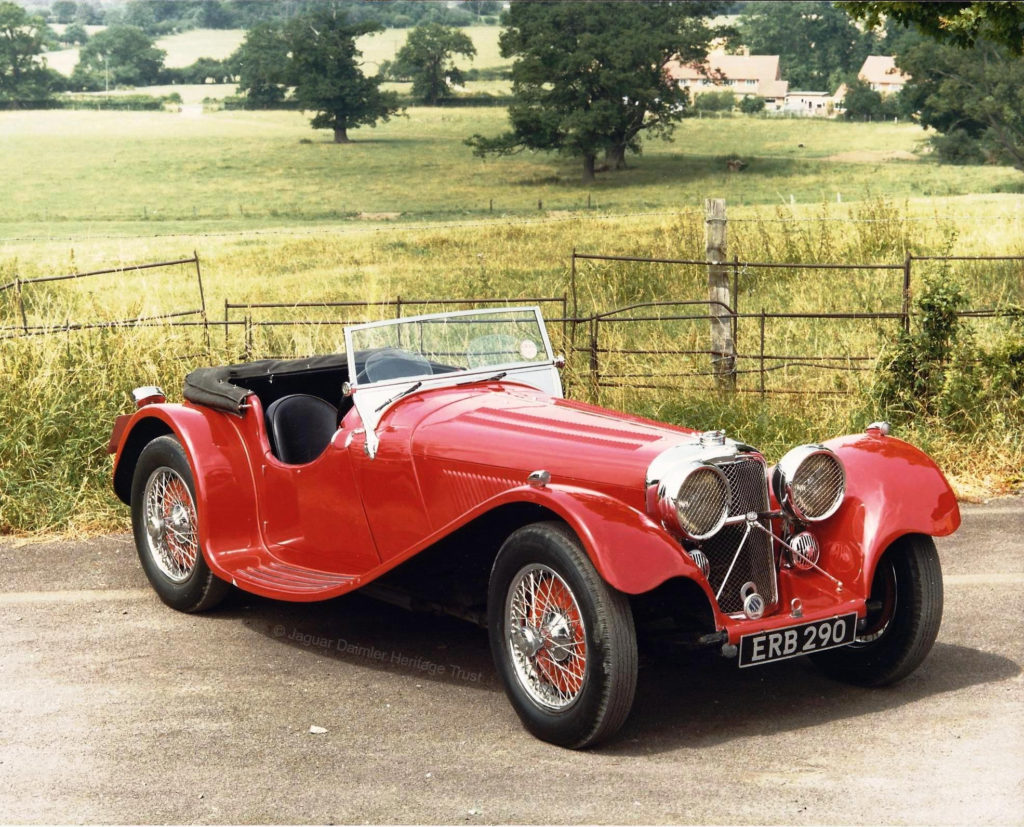 Jaguar Daimler Heritage Trust has a similar specification 2.5 litre SS 100 Jaguar in our Collection, registered ERB 290. This isn't raced or rallied but is kept in good running order and is regularly used at club and classic car events including locally at Coventry Motofest.
When new the SS100 2½-litre cost £395, and even the 3½-litre cost only £445, making it the cheapest 100mph car in Britain at the time.  A total of 191 of the 2½-litre cars were built between 1935 and 1939, with additionally 118 of the 3½-litre variant that was built from 1938 onwards, for a total production figure of 309 cars.
Click the button for more information on ERB 290:
Additional Information
A friend of Michael Turner's visited the Collection Centre in 2021 and while admiring the paintings regaled us with an unusual story. The friend had appeared on the TV show The Weakest Link and one of the questions was 'What is the first name of the artist Turner'. Obviously knowing him personally he gave the answer 'Michael'. But this was not the answer Anne Robinson wanted as she was after the first name of the landscape painter JMW Turner. The response was a 'No – you are the Weakest Link – Goodbye'.