Heritage to inspire future generations
Established in 1983, The Jaguar Daimler Heritage Trust is a registered charitable Trust.  Our Charity registration number is: 286863.
Our purpose is to establish, maintain and promote for the benefit of the nation, the permanent preservation of historic archives, artefacts and motor vehicles manufactured and sold by Jaguar Cars Ltd. (now renamed Jaguar Land Rover Ltd.) and its predecessor companies under the marque names of Swallow, SS, Jaguar, Daimler and Lanchester, where such vehicles are of actual potential historic, scientific importance and education value.
Our mission is:
"To be the active custodians of Jaguar's history, its vehicles and its archives, working alongside Jaguar Land Rover to share and promote that history for posterity."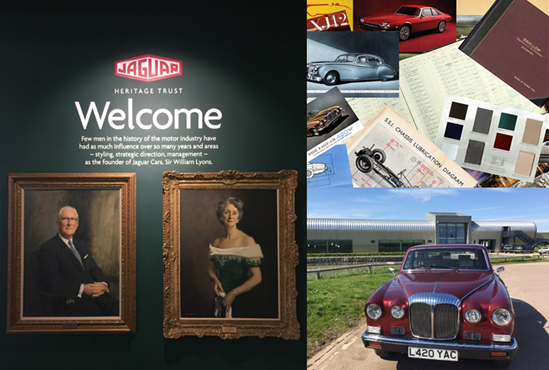 With a team of employees and volunteers, we work together to bring the legend to life and share the life story of Jaguar and its predecessor companies.
Our Vehicle Collection
We collect and preserve the collection of vehicles, both past and present, that relate to the history, industrial development and social impact of Jaguar and its associated companies.
We have over 170 vehicles in our collection, over 70 of these are on regular display in the Collections Centre at the British Motor Museum, Gaydon with another 9 in the main museum building. We also have 17 on display in the Jaguar Gallery at the Coventry Transport Museum.
Our vehicles are maintained by our technicians at the workshop in Gaydon which we share with the British Motor Museum.  They are assisted by a band of willing Volunteers who also attend and support various events throughout the year.
Many of our vehicles attend events throughout the year either supporting the main Jaguar Clubs, local, national and international classic car events and PR activities for Jaguar.  For more information on how to view our collection, please click here or to see some our collection, please click here.
Our Archive Collection
The Archive collection reflects a rich and diverse history dating back more than a century to the dawn of British motoring in the 1890s.  The Jaguar Daimler Heritage Trust Archive collects and provides access to the unique historical records and artefacts of Jaguar, Swallow, SS, Daimler and Lanchester marques to ensure that these fascinating records are preserved and enjoyed for future generations.
The Archive Department consists of a team of Archivists and enthusiastic Volunteers whom work together to catalogue and make accessible material and artefacts from our collections for researchers.  The Department also provides a research service and answers all manner of enquiries including consulting the original build records to issue Heritage Certificates and Paint Codes. For more information on our archive services, please click here.