Access to Archive Records
The Jaguar Daimler Heritage Trust Archive is based at the British Motor Museum in Gaydon, Warwickshire. We welcome researchers who would like to consult original archival material and enjoy the wide selection of published books in the Reading Room. The Archive is available for personal research only and must not been used for any commercial activities of any kind unless declared to the Head Archivist and permission granted. We require all researchers to declare the reason for their research and can decline any requests as necessary.
Admission to the Reading Room for the purpose of archival research is free and does not require a Museum Admission Ticket. The Reading Room is open for research during the hours of 10:30–16:00 Monday to Thursday by appointment only. We ask for a minimum of 3 weeks notice in advance, subject to availability and preparation of the archive material. Please email enquiries@jaguarheritage.com to discuss your research needs with the Head Archivist.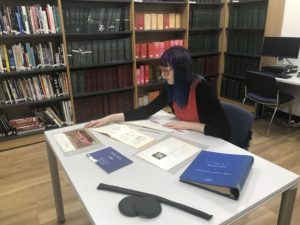 All researchers will require a Reader's Ticket confirming observance of the Reading Room Regulations which are in place to safeguard the unique archive material. Please bring a valid form of identification, such as a driving license*. If any readers are found to not comply with these regulations they will have their access revoked indefinitely.
Click here for the Reading Room and Copying and Publication of Archive Material Regulations.
Please note, some of our collections are not available to the general public and are subject to statutory closure periods or restrictions in line with Intellectual Property and Data Protection Legislations. Photographic prints and negatives will not be produced in the Reading Room, please contact us at enquiries@jaguarheritage.com for assistance with images. We are still cataloguing many of our collections to archive standards so please contact us for details of what we hold.
*For how we look after your data please visit our Privacy policy page.