Blue Mark II, Against Mountains and Clouds, Roy Nockolds, 1961
The Artwork
This is one of nine paintings by artist Roy Anthony Nockolds in the Jaguar Daimler Heritage Trust's Collection and was commissioned by Jaguar Cars. Most of the paintings commissioned by Jaguar or suppliers were to commemorate race wins but this and one other painting were commissioned for advertising and marketing purposes. It depicts a Mark II compact saloon which had been launched in 1959.
Nockolds composed the painting with a 'touring' theme in mind setting it in the Scottish Highlands. His initial idea was to have the occupants of the car sitting beside it having a picnic to add a 'touch of life to the scene.'  In the end he settled with the more motoring idea and shows the car stopped at the side of a loch with mountains as the background and the driver asking directions from a local. The blue of the car is reflected in the few blue patches between the clouds. In many of Nockolds' racing paintings the clouds add to the sense of movement but here it is not just the car that is static, even the clouds don't seem to be moving. 
This image was used in some advertising and also for the base of a tray, table-mats and coasters, all of which were given by the Company to dealers and selected suppliers. These Company give-aways still turn up at auction and at various motor sales around the country.
The painting is NOT currently on public display.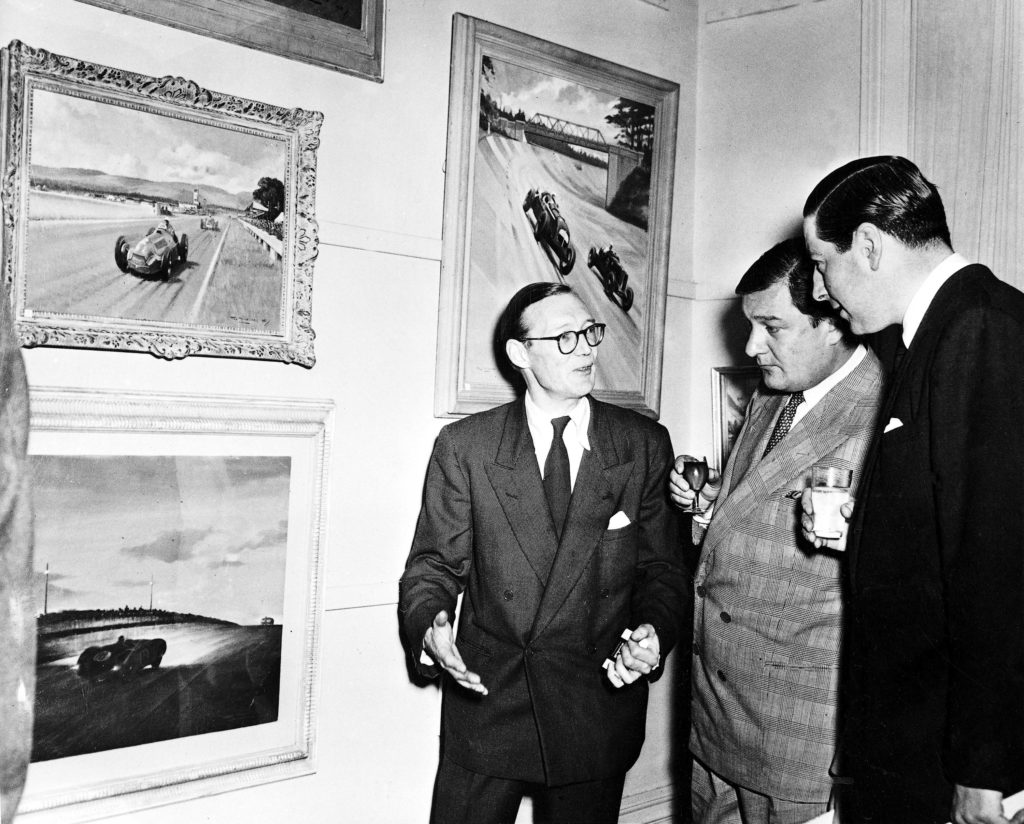 The Artist
Roy Nockolds was born in Croydon in 1911. He always claimed that his only successful subject was art and this was confirmed by two certificates from the Royal Drawing Society in 1922 (age 11) and 1923 (age 12). According to Nockolds' recollections he first visited Brooklands in 1924 (age 13) where he became impressed by the power and speed of the racing cars and within two years, he was producing motoring art. By the time he was in his teens he was getting his pictures published in the motoring press. His early work was mainly pencil and charcoal drawings, but he also used ink, scraperboard, lino cut and dry point etching as well as watercolours. 
F Gordon Crosby was already illustrating for The Autocar and Nockolds was fortunate to have most of his early work published by Motor Sport and Light Car. Although to his credit, Autocar was publishing full page reproductions of some of his etchings in 1932 (age 21). The first recorded exhibition of his work was in December 1934 at the Lombard Restaurant, Cheyne Walk, Chelsea.
Around this time he was working as a freelance artist although some of his work was being used by The Motor to illustrate a weekly series of famous corners on racing circuits.
The start of war in 1939 brought a cessation of motor racing for the duration and Nockolds carried on working from his London studio as a general illustrator and for the services, particularly the RAF producing propaganda art. 
In 1942 he was asked to look at improving the camouflage of night fighters. He noticed that a white owl was more difficult to see against a night sky than a dark bird. His idea was to paint the leading edge of the wing and underside of the aircraft white and the top of the aircraft black making it difficult to see from above and below. He prepared a painted model of a De Haviland Mosquito aircraft which was transferred to a full sized plane, resulting in the whole of 151 Mosquito Squadron being converted to the new scheme within days. Other camouflage work led to him being called up into the RAF at the end of 1942, initially as a Clerk, but by 1943 he was posted to the aircraft research station at Farnborough where he had civilian status. He continued the propaganda paintings and his work on camouflage of aircraft, particularly bombers and accepted commissions to supplement his income. The end of the war saw the restart of racing and he resumed his motoring artworks including commissions from car makers such as Ford, Standard, Rover, Rolls-Royce and the Rootes Group and component manufacturers such as Lockheed and Lucas.
It was during this period that he was commissioned by Jaguar and some of the sponsors and suppliers to produce all the paintings that we have in our Artwork Collection. Nockolds' connection with Jaguar began when the Esso Petroleum Company commissioned him to depict Le Mans 1951 when Peter Walker and Peter Whitehead drove their C-type through pouring rain to give Jaguar their first victory at Le Mans. He then worked closely with Jaguar's PR Manager Ernest (Bill) Rankin for the next decade undertaking a series of commissions, many of race winning situations but also pictures for calendars, Christmas cards and advertising posters. He was a master of combining light and texture into his work to give the impression of speed and this comes across in several of our paintings.
His work was displayed in many exhibitions in the UK and twenty-four of his paintings were exhibited in New York in 1960 in an exhibition entitled 'British Motoring Achievements'. This was a collection of paintings depicting outstanding performances of British cars during the previous ten years including some of our race winning Jaguar pictures.
Nockolds took a very keen interest in the Brooklands society founded in 1967, being an early Committee Member and the Chairman from 1976 to 1978, only resigning with the onset of ill health. He was elected Chairman of the Guild of Aviation Artists in 1975, and continued to paint late into his life before passing away in 1979.
Jaguar Compact Saloons – 'Mark I' and Mark II
Jaguar launched its first 'compact' saloon at the 1955 British Motor Show. The new model was extremely well received, as it offered the traditional Jaguar virtues in a compact and affordable package, with more than adequate performance, including a top speed of around 100 mph. Styling was typically Jaguar, with the narrow radiator grille similar to the XK 140. Full rear wheel spats were fitted as standard, with cut-away spats if wire wheels were fitted. 
Initially offered with only a 2.4 litre engine it was very successful in many markets, but there was a demand especially in the important American market for a more powerful model, and so in February 1957 the 3.4 litre was introduced making the car capable of 120 mph, and could accelerate to 60mph in 9 seconds. The 3.4 model cost £1,672 in the home market (manual gearbox model).
In 1959 Jaguar refreshed the design of their compact saloon and launched it as the Mark II (since then the first versions have been referred to as Mark I).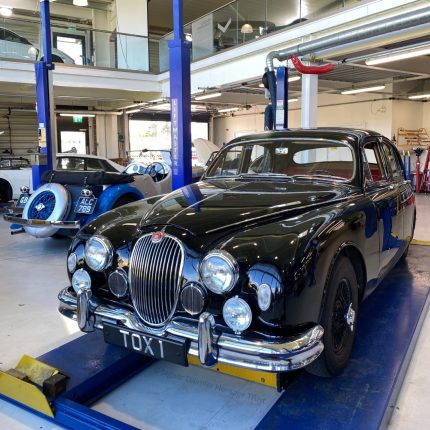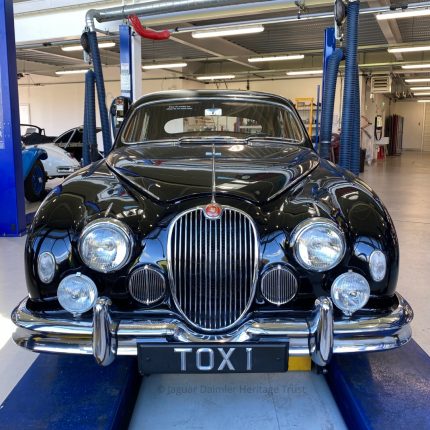 This was much the same size as its predecessor although the front and rear windscreens were increased in size and the heavy steel door window surrounds were replaced by slimmer chrome frames making the whole car much more airy. The rear track of the car was widened and the front suspension improved, both of which improved the already good handing. Made from 1959 to 1967, the Mark II saloon was the most successful Jaguar model until that time, with total production of 83,701 units of which the 3.8 litre version accounted for 27,848. The 3.8 litre engine developed 220 bhp, leading to a top speed of 125 mph (201 km/h), and a 0 to 50 mph (80 km/h) time of 6.4 seconds.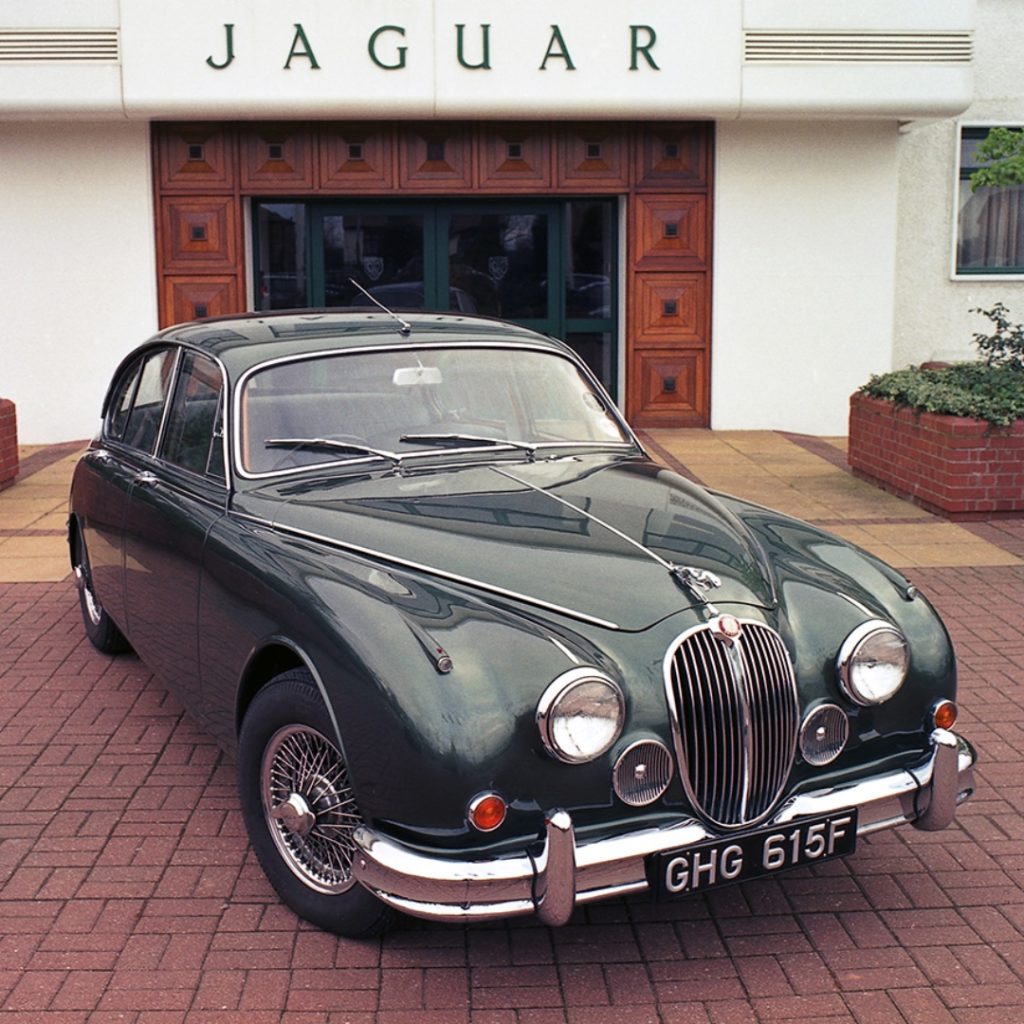 1967 Mark II Saloon GHG  615F
The Jaguar Daimler Heritage Trust has a late model, 1967, 3.8 litre Mark II in its Collection which serves as an excellent example of the size and quality of Jaguar's 'Compact Saloon'. The 3.8 was always considered the most desirable of the Mark II models, especially when fitted with wire wheels and the overdrive gearbox. With these extras, together with leather upholstery and metallic ('Opalescent') paint, the Mark II 3.8 litre cost £1,764 in 1967.
In 1967, the Mark II models were replaced by the 240 and 340, which continued in production until 1969. These cars had only the two smaller engine sizes, and Ambla rather than leather interior trim, together with slimmer bumpers. Production of the 3.8 litre was however discontinued, except for a dozen or so of the 340 models which were fitted with 3.8 litre engines on special requests from customers.
The Mark II was discontinued in 1968 when Jaguar launched the XJ6 to replace both the Mark X large saloon and the compact saloon.
Click the button for more information on GHG 615F: