1904 Lanchester 20 HP Tourer O 1230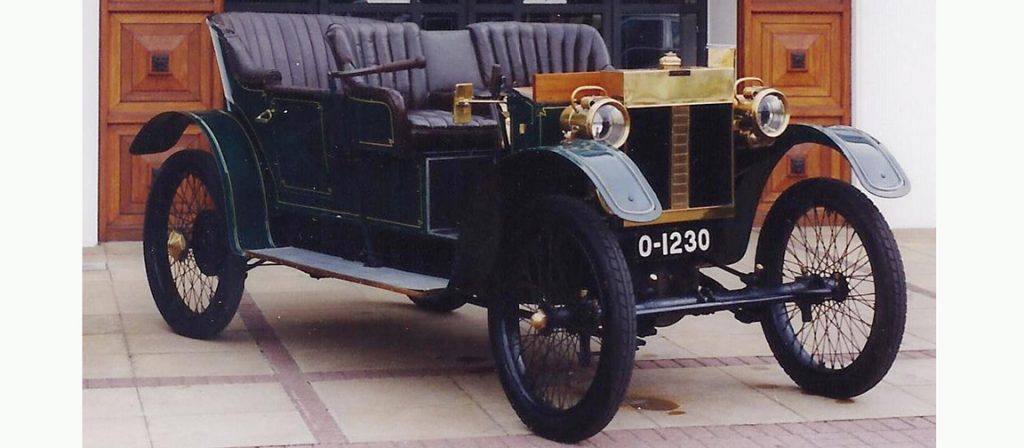 The 20hp Lanchester was first shown to the public in January 1905 although by then a batch of pre-production cars had already been built.  This car is believed to be one of these, and the car is therefore dated to 1904.  It is certainly the oldest known 20hp model in existence.  Little is known of its early history, except that it appears to have been registered in Birmingham.  It was acquired for the Jaguar Daimler Heritage Trust in the 1980s.
While the early two-cylinder Lanchesters attracted an enthusiastic following, they were increasingly handicapped in a car market which from 1901 onwards was dominated by the new Mercedes car and its imitators, of more conventional appearance with their long bonnets and impressive radiators.  The Lanchester company therefore began a gradual process of making larger, more expensive and more conventional cars.
In 1904, the company briefly offered a larger two-cylinder 18hp model, which featured an early form of the disc brake.  However, this car was not commercially successful, and only six were made.  Furthermore, in March 1904 the company had to declare bankruptcy, and after a period of receivership, was re-constructed at the end of the year as the Lanchester Motor Company Limited.
Fred Lanchester was demoted from general manager to designer and technical consultant. The next new model, the 20hp, was still largely his work.  It featured the company's first four-cylinder engine, a vertical in-line unit which was mounted in front of the front seat, between the footwells for the driver and the front passenger.  The cantilever springs and tiller steering of the earlier Lanchesters were still used, although later models would adopt a conventional steering wheel.  Together with a companion six-cylinder 28hp car, the 20hp continued in production until 1911.
Registration Mark: O 1230
Chassis Number: 578
Owner: The Jaguar Daimler Heritage Trust
Inventory Number: 6/L.02