1913 Daimler TE30 Saloon AE 4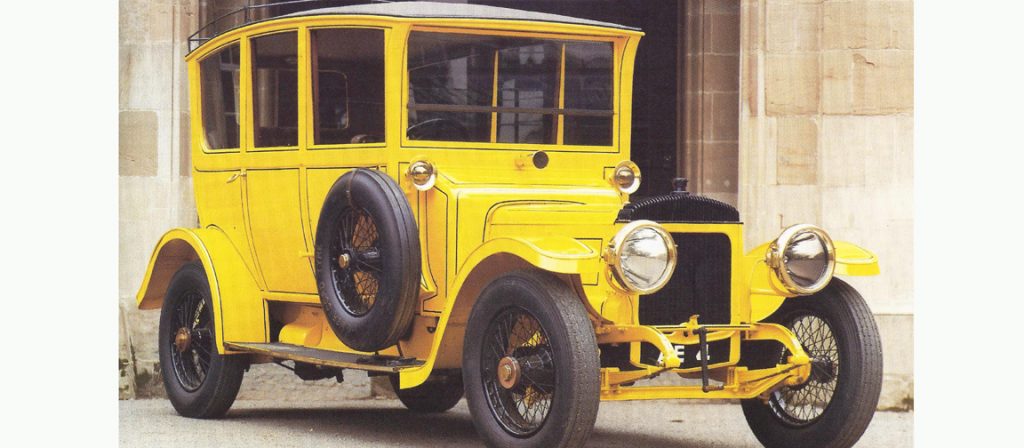 This centre-door saloon may have been a special order, and it is thought to have been built by Hooper.  It was very unusual for the period, when fully-enclosed bodies were still rare.  It was supplied to a Mr Orde of Bristol but was bought back by the Daimler company as early as 1937, and has been part of the company's Museum collection ever since.  Inevitably, it has been nick-named 'The Yellow Peril'.  It was fully re-trimmed by Callow & Maddox in the early 1980s, and was also repainted around this time.
Two factors helped to establish the Daimler marque.  Firstly, the granting of the Royal Warrant, as King Edward VII bought a Daimler car, an example followed also by other members of the Royal family. Secondly, the introduction in 1908 of the double sleeve valve engine, invented by Charles Yale Knight. This engine offered remarkable silence and refinement compared to ordinary engines at the time – even if accompanied by an alarming rate of oil consumption, and the emission of a great deal of smoke!
In 1910, the Daimler Company was taken over by the BSA Group, small arms, cycle and motorcycle manufacturers of Birmingham.  This provided Daimler with financial stability, and BSA allowed Daimler to continue and expand its product range.  By the time that World War One broke out, Daimler was one of Britain's leading car manufacturers, with 5000 workers and an output of 1000 cars in 1913.
As was typical of the period, the company made a wide range of cars, although the 1913 range was reduced from seven to five models.  Three of these were four-cylinder cars, ranging from 3.3 litres to 6.3 litres, while the six-cylinder TE30 of 5 litres had a 6.9 litre stable mate, the new 40hp.  Even larger 57hp cars were made to order for the Royal Household.
The TE30 chassis cost £650 and seven standard body styles were listed, at prices ranging from £786 to £910.
Registration Mark: AE 4
Chassis Number: 11648
Owner: The Jaguar Daimler Heritage Trust
Inventory Number: 10/D.08
Price when new: £910
Price: 655 Weeks Average Wage