1925 Norton 160H with Swallow Model 4 Sidecar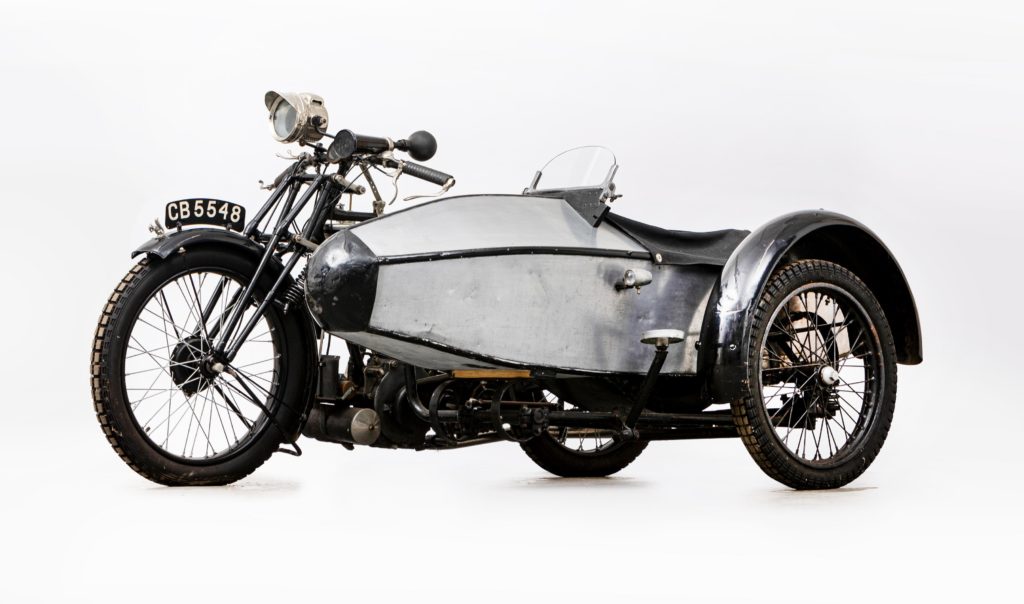 This Norton motorcycle is on temporary loan to the Jaguar Daimler Heritage Trust until the end of September 2022 at which point it will return to Bonham's Auctions for sale in their October Motorbike sale in Stafford.  The Norton has been in the ownership of the same family for over 40 years.  While the exact date of manufacture of the Swallow Sidecar is not known it is believed to date from the 1920s and have been attached to this motorbike throughout the current ownership..
The Swallow Sidecar was originally the inspiration of William Walmsley, a thirty-year old World War One veteran and motorcyclist, who built his first sidecars in his parents' garage at their home in Stockport.  When his father retired and the family moved to Blackpool in 1921, he continued this business at their new home.  One of his first customers in Blackpool was his new neighbour William Lyons, who even at the age of twenty, was quick to see a future in building sidecars.  He convinced Walmsley that they should form a partnership, and increase production from two to ten sidecars per week.  Because of young Lyons's age, at first his father had to sign documents guaranteeing the new partnership.
Therefore it was only on 4 September 1922 (Lyons's twenty-first birthday) that the Swallow Sidecar Company was officially formed.  Production moved from Walmsley's garage to a small factory in Bloomfield Road in Blackpool, a building which is still in existence.  Made from alloy panels over an ash wooden frame, the Swallow sidecar's unique 'Zeppelin' design quickly proved popular with the motorcycling fraternity.
The Model 4 Super Sports sidecar was the most popular of all the sidecars produced by the Swallow Sidecar company during the Blackpool years.  Lyons had simplified Walmsley's original design reducing it from eight side panels down to five, which simplified the wooden frame, reduced the number of components, making it quicker and easier to assemble.  He added a pointed tail, unique to the Model 4, and the seat back hinged down providing a small amount of 'boot' storage space.  Weight was kept down to about 80 lbs (36.28 kg), which William Lyons thought was important, as many of their competitors' sidecars were too heavy for the motorbikes of the day.
The Model 4 Sidecar sold for only 12 Guineas (down from the 28 Gns of Walmsley's original sidecar).
Registration Mark: Norton CB 5548
Owner: On Loan from Bonham's Auctions
Price when new: Sidecar 13 Guineas (£12 60p)
Price: 4 Weeks Average Wage