1928 Austin Seven Swallow DS 6866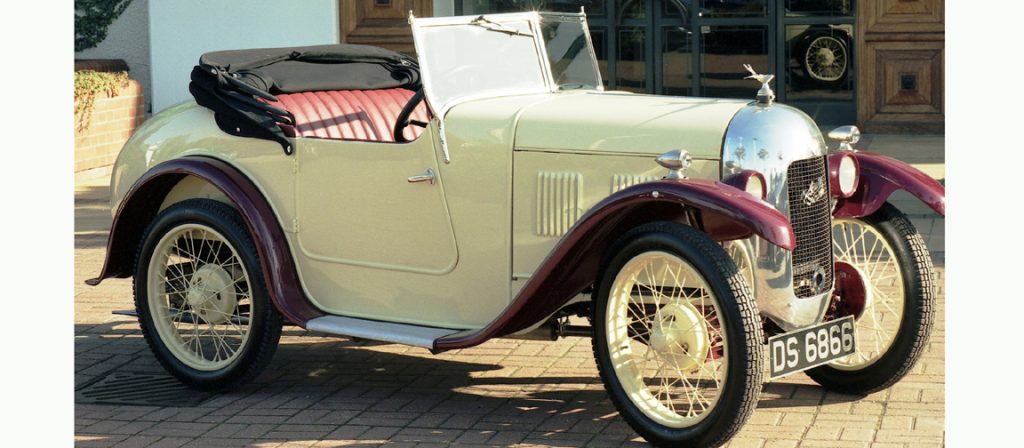 This particular Austin Seven Swallow is of unique interest.  It is the oldest known survivor, and is thought to be one of only three cars preserved from the Blackpool production.
It was acquired for the Jaguar Daimler Heritage Trust in the 1980s and was extensively restored in 1993, to, as near, original condition as possible.  The original engine had sadly been lost many years before and the car is now fitted with a slightly later engine, dating to 1930.
While the Swallow Sidecar Company had been founded in Blackpool in 1922 to make motorcycle sidecars, within a few years the company took on coachbuilding work under the direction of the young and ambitious William Lyons.
By 1926, the company had become the Swallow Sidecar & Coach Building Co Ltd, and Lyons decided to make his own special-bodied car.  In common with many other specialist coachbuilders, he based his product on the chassis of Britain's best-selling small car, the Austin Seven.
In January 1927, an Austin Seven chassis was obtained through a dealer in Bolton, and in May of that year, the finished car – the first motorcar to be produced by the company – was described in The Autocar.  Originally the intention was to fit the car with a detachable folding hard top but this proved to be impractical, and the cycle-type wings of the first car also had to be changed to ordinary flowing wings.
Soon after, Lyons was given a contract by the London motor trader Henlys for no less than 500 Austin Seven Swallows – at the rate of twenty-five per week.  However, the maximum number that could be built in the Blackpool factory was fourteen cars per week.  The consequence was that Lyons decided to move his company to new premises in Coventry, in the heartland of the motor industry, and the move took place in November 1928.
Click here to view the article from Classic and Sportscar, April 1994 – The First 'Jaguar'
Registration Mark: DS 6866
Chassis Number: 61940
Owner: The Jaguar Daimler Heritage Trust
Inventory Number: 19/S.04
Price when new: £170 10s
Price: 57 Weeks Average Wage