1929 Austin Seven Swallow Earliest Surviving Seven Swallow Saloon FV 137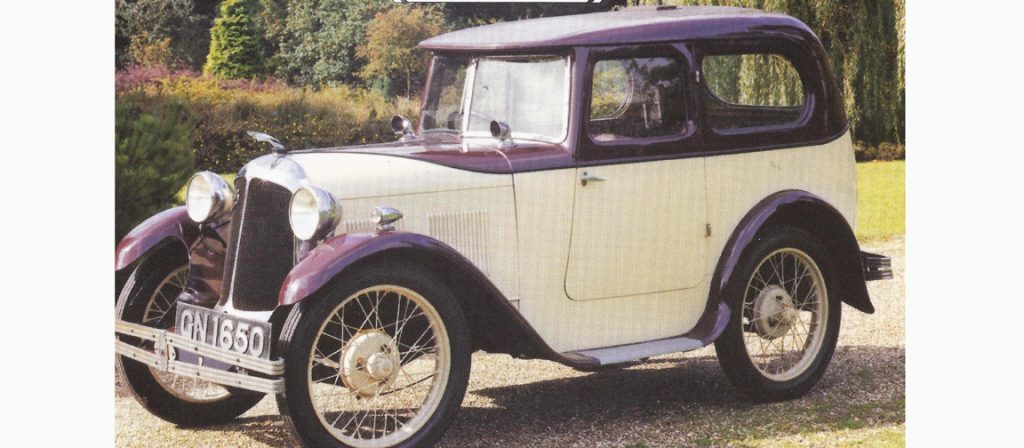 FV 137 was featured in the Summer 2018 edition of Jaguar World magazine.
This car is one of the first year's production, and it is the earliest known survivor of the Austin Seven Swallow saloons.
With the move from Blackpool to Coventry successfully completed in late 1928, the Swallow Company had ample room in their new factory at Whitmore Park, Foleshill.  Production quickly expanded, with a target of fifty cars per week.  While the Austin Seven continued to account for most of Swallow's sales, there were also a few bodies made on Morris, Fiat and Swift chassis.  The company's location in Coventry eventually brought it into contact with the Standard Company at Canley which led to the introduction of the first Standard Swallow in October 1929, and the SS1 two years later.
As part of the big order for 500 cars from Henlys, the Swallow Company had agreed to produce a saloon version as well as the open two-seater.  The prototype of the Swallow saloon on the Austin Seven chassis was completed before the move from Blackpool but it is unlikely that any production cars were built there.  The design was particularly distinctive, with the 'pen nib' treatment for the two-tone colour split along the bonnet, the V-shaped windscreen with a peak, and the rounded, almost egg-shaped rear end.
The car was available in a wide range of colour schemes, it was well-finished, almost luxurious, inside and out, and sold at a price of only £187 10s.  There was no comparable car, of its size or at its price, offering a similar amount of style and luxury.  The Swallow Seven became deservedly popular, with an estimated 2,500 cars being made from 1927 to 1932.  The majority were saloons, around 1,700 of them.  Over the years of production, small changes were made to the Swallow saloon, for instance, the radiator was changed several times.
Registration Mark: FV 137
Chassis Number: 83425
Owner: The Jaguar Daimler Heritage Trust
Inventory Number: 20/S.05
Price when new: £187 10s
Price: 62 Weeks Average Wage