1931 Austin Seven Swallow MW 7073
This vehicle is on display in the Jaguar Gallery at Coventry Transport Museum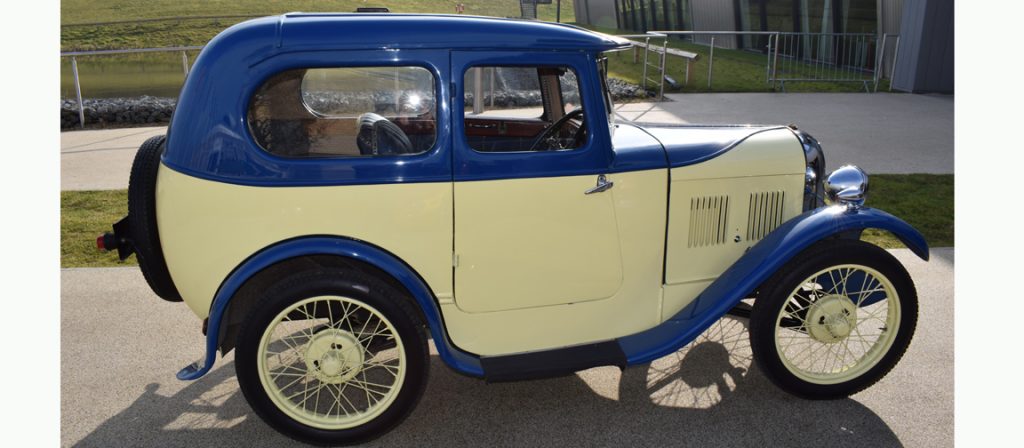 This Austin Seven Swallow is on long term loan to us from Jaguar Land Rover Classic.  This was acquired by Jaguar Cars as part of the Dr James Hull Collection. It was last taxed in the UK in 1997 and has since spent a number of years in Germany, hence the sticker from 19.09.2004 in the windscreen for the Dortmunder Oldtimer Rallye and the information plate in German attached to the spare wheel.
This is a later model than our 1929 cream / brown Austin Seven Swallow and has a number of significant differences. The design retains two-tone paint and the 'pen nib' treatment on the bonnet, the V-shaped windscreen with a peak, and the rounded, almost egg-shaped rear end. The opening flap in the roof was often referred to as a 'chimney' as it let out the cigarette smoke.
Being a later car, some of its fittings demonstrate that the Company have already started to take its designs and finish up-market a little.  It now has drop down windows in the doors instead of sliding ones, chromed radiator surround, headlamps and sidelamps and a better interior with embossed door cards and coloured braiding.  It doesn't sport the boat-like air vents in front of the windscreen, but it is not known whether this is how it left the factory or if these weren't fitted after restoration.
When the car arrived at the Trust some of the chrome was peeling off the radiator surround so it was removed, repaired and re-chromed.  While this was off the car we took the opportunity to complete some repairs to the cooling system, including realigning it (it looked as if there has been some front end damage at some point), replacing the hoses and fixing a number of leaks.
We have started the engine and driven it round the car park but before it can be driven any distance the brakes and suspension would need to be overhauled.
The Austin Seven Swallow was available in a wide range of colour schemes, but it is not known if  it left the factory in its current colours, it was well-finished, almost luxurious, inside and out, and sold at a price of only £187 10s.  There was no comparable car, of its size or at its price, offering similar levels of style and luxury.
Registration Mark: MW 7073
Chassis Number: C103065
Owner: Jaguar Land Rover Classic
Inventory Number: 207/S.18
Price when new: £187 10s
Price: 63 Weeks Average Wage