1935 SS 1 Airline Saloon AWR 564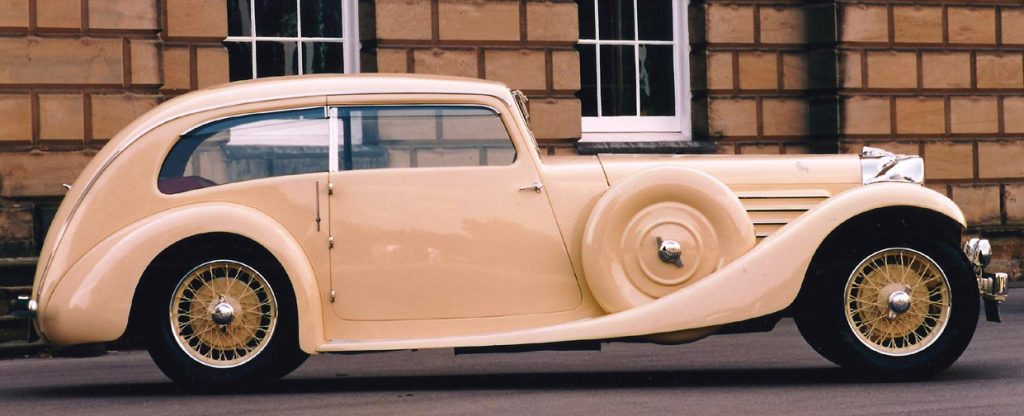 This SS Airline is one of the best-known and most well preserved remaining examples.  It was delivered new in March 1935 to a Captain S Clough by Yorkshire SS dealer Glovers of Harrogate.  By 1948 the car had passed to L A Reid of Kirby near Liverpool who owned it until 1984 when it was bought by the History of Jaguar Museum in Maldon which had the car fully restored by local specialists Fulbridge.  In 1994 the museum closed and the car was put up for auction by Brooks where it was purchased by Jaguar Daimler Heritage Trust with the aid of a grant from the Prism Trust.
The Airline was only in production for a period of two years from 1934 to 1936 during which time 624 were produced, out of the total of 4,254 SS1 cars of all types.  The price was initially £360 for the 16 hp model and £5 extra got you the bigger 20 hp engine, although these prices were reduced by £20 for the 1936 season.
Like many other cars of the period, the Airline paid lip service to the then current fashion of streamlining and also reflected the Art Deco style.  It has been said that William Lyons – stylist as well as company director – did not personally like the model, and the Airline has been attributed to the influence of William Walmsley, Lyons's original partner, who would soon leave the Company.  Whatever, it is without doubt the most striking of all the different SS1 body styles, with many unique features, such as the twin wing mounted spare wheels.
From the start with a single, rather ungainly looking coupé body in 1931, over the next few years the SS1 underwent considerable development and became available with several different body styles. William Lyons was not particularly happy with the style of the original car, and after production of only one year, the 1933 models acquired a new chassis, underslung at the rear, long flowing wings, and a lower roof line.  An alternative body in the shape of an open four-seater tourer was also offered.
The 1934 SS1 models had larger engines, although still rated at 16 hp or 20 hp for taxation, and a saloon body became available, with rear side windows instead of the blind rear quarters.  Further models were added to the 1935 range – a drophead coupé, the now legendary SS90 open two-seater sports car, and the Airline saloon.
Registration Mark: AWR 564
Chassis Number: 248916
Owner: The Jaguar Daimler Heritage Trust
Inventory Number: 026/S.13
Price when new: £365
Price: 127 Weeks Average Wage