1950 Bedford KV Van KEL 746 Jaguar Works Support Vehicle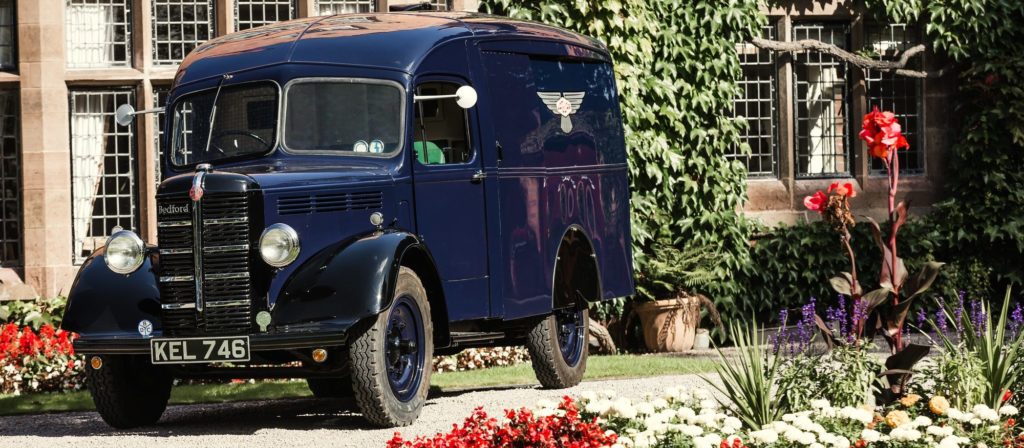 KEL 746 is a Bedford KV series van, first registered on 9th May 1950.  She is representative of the type of service van that the Jaguar Works teams used to take the racing spares and accessories from the factory to the various motor racing circuits, in the early 1950s.
There are several, albeit rare, pictures of these work horses and they clearly show that the configuration varied from van to van, but when speaking to test driver, Norman Dewis and ex-works mechanic, Ron Gaudion, the vans were remembered as dark blue in colour, sporting the Jaguar wings in silver, on the sides.  The two men's memories differed in that one stated they had roll up doors at the rear, the other remembering swing opening doors and with sliding side doors.  Pictures suggest both were correct, but the model you see here, is of the latter variety.
Unfortunately, none of the original vans actually used by the Works still exist, but KEL 746 is an original and period example of what was used and was sourced by Clive Beecham from the John Mould Collection in Reading, to accompany his ex-Works and Ecurie Ecosse D-type, XKD 603.  The search for a closed bodied van in this specification took well over two years.
With their top speed of around 45 mph, journeys to Le Mans, Reims and Silverstone for the Works teams must have taken their time via road and ferry.  For races in Europe the race cars would be driven to Eastleigh Airport, Southampton, flown to Le Touquet by Silver City Airways and then driven on down to the relevant circuit, sometimes accompanied by a Mark VII, the tender car that also would be used to carry spares and chauffeur Sir William at the relevant event.
The vans themselves never towed any cars and on the odd occasion a car was too damaged to drive home, Lofty England would organise a Flat Top truck to return the car to Browns Lane.
These Works vans were very much part of the team and general backdrop, now adding a poignant reminder of how different motor racing was in the 1950s, compared to today.
This Bedford van has kindly been loaned to the JDHT from April 2022 to the end of December 2023.
Registration Mark: KEL 746
Owner: Clive Beecham