1953 Daimler Conquest Saloon LSP 404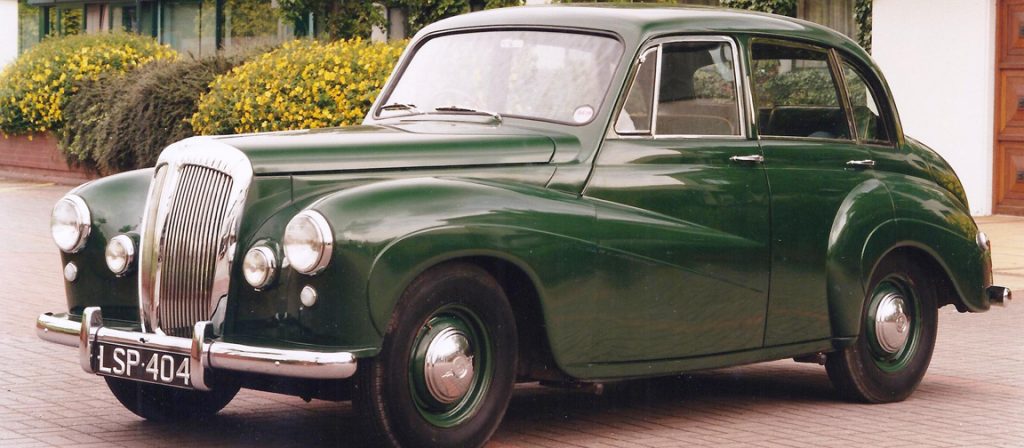 This car has only covered 1415 miles since being bought in 1953 from the Rossleigh stand at the Royal Highland Show in Edinburgh by Mr James Hitt, a farmer from Kirkcaldy in Fife.  Mr Hitt never drove the car!  Rossleigh serviced it the following year and from then on it was maintained by a firm of agricultural engineers, Bowens of Markinch, who every month would start the car, check the tyres and drive it to the end of Mr Hitt's drive before returning it to the garage.
Daimler had introduced the Conquest as a new model in 1953, replacing the Consort which in turn had been developed from the DB18.  The, chassis and body were based on the Lanchester Leda, but the Conquest had a new short-stroke six cylinder 2½ litre engine with 75bhp.  The name was reputedly chosen since the basic factory price was £1066.  Several versions of the model were made and the Conquest was Daimler's best-seller until 1958.
James Hitt died in 1968 and left the car to his sister.  Miss Hitt died in 1970, leaving the car to the local minister.  He had just bought a brand new Hillman Avenger, so what use was an old Daimler to him?  Classic car enthusiast Eddie Robertson learnt of the car and went to see it in 1971.  The best offer the minister had received for the car was £250, but Eddie asked the minister what he'd just paid for his new Avenger.  The reply was that the car had cost £666. Eddie offered £666 for the Daimler and a deal was struck.  He remembers that the mileage then was about 725!
Over the next few years, the car was cared for by Eddie's father Alastair.  They attended the Strathmore Vintage Rally at Glamis Castle on a couple of occasions, winning the Trophy one year.  When Alastair died at the end of 1998, Eddie felt that he did not have time to care for the car properly, and so offered it to Jaguar Heritage with 1,371 miles on the clock!
Registration Mark: LSP 404
Chassis Number: 83196
Owner: The Jaguar Daimler Heritage Trust
Inventory Number: 47/D.24
Price when new: £1,511 5s 10d
Price: 196 Weeks Average Wage