1954 Jaguar XK140 Open Two Seater TNK 745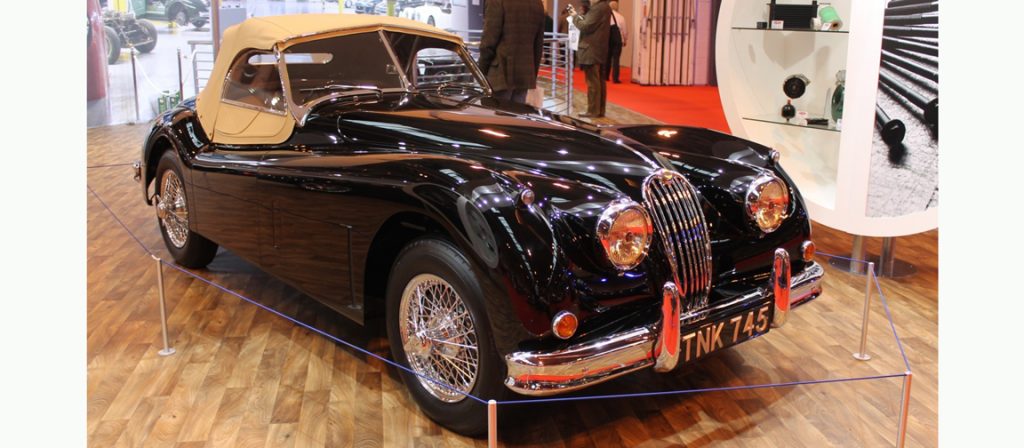 This particular car started life on 25 November 1954, it is the second of the 74 RHD cars built, and was originally sold in the London area.  It is the standard model with the 190 bhp engine as opposed to the 210 bhp engine with the C-type cylinder head which was found on the 'Special Equipment' model.  Nevertheless, the top speed of this model was still in the region of 125 mph, or just over 200 km/h.  It has been restored to a high standard in its original black colour scheme with tan hide interior and hood and its original disc wheels have been replaced with chrome wire wheels.
The car is featured in A D Clausager's book 'Jaguar XK140/150 In Detail'.
At the Motor Show in October 1954, the XK120 model was replaced by the updated and improved XK140 series.  The new model could be identified by the cast radiator grille with seven bars, and by the heavier section bumpers, front and rear, which were particularly necessary in the important North American market, even if they did not improve the looks of the car.  As with the XK120, the door windows are removable side-screens – wind up windows not appearing until the arrival of the XK 150.
Under the skin, a worthwhile improvement was that the XK 140 had rack-and-pinion steering, and since the engine was moved 3 inches forward, a similar amount of extra space was liberated for passengers.  It also became possible to fit small occasional rear seats on the coupé models.  The engine was uprated, with power now quoted as 190 rather than the 160 bhp of the original XK 120.
The three body styles offered on the XK140 were the open two-seater, the drop head coupé and the fixed head coupé.  Of these the open two-seater was still the most popular, with 3,356 built out of a total of 8,956 cars until early 1957.  Originally, there were only 74 two-seaters with right-hand drive.  In the home market, the two-seater cost £1,598 8s 4d without extras, but only 45 of these cars found home market customers.  The main market for the open two-seater was now the USA, with other markets preferring the more comfortable coupé models.
Registration Mark: TNK 745
Chassis Number: 800002
Owner: Jaguar Land Rover Classic
Inventory Number: 210/J.144