1957 Daimler Conquest Drophead Coupé 213 CPH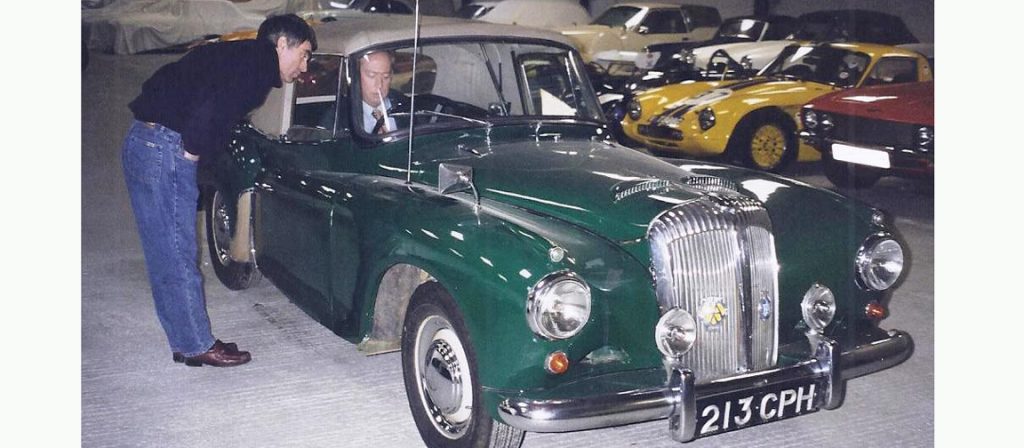 Originally launched at the 1953 Earls Court Motor Show the Conquest Roadster was a low-slung sports two-seater with 'modernistic' lines and a 100 bhp twin carburettor version of the Daimler 2½ litre engine.  Intakes in the Roadster's rear wings were intended to direct cool air on to the back brakes.  It won second prize in the Earls Court coachwork competition that year.
To quote from a contemporary Daimler brochure: 'The new Daimler Drophead Coupé has been produced to meet the exacting requirements of the discriminating, yet enthusiastic driver who, while demanding 100 mph performance, also insists on superlative comfort for himself and his passengers.  Based on the famous 100 bhp Mark II "Century" chassis, this new Daimler combines high engine efficiency with superb cornering and braking to provide really fast, smooth and silent motoring whilst, at the same time, possessing comfort features beyond compare.  Special high-speed tyres are standard equipment.  Three full-size seats are beautifully upholstered in soft leather with matching high-grade carpets.  The rear seat can be quickly detached and lifted out to provide additional luggage space.  Alternatively, this seat can be left in place and its cushion hinged up against the squab.
Accessibility, too, is a strong feature of this model.  Not only are the door apertures extremely wide but also the passenger's seat hinges forward and locks in that position.  Note too, how the hood in the lowered position lies flat and perfectly level with the bodywork!'
The Daimler Conquest Drophead Coupé was discontinued in late 1957 after only about 60 were built. This car has been owned by one family and covered very few miles.
It was bought by the Jaguar Daimler Heritage Trust in 2000.
Registration Mark: 213 CPH
Chassis Number: 90536
Owner: The Jaguar Daimler Heritage Trust
Inventory Number: 53/D.27
Price when new: £1,895
Price: 202 Weeks Average Wage