1958 Jaguar XK150 3.4-litre Drophead Coupé VUF 316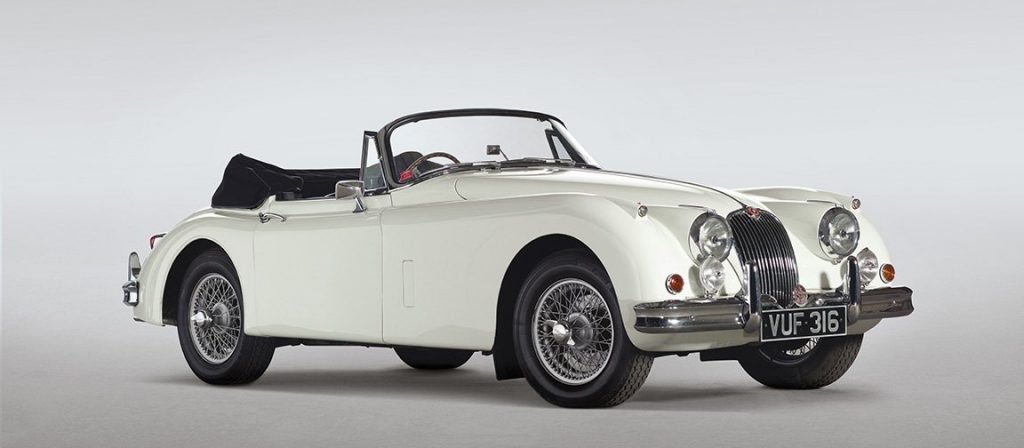 The XK150 was the third and final stage in the evolution of the XK concept. The model was launched in May 1957, initially with a choice of fixed-head and drophead coupé bodies. The open two-seater followed nearly a year later, and was at first available only with left-hand drive for export, with most of these cars going to the USA.
The styling of the XK150 was modernised, and if the car had lost some of the lithe grace that had characterised the first and purest version of the XK design, it had clearly become more muscular. There were other worthwhile improvements. Although a "standard" XK150 with drum brakes was quoted in the catalogue, all the production cars were of the "Special Equipment" model, which had four-wheel disc brakes. Almost all cars had wire wheels, except for a handful of cars with disc wheels and spats over the rear wheels.
The 3.4-litre engine now produced 210bhp, and 250bhp on the new "S" model with a three-carburettor engine which was introduced in 1959. This was not the end of the story either, as Jaguar introduced a bigger XK engine of 3.8 litres. From October 1959, there was a 3.8-litre XK150 with 220bhp, and an "S" version with a quoted 265bhp (gross figures). This was the most powerful of all the XK production models, and reached no less than 136mph (219km/h) in an independent road test. Total production of the XK range from 1948 to 1960 was 30,000 cars, including 9,385 XK150 models.
This particular car was built in August 1958, it was finished in "Pure White" (to special order) and was equipped with overdrive. The price when new was £1861. It was originally supplied through Henlys Limited in London to a first owner in Brighton, but nothing is known of its early history. It was for many years in the ownership of the same family, until it was donated to the JDHT in 1998.
Registration Mark: VUF 316 (1 September 1958)
Chassis Number: S 827193 DN
Owner: The Jaguar Daimler Heritage Trust (Donated by Mrs Jean Reynolds in 1998)
Inventory Number: 056/J.19
Price when new: £1,861
Price: 188 Weeks Average Wage