1959 Daimler SP 250 (Dart) The oldest surviving SP250
Prototype Chassis 100002 - Registration XHP 438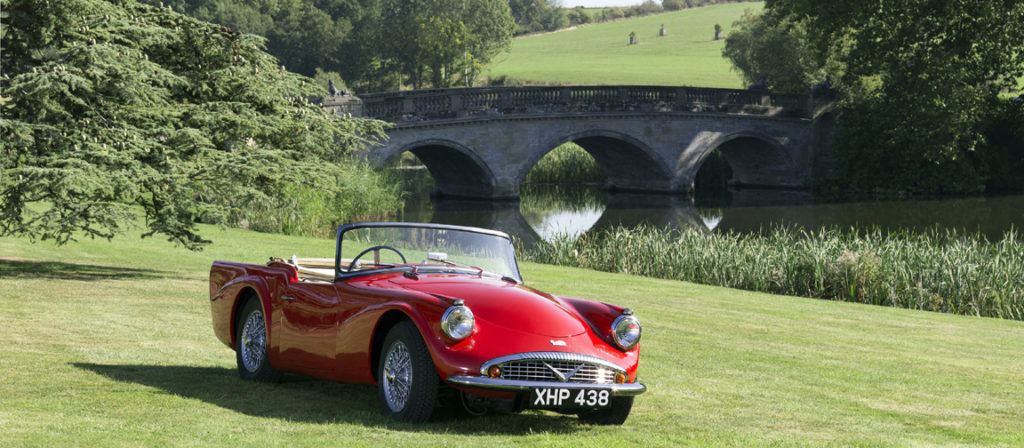 This is the oldest surviving Daimler SP250, built in early 1959, chassis 100002 was the third of the three prototypes.  The other two prototypes, chassis 100000 and 100001 built in 1958, were dismantled when their testing was completed.
Registered as XHP 438 it was used as the company press car and was tested by Autocar and Motor magazines and on one memorable day a works driver took out a couple of Australians for a hair-raising drive around the works and surrounding roads.  It also featured on the front cover of the November 1959 edition of 'Vogue'.
After its life as a press car it went back to the Daimler factory for re-furbishment and then in February 1960 was sold through the Dorking Motor Company to Jack Brabham Motors of Hook, near Kingston, Surrey.  Its first private owner was Mr Donald Harley who worked on the 'Eagle' comic as the illustrator on 'Dan Dare'.  Mr Harley exchanged it for a Sunbeam Alpine in March 1962.  From then to 1977 it went through four owners around England before being exported to Holland and receiving a new Dutch registration number of 60 TS 15.  This owner then moved from Holland to Canada taking the car with him, although making little use of it and putting it into storage for almost ten years.
In 1987 it was sent off to auction where it was bought by two Canadian brothers, Doug and Gary Titosky, who recognising its importance started on what was to become a 30 year restoration project.  In 2019 the part restored car was bought by the Jaguar Daimler Heritage Trust and re-imported to England and its original registration number re-issued by the DVLA.
The car was displayed on the SP250 Owners' Club stand at the Classic Motor Show at the NEC from Friday 8th to Sunday 10th November 2019 and the Titoskys flew over from Canada for the Show.
It was  featured on the front cover of the November 2019 issue of the Daimler Lanchester Owners' Club magazine Driving Member with a three page 'Autobiography' inside.
Follow this link for a more detailed history of XHP 438.
Towards the end of the 1950s Daimler decided to try and open up a new market sector in the US with a small sports car powered by a brand new 2½ litre V8 engine.  The engine was designed by Edward Turner using motorbike engineering philosophy and produced in both 2½ and 4½  litre forms.  The new car was in every respect a departure from traditional Daimler practice.  The chassis was based on the Triumph TR3, a manual gearbox was an option (Daimler had previously favoured pre-select gearboxes), Girling disc brakes were fitted on all four wheels and the strikingly styled body was made from fibreglass instead of steel.  The new model was launched at the New York Motor Show in April 1959 (where it was unofficially voted as the ugliest car at the show) and was at first called the Daimler Dart. Chrysler Corporation protested that they had this name registered for a Dodge and threatened legal action. With little time to come up with a new name, Daimler used the project number SP 250 as the model number.
Sadly, no sooner had Daimler introduced the car than the US market went into recession, and the hoped-for large scale sales in the USA never materialised.  This was perhaps just as well, since there were numerous build quality problems, mainly with the body but caused by chassis flex.  These were partly addressed when Jaguar bought Daimler in 1960 and brought out the 'B spec' version.  Some of the cars that been exported to the US, but remained unsold, were returned to England for re-working to 'B' spec.
The final production figure of 2,654 cars made between 1959 and 1964 was far short of Daimler's original forecast of 1,500 in the 1st year and 3,000 in each of the 2nd and 3rd years of production.
However around 1,674 SP250s are known to exist, albeit not all roadworthy –  63% – an unusually high survival rate for any car from the 1950s and 1960s.
Registration Mark: XHP 438
Chassis Number: 100002
Owner: The Jaguar Daimler Heritage Trust
Price when new: £1,539 1s 0d
Price: 150 Weeks Average Wage