1960 Jaguar Prototype E2A Registered VKV 752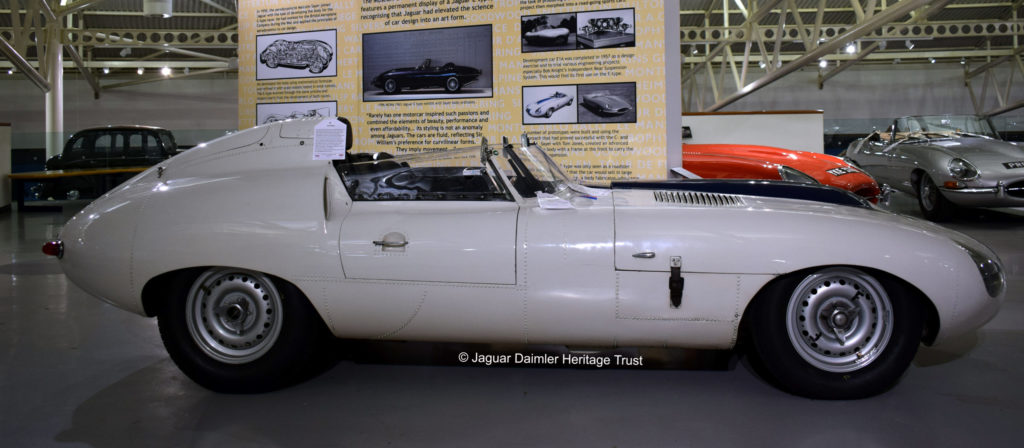 E2A was loaned to the Jaguar Daimler Heritage Trust for the E-type Evolution Exhibition from March to the end of June 2021.
It has now been returned to its owner and is no longer on display and merely listed here as a matter of record.
This is the second of two prototypes (after E1A) which bridged the gap between the D-type racer and what was to become the E-type, when launched at the Geneva Motor Show in March 1961.  Building commenced on E2A on 1 January 1960.  This car was very much like the D-type but with a slightly longer nose and the rear monocoque adapted to take the independent rear suspension unit designed by Bob Knight.  The body had an open cockpit with two doors and there were air intakes in the body above the rear wheels for cooling the brakes.  It was fitted with a 3-litre fuel-injected XK engine developing nearly 300 bhp and driving an aluminium-cased five-speed gearbox.
Intensive testing at MIRA was carried out during February and March 1960 and gradually the hand-built car was fettled.  The troublesome five-speed gearbox was changed for a four-speed all-synchromesh D-type unit and the original engine, which had been prone to misfire at 5,000 rpm was replaced.  Tyres, suspension, anti-roll bars and a myriad of smaller items were all tested to the limit.  With the Le Mans practice scheduled for the weekend of 8 April, E2A was made ready and taken over to France in its unpainted state.  The raised headrest had been given a D-type fin, which was taken off for some of the practice straight line runs for comparison purposes.  Walt Hansgen achieved a lap time of 4 min 8.4 secs in E2A vs Phil Hill's Ferrari at 3 min 58.5 secs.  Once the practice weekend was over E2A was returned to Browns Lane and painted in Briggs Cunningham's US racing colours of white and blue.
After 89 laps of the 1960 Le Mans 24 Hour race E2A retired with a head gasket failure and a burnt piston and was shipped back to Browns Lane.  Though he was disappointed not to have won in France, Cunningham liked the car and asked Bill Heynes if he could borrow it for a race in the USA.  Jaguar fitted it with a 3.8-litre XK engine, which necessitated the addition of the bonnet 'power bulge' and in August it was dispatched to New York, where Cunningham immediately entered it for a minor event at Bridgehampton,  Long Island, which Hansgen won.
It was later returned to Jaguar Cars and as a redundant prototype, was due to be scrapped.  Roger Woodley, who looked after customer's competition cars at Jaguar, persuaded 'Lofty' England – then Jaguar CEO – that E2A should join Guy Griffith's Camden Car Collection on public display rather than be cut up.  E2A is now owned by a private collector who lives in Switzerland but it is maintained by CKL, in the U.K. and has been raced at the Goodwood Revival meetings by various well known drivers.
For a fuller description of E2A see the page Experimental Engineering – Jaguar E2A.
Registration Mark: VKV 752
Chassis Number: E2A
Owner: Private Collector in Switzerland