1966 Jaguar E-type 4.2 Litre Series 1 PRP 159D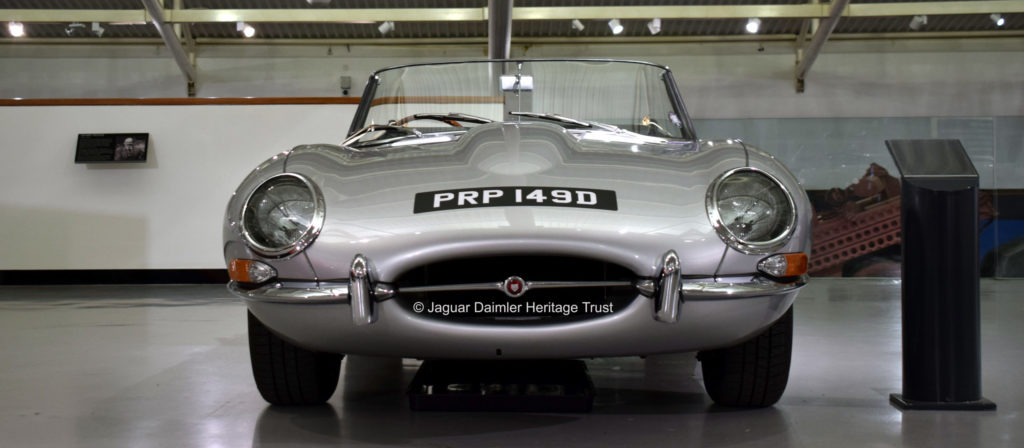 This is a 4.2 litre, Series 1 E-type, manufactured on the 3rd February 1966, and was one of six Jaguar cars sold in Kuwait that year.  She was repatriated to the UK in the 1990s and underwent a full restoration prior to being purchased in March 1999 by its current owner – one of Jaguar Daimler Heritage Trust's volunteers – who loaned it to the Trust for the E-type Evolution Exhibition which ran from March to the end of June 2021.
It has now been returned to its owner and is no longer on display and merely listed here as a matter of record.
The original colour was silver-blue, but this was changed to silver during the restoration.  She wears slightly wider (than standard) 6.5", 72 spoke, centre laced painted wire wheels.  The owner uses it as much as possible performing most of the maintenance himself.
He took the car on the track at Silverstone as part of the 50th E Type anniversary celebrations and we are happy to include it in this exhibition for the 60th anniversary.
When introduced in 1961, the E-type had a 3.8 litre XK engine with triple carburettors, producing 265 bhp.  Although the E-type received almost universal praise at its launch, as it was in a different league to everything else, there were a number areas in which it was deficient.  There was a lack of legroom which was resolved fairly quickly by recessing the floor panels giving an extra 2 inches – and the earlier cars became known as 'flat-floor' cars.  The four-speed Moss gearbox, as used in the XK120-150 and the saloon cars, had no synchromesh on 1st gear and it tended to become weak on 2nd gear.  With practice the car could be driven well by double de-clutching or by using slow, steady, gearchanges but was not the ideal box for a true 'sports' car.  The bucket seats had little support and no seat back adjustment.  The disc brakes were far superior to period drum brakes but the brake pads were small and the servo relatively ineffective.
In 1964 Jaguar launched the first major upgrade to the E-type, installing the enlarged 4.2 litre engine which was now mated to a Jaguar built gearbox with synchromesh on all gears enabling much quicker, smoother gearchanges. The brake servo was much improved so that at last the braking capabilities matched the power of the car.  New wider, more supportive, adjustable seats were installed.
All these improvements, and it retained the faired-in headlamps and slim sidelamps, which is why many people regard the 4.2 litre version of the Series 1 as the best of the E-types.
Registration Mark: PRP 149D
Owner: Jaguar Daimler Heritage Trust Volunteer