1976 Jaguar XJ6 Series 2 - 4.2 Litre RWT 37R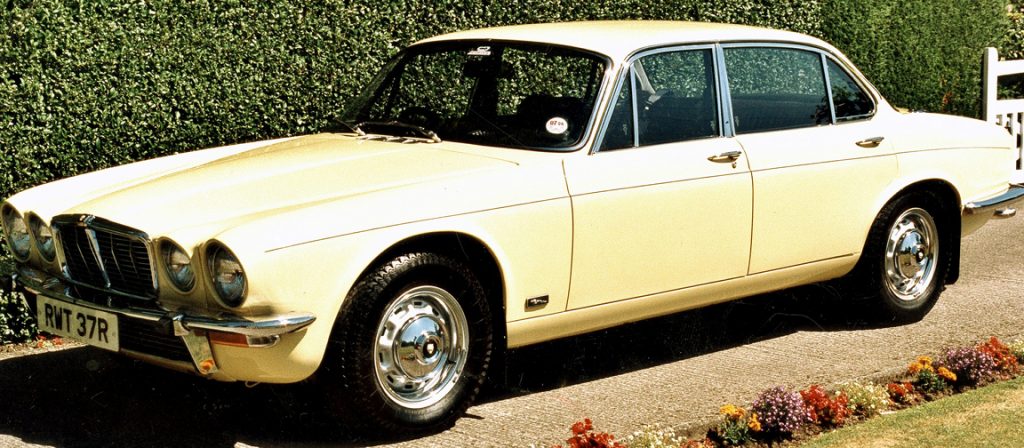 The Series 2 model of the successful XJ6 and XJ12 range was introduced in 1973 and continued in production to early 1979.  The revised range featured new bumpers and radiator grilles compared with the original Series 1 models.  From 1974 saloons were only built on the longer wheelbase, and the 2.8 litre engine was discontinued except for small numbers of export cars.  This 4.2 litre saloon therefore represents the typical Series 2 model, and of a total of 127,961 Series 2 cars, no less than 57,804 were Jaguar 4.2 saloons.
Although the colour scheme of Primrose Yellow with Ebony Black cloth trim may seem unusual for a Jaguar, it is original on this particular car which was built in June 1976 and despatched to Appleyards of Leeds.  The car was sold to Mr and Mrs Harris, or rather to their parents who bought the car as a wedding present for their children.  At a retail price of £6,660 at the time without extras, it was certainly a handsome wedding present!
The subsequent history of the car was just as unusual.  It was used regularly for the first four years of its life, clocking up some 17,000 miles, but was then garaged and used very sparingly. Mr and Mrs Harris, long-standing Jaguar enthusiasts, eventually decided to part with the car, but were anxious that it should be preserved, not only for nostalgic reasons but because it was one of the most original and best-preserved examples of this increasingly rare model.
In the spring of 2000, Mr and Mrs Harris therefore decided to offer the 24-year old car to the Jaguar Daimler Heritage Trust, with just over 18,300 miles on the odometer.  The Jaguar Daimler Heritage Trust was delighted to accept this generous donation, which filled an important gap in the Trust's collection of the Jaguar XJ models.
RWT 37R was one of the cars featured in the video montage – Jaguar XJ50 – which Jaguar Cars produced
to celebrate 50 years of the XJ in 2018, showing the evolution of the XJ Saloon.
Registration Mark: RWT 37R
Chassis Number: 2T17971BW
Owner: The Jaguar Daimler Heritage Trust
Inventory Number: 078/J.35
Price when new: £6,660
Price: 131 Weeks Average Wage