1988 Jaguar XJR9 Le Mans Winner Car #2
Driven to victory by Jan Lammers, Johnny Dumfries & Andy Wallace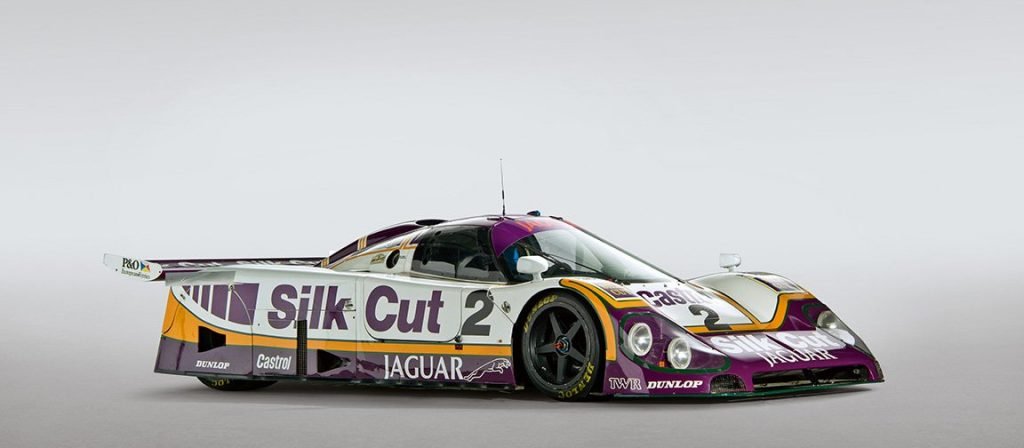 OUR XJR-9 HAS BEEN TAKEN OFF DISPLAY FOR A SHORT WHILE AS IT HAS RETURNED TO FRANCE
AS PART OF THE LE MANS CENTENARY CELEBRATIONS.
The Automobile Club de l'Ouest (ACO), creator and organiser of the 24 Hours of Le Mans, are planning a number of events throughout 2023 to commemorate the centenary of the first Le Mans 24 Hour race in 1923 and have invited previous Le Mans winning cars to return.
The  XJR-9 took to the track again, for parade laps, on both Friday 9th and Saturday 10th June.  It was then on display on track for the rest of the weekend before being taken to the Le Mans Museum where it will remain for the rest of June, returning home to Gaydon on 5th July.
The long awaited return to Le Mans came in 1984 when Jaguar teamed up with the American Group 44 team who designed and produced a sports racing car around the Jaguar V12 engine.
Two cars were entered for the 1984 race but both failed to finish.
In 1985 a Group 44 car managed to finish the race in thirteenth place, winning the GTP category, the first time in twenty-two years that a Jaguar had been classified as a finisher.
Following the success of Tom Walkinshaw and his TWR Racing Team which dominated the European Touring Car Championship with the Jaguar XJS, TWR were given the task of designing a sports racing car to win Le Mans for Jaguar.  The cars that were entered in the 1986 and 1987 Le Mans all performed well but luck was not on their side, they all succumbed to failures that were incidental rather that fundamental to the cars' design or construction.
In 1988 Jaguar went to Le Mans in strength, with an entry of five XJR-9 cars, all powered by the Jaguar V12 engine producing 650 bhp  from 6.0 litre engines or 750 bhp from the bigger 7.0 litre engines.  Two of the cars retired but the remaining three went on to finish first, fourth and sixteenth.  The winning Jaguar, driven by Jan Lammers, Johnny Dumfries and Andy Wallace, completed 394 laps and covered a distance of 5,330.86 km (3,313.15 miles), in comparison the winning D-type of 1957 covered a distance of 4,397 km (2,732 miles).
A full description of the run-up to the 1988 Le Mans win and some background on TWR and the XJR- appears on the 1988 XJR-9 page in the Jaguar Engineering section of the website.
Andy Wallace drives Le Mans winning XJR-9 LM and new Jaguar XJR at Silverstone
Filmed at Silverstone on 4 November 2015, this event re-united race driver Andy Wallace with the 1988 Le Mans winning XJR-9.  Andy drove several laps of the full F1 circuit at Silverstone in the XJR-9 as well as in the latest 2016 MY Jaguar XJR.
The new XJR features full LED headlamps and the film focuses on the advances in headlamp and lighting technology since 1988 – when even the 200 mph race cars had to make do with tungsten halogen lamps!
This was Jaguar's year in sports car racing, as 1988 also saw Jaguar take the world championship with wins in six out of ten Group C races.  The Le Mans victory was repeated with the XJR-12s which came first and second in 1990, and another world championship fell to Jaguar in 1991, although the best placing at Le Mans that year was second.  In 1993, an XJ220C won the GT class at Le Mans, in Jaguar's latest appearance at the Sarthe circuit to date.  And the Jaguar may yet one day return to its favourite hunting ground.
1988 Jaguar XJR9, Chassis 488 – Race History
| | | | |
| --- | --- | --- | --- |
| Date | Location & Race | Drivers | Result |
| 1988 March 6 | Jerez 800 km, Spain | Jan Lammers, Johnny Dumfries | DNF – gearbox problems |
| 1988 March 13 | Jarama 360 km, Spain | Jan Lammers, Johnny Dumfries | DNF – spun off after 96 laps ending up in gravel trap |
| 1988 April 10 | Monza 1,000 km, Italy | Jan Lammers, Johnny Dumfries | DNF – spun off into the sandtrap |
| 1988 May 8 | Silverstone Autosport 1,000 km, UK | Jan Lammers, Johnny Dumfries | DNS – developed faults in practice |
| 1988 June 11-12 | Le Mans 24 Hour Race, France | Jan Lammers, Johnny Dumfries, Andy Wallace | 1st – despite being stuck in 4th gear for the last 40 minutes. |
Le Mans was the only time this car (488) ever finished a race and it was withdrawn from racing and passed to the Jaguar Daimler Heritage Trust collection.
It has since been demonstrated at a number of Historic Races and motoring events over the years, including Goodwood and Coventry Motofest, but never run again at full race pace.  In June 2023 it returned to Le Mans as part of the Centenary celebrations and completed demonstration laps on Friday 9th and Saturday 10th.
Jaguar Cars commissioned artist Michael Turner to paint their race winning cars throughout the 1980s.  JDHT has six of his paintings in our artwork collection including this one (right) of our 1988 Le Mans winning XJR9, which is on permanent display in the Collection Centre at the British Motor Museum at Gaydon.
Registration Mark: not road registered
Chassis Number: XJR-9 LM 488
Owner: The Jaguar Daimler Heritage Trust
Inventory Number: 094/J.49