1990 Jaguar XJS 4x4 Twin Turbo Development Car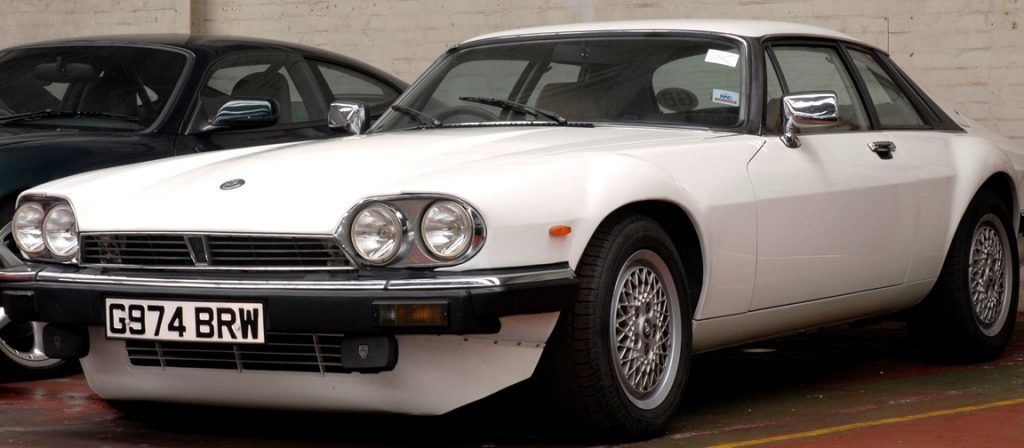 This is one of three development XJSs built with four wheel drive and has a turbo-charged engine, as a test bed for the ill-fated XJ41/42 replacement.
G974 BRW was featured in the December 2007 Edition of Jaguar World magazine.
In 1983, the XJS became the first Jaguar model to be fitted with the new AJ6 3.6 litre six cylinder engine, as an alternative to the V12.  In a sense, this was Jaguar's way of proving the new engine design in a limited-production model before the engine was adopted for the mainstream saloon model, which happened with the XJ40 in 1986.  However, Jaguar was also working on a new sports model as a successor to the XJS; this project was code-named XJ41/42 but inevitably it was popularly referred to as the "F-type".
The XJ41 had a protracted gestation period, and one of the problems with the car (which eventually led to it being abandoned) was that the weight continued to increase.  To maintain performance in spite of this, it was decided to turbocharge the AJ6 engine, which improved power output to at least 330 bhp.  Then the next problem was that this power would generate too much wheel spin, so it was decided to adopt four-wheel drive.
It is thought that three XJS mules were built with the four-wheel drive system, in cooperation with FF Developments, the Coventry company originally founded by Harry Ferguson to develop a four-wheel drive car.  One had a V12 engine, one a non-turbo six, and finally there was this car, with twin Garrett turbochargers and an alleged 400 bhp.  The base car had been built in April 1987, originally with left-hand drive for Germany.  It also had a manual gearbox and was allocated to Jaguar's Engineering Department.
The conversion was very complicated and inevitably involved many other changes to the car, which took more than two years to develop.  The result was, by all accounts, impressive – with a top speed of 155 mph (250 km/h), 0-60 mph in little more than 5 seconds, and remarkable handling.  Sadly, in 1990 it was decided to cancel the XJ41/42 project, so this intriguing XJS development car was made instantly redundant.
Ten years later Jaguar did put a four-wheel drive car into production, the X-TYPE in 2001.
Registration Mark: G974 BRW
Chassis Number: SAJJNAEC8CL141199
Owner: The Jaguar Daimler Heritage Trust
Inventory Number: 101/J.567