1992 Jaguar XJ40 Prototype Shooting Brake J199 TAC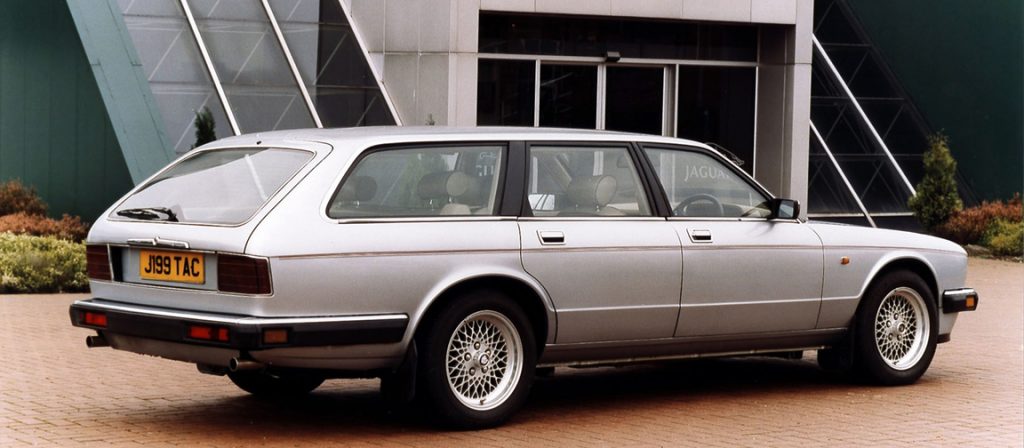 In 1992 Jaguar had never made a production estate car; although they went on to make the X-TYPE estate in 2004 and the XF Sportbrake in 2012.  Nevertheless, there have been many Jaguar estate cars over the years.  Indeed, none other than Duncan Hamilton, the 1953 Le Mans winner, had a couple of Mark VII saloons converted to estate cars for his own use, while later, Appleyards, the famous Jaguar distributor of Leeds, converted two Mark IXs to estate cars.
Duncan Hamilton and Mike Hawthorn were keen on the idea of having estate cars based on the compact 3.4 litre saloon, but Hawthorn's tragic death put paid to the project.  However, inspired by Hamilton, Jones Bros (Coachbuilders) converted a Mark II 3.8 litre saloon into the 'County' estate which was acquired by Jaguar Cars Limited and saw use as a rally support vehicle during the 1960s.  This car was a capable and handsome load carrier with a top speed not far short of the 125 mph of the standard saloon model.
Subsequently, Sir William Lyons became interested in developing an estate car based on the successful XJ saloon.  In his retirement he experimented with sticks and string on his own XJ to achieve the correct proportions.  Then in 1980 the Ladbroke Avon coachbuilding company unveiled their estate car version of the XJ series 3, with a price of £6,500 for the conversion, plus the cost of the car!  Small scale production continued through the 1980s, and this period also saw the Lynx 'Eventer', an estate car conversion based on the XJS coupé.
By the late 1980s Jaguar had themselves become more interested in developing an estate car, based on the new XJ40.  This was an official project undertaken by the Design and Engineering Centre at Whitley, and resulted in this 'Shooting Brake' which was seriously considered for production.  However, in the difficult climate of the early 1990s, inevitably there were concerns over the viability of the project, which was, reluctantly, abandoned.
Registration Mark: J199 TAC
Chassis Number: SAJJHALD3AKXP0097
Owner: The Jaguar Daimler Heritage Trust
Inventory Number: 102/J.57