1993 Daimler Double-Six The Last Series 3 Daimler Double-Six Built K530 DDU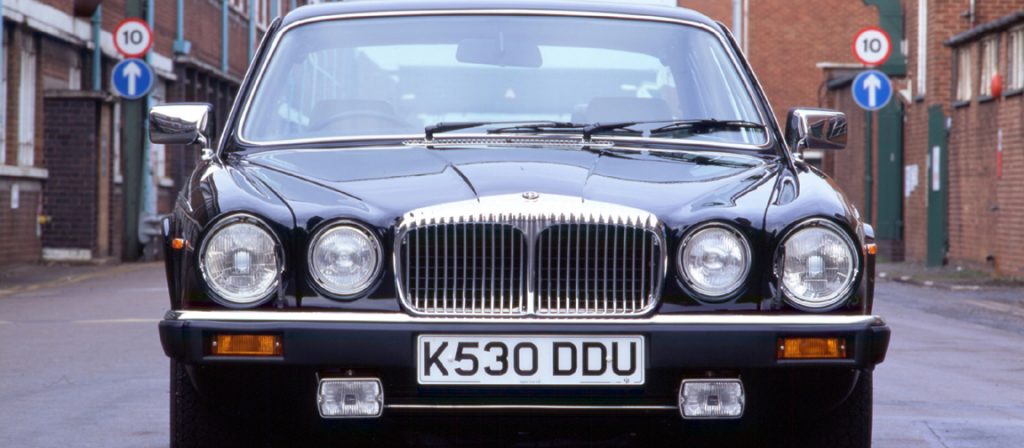 This particular car was the 'last of line' of the Series 3 range and was built in November 1992.  It was immediately handed over to the Jaguar Daimler Heritage Trust for preservation and has only covered a few hundred miles
Even after the introduction of the new XJ40 model range in 1986, the Jaguar and Daimler Series 3 models were continued in production, in twelve-cylinder form.  The reason was that the XJ40 had not originally been designed to accommodate the V12 engine, and needed some modification to enable a twelve-cylinder version to be made.  When the V12-engined XJ40 appeared in 1992, the old Series 3 design was finally discontinued.
In 1983, the Series 3 range had been re-structured.  The original Daimler name of Sovereign was now adopted for luxury versions of the XJ6 4.2 litre and the XJ12, indeed a Sovereign version was now the only model of the Jaguar XJ12 Series 3.  The original Daimler Sovereign 4.2 litre was discontinued, with only the Vanden Plas model continuing in production with the six-cylinder engine until 1986. The two twelve-cylinder Daimler models, the HE and the Vanden Plas, were replaced by a single model, called just the Double-Six.
Basically therefore, from 1983 to 1992 the two twelve-cylinder models were the Jaguar Sovereign and the Daimler Double-Six.  There were slight differences in the North American market, where only a single twelve-cylinder model was marketed, badged as the Jaguar Vanden Plas but equipped to a standard similar to the Daimler.  Latterly this was withdrawn in the USA but continued to be available in Canada.
Towards the end of production, only around 1,500 of the Series 3 V12 cars were made annually, as the most exclusive and expensive Jaguar and Daimler saloon models.  This particular car was the 'last of line' of the Series 3 range and was built in November 1992.  It was immediately handed over to the Jaguar Daimler Heritage Trust for preservation and has only covered a few hundred miles.
Registration Mark: K530 DDU
Chassis Number: SAJDDALW3CR487641
Owner: The Jaguar Daimler Heritage Trust
Inventory Number: 105/D.36
Price when new: £43,211.54
Price: 186 Weeks Average Wage