1993 Jaguar XK8 Coupé Camouflaged Mechanical Prototype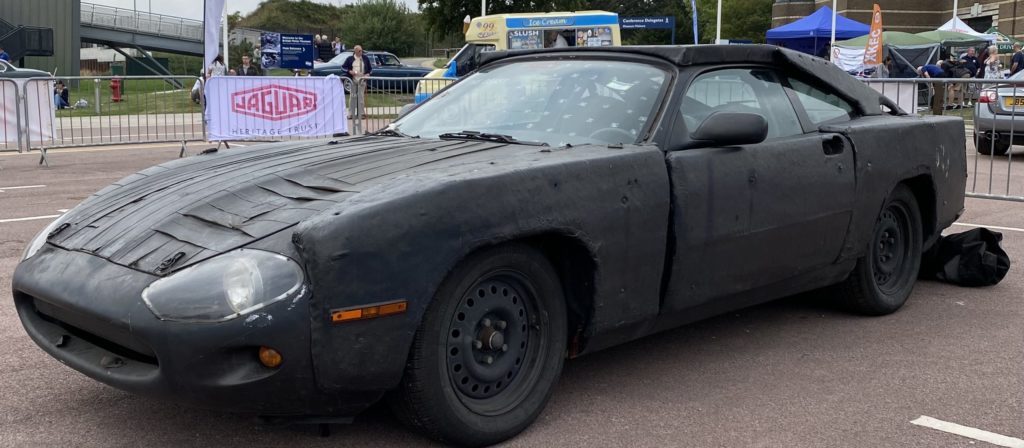 This car was to play a pivotal role in the story of developing the X100 – the code name for what became the XK8.  MP 19 was the first of 53 Mechanical Prototypes, built in December of 1993.  As it was to be the test vehicle for the air-conditioning system, it needed to have the proper body style, and was the first prototype to feature this.  As yet there were no tools for the steel body panels, so a modified XJS underframe was fitted with a glass-fibre body taken off the styling moulds.
As it was the only 'lookalike' prototype, a video was shot of this car, running on the road and at the MIRA test track.  This 'home video' was shown to the Ford board, meeting on 9 December 1993, when the programme was finally approved.
As MP (Mechanical Prototype) 19 was then scheduled to be sent to Canada for air-conditioning tests on public roads, the shape had to be completely camouflaged, using glass-fibre and foam.  It was shipped off to Timmins in Canada for the cold weather during the winter months at the beginning of 1994, returning to the UK mid year.
For some reason, the car was preserved like this, and eventually joined the Jaguar Daimler Heritage Trust collection.
Displayed in 'as found' condition, this is the 'Beast' contrasting with the 'beauty' of the final production car!
The X100 programme for a new sports car to replace the XJS was started in 1991, as the first programme for an all-new model after the Ford acquisition in 1989.  It began with the styling phase, with a variety of proposals from Jaguar's design studio at Whitley under the late Geoff Lawson.
However, once the exterior styling was agreed, work began to turn the design into reality.  By the beginning of 1993, the first of 24 'simulators' had been built, mostly looking more or less like XJS production cars.  These were used to develop the mechanical components for the new sports car.
As the programme progressed, more and more prototypes were constructed, some still looking like XJS cars so they could be tested on public roads without attracting unwanted attention.
It was of course necessary also to build proper 'lookalike' prototypes, so during 1993 'MP's – Mechanical Prototypes – began to be built, followed by 'EP's – Evaluation Prototypes.
Registration Mark: Not Registered
Chassis Number: 6 CC MP 19
Owner: The Jaguar Daimler Heritage Trust
Inventory Number: 141/J.85