1995 Daimler Six – Double Stretch Limousine M95 JRW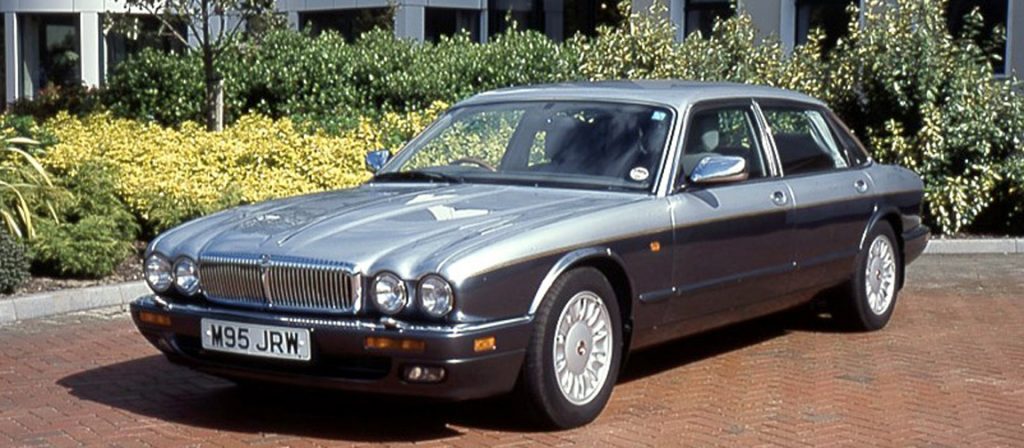 This particular car was built as a one off, by Jaguar's Special Vehicle Operations department (SVO), to demonstrate a possible flagship vehicle for the company.  The car was stretched by eight inches in the front doors, and five inches in the rear doors, with the roof being approximately two inches higher in the crown area, to maintain the proportions of the car.  Mechanically, the car was identical to the standard Daimler Six saloon with the 4 litre engine.
The X300 range of Jaguar and Daimler saloons was launched in September 1994, with a choice of the new six-cylinder AJ16 engine and the V12 engine.  The Daimler versions were the Daimler Six and Daimler Double Six respectively.  Compared to its XJ40 predecessor, the X300 had much improved and more elegant styling – called 'retrolutionary' as it combined 'retro' elements with evolution.  Under the skin, the X300 shared the basic features of the XJ40 but was much improved.
The interior features a high level of luxury trim, including telephones in the front and rear, Sony video recorder, and TV screens located in the headrests of the front seats for use by rear seat passengers. Blinds are provided to ensure privacy.  This was originally a working vehicle, and was used regularly by Sir Nick Scheele when he was Chairman of Jaguar Cars.  Subsequently, it was added to the Jaguar Heritage collection.
Although most of the X300 models were available with a choice of wheelbase lengths, the difference between short and long wheelbase is a modest five inches and is accommodated in the rear door.  No further examples of the 'double-stretch' extra-length wheelbase version were made.  However, independent coachbuilders stepped in and offered stretched conversions based on the X300, with even longer wheelbases and an extra centre row of seats, as is often required for formal or processional occasions.
Registration Mark: M95 JRW
Chassis Number: SAJDKALM3BJ000098
Owner: The Jaguar Daimler Heritage Trust
Inventory Number: 111/D.38