2000 Jaguar F- Type Concept Car Detroit Auto Show January 2000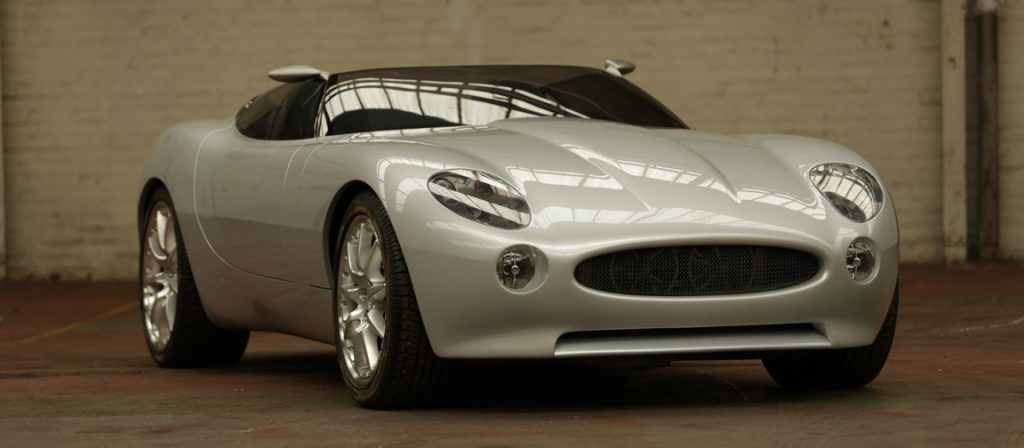 Following the reception given to the XK180 Concept Car introduced at the Paris Motor Show in 1998, it was natural that Jaguar's designers wanted to explore further the idea of creating the ideal compact Jaguar roadster, a car which would evoke the spirit of the XK120 and the E-Type, but which would still be modern, dynamic and technically advanced – an exercise in pure sports car design.  The result was the F-Type Concept Roadster which was launched at the Detroit Auto Show in January 2000.
The F-Type Concept design team was led by Keith Helfet, who had also been responsible for the XJ220 supercar and the XK180.  While the XK180 was designed around existing mechanical components, which dictated the car's size and layout, there were no such limitations on the roadster concept.  The car is therefore more compact than either the XK180, or the XKR on which the XK180 was based.  Unlike the two XK180s which are fully functional cars, the F-Type Concept is a non-running design mock-up.
However, the F-Type Concept was still designed with an eye to production, and would accept the AJ V6 engine used in the S-Type and X-Type saloons, with either rear wheel drive or all-wheel drive.  To achieve the equal weight distribution which is required for excellent vehicle dynamics, the long bonnet and cockpit set well back, give the car the balanced proportions of a traditional Jaguar sports car.  Practicality was not sacrificed to appearance, and the F-Type Concept was packaged not only to allow sufficient accommodation and luggage space, but also with an eye to world-wide legal requirements.
Together with Jaguar's entry into Formula 1 racing, the F-Type Concept reaffirmed Jaguar's commitment to sportiness and excitement, and was a signal of Jaguar's intention to return to the true sports car market.
The production Jaguar F-Type was unveiled for the first time at the Paris Motor Show in September 2012 before going into production in 2013, initially as a convertible with a coupé following in 2014.
Owner: The Jaguar Daimler Heritage Trust
Inventory Number: 126/J.75