2001 Jaguar X-Type 2½ Litre First Production X-Type X1 TYP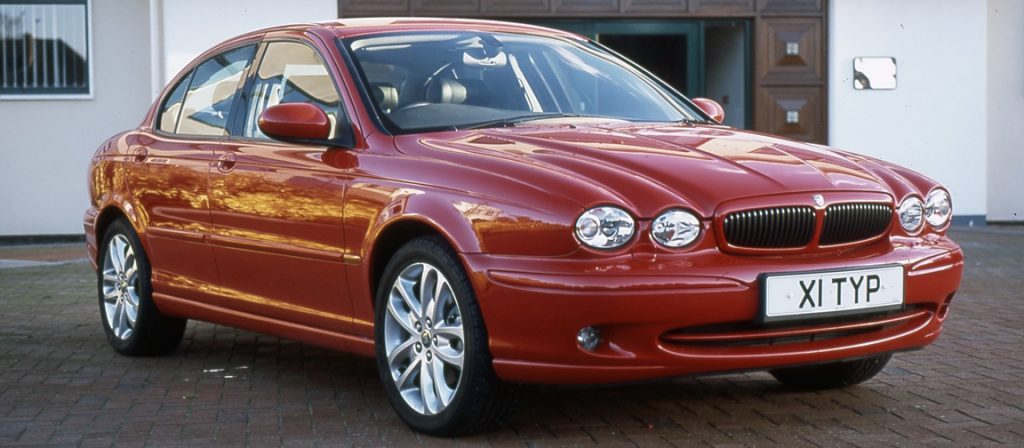 This car is the first production X-TYPE, which came off the assembly line in February 2001 and was delivered to the collection of the Jaguar Daimler Heritage Trust for preservation.
After a period of great expectation, Jaguar released details of the X-TYPE on 1st November 2000, and unveiled the new car in the metal to an international audience at the Geneva Motor Show in March 2001.  The X-TYPE was therefore the youngest member of the expanding Jaguar family.  It was Jaguar's first entry into the compact sports saloon market.  The X-TYPE was the smallest-engined Jaguar for thirty years, since the classic 2.4 litre and Mark 2 models of the 1950s and 1960s.
The X-TYPE featured an innovative technical specification.  It was fitted with a choice of two AJ-V6 engines developed from the engine already used in the S- TYPE.  Power was 194 bhp (145 kW) for the 2½ litre model, and 231 bhp (172 kW) for the 3 litre.  Top speeds range from 137 mph to 146 mph (220 km/h to 234 km/h).  There were five different versions available, an entry level 2½ Iitre model, 'Sport' and 'Special Equipment' versions fitted with either engine size.  All X-TYPEs featured the Traction-4 full time all-wheel drive system, which offers agile handling and sure-footed road holding.
The car was built in Jaguar's totally refurbished Halewood plant, located on Merseyside in the north-west of England, the result of an investment of £300 million.  It was expected that when the X-TYPE was in full production, it would more than double Jaguar's previous best annual sales figure of 90,000 cars (reached in 2000), and that fifty per cent of X-TYPEs would be sold in European markets.
With the X-TYPE, Jaguar connected with a new and different type of customer.
Registration Mark: X1 TYP
Chassis Number: SAJAD53M91XC00344
Owner: The Jaguar Daimler Heritage Trust
Inventory Number: 128/J.77
Price when new: £24,000
Price: 73 Weeks Average Wage