2003 Jaguar XJR Supercharged The First Production X350 Saloon BP03 JYY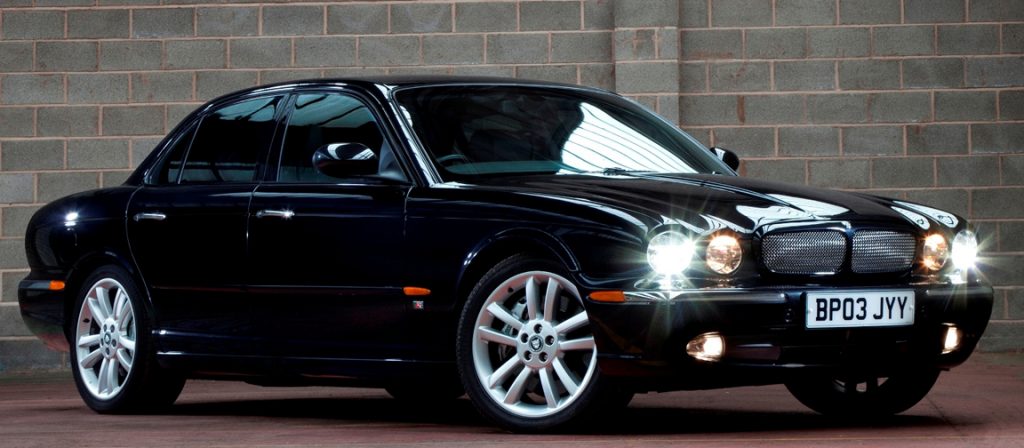 The car on display, a Midnight Black XJR, is the first production X350, which came off the assembly line in December 2002 and was delivered to the collection of the Jaguar Daimler Heritage Trust for preservation.  The new model went on general sale in April 2003, and was enthusiastically received by the media and public alike.
The X350, so-called after its project code number, was introduced to the public at the motor shows in the autumn of 2002 and was the seventh generation of the Jaguar XJ saloon.  It was the latest member of a family of cars that began in 1968 and by the time the X350 was introduced, had reached a total production of over 800,000 cars.  As the largest and most prestigious of the three Jaguar saloon ranges, the new XJ was an up-to-date version of the classic Jaguar theme, and remained the company's flagship.
The new car included many advanced features, notably the all-aluminium unitary construction bodyshell, a six-speed automatic transmission and an air suspension system with double wishbones front and rear.  Styling and proportions were clearly inspired by its forebears.  Despite this, the X350 offered considerably more interior room and boot space than any previous XJ saloon, mainly achieved by building the car taller, while the aluminium construction helped to keep weight down.
After an absence of a six cylinder XJ model for some years, the new range again included an XJ6, fitted with the 3 litre V6 engine also used in the S-TYPE and X-TYPE.  The XJ8 featured the well-known Jaguar V8 engine, now with capacities increased to 3.5 litres and 4.2 litres, and fitted with a supercharger in the top-of-the-line XJR version.  The X350 cars were built in Jaguar's traditional home factory at Browns Lane in Coventry, with bodyshells supplied from Castle Bromwich and engines from Bridgend in Wales.
BP03 JYY was one of the cars featured in the video montage – Jaguar XJ50 – which Jaguar Cars produced
to celebrate 50 years of the XJ in 2018, showing the evolution of the XJ Saloon.
Registration Mark: BP03 JYY
Chassis Number: SAJAC73R93TG00442
Owner: The Jaguar Daimler Heritage Trust
Inventory Number: 137/J.82
Price when new: £58,500
Price: 167 Weeks Average Wage