2007 Jaguar XF SV8 First Production XF BX08 VCP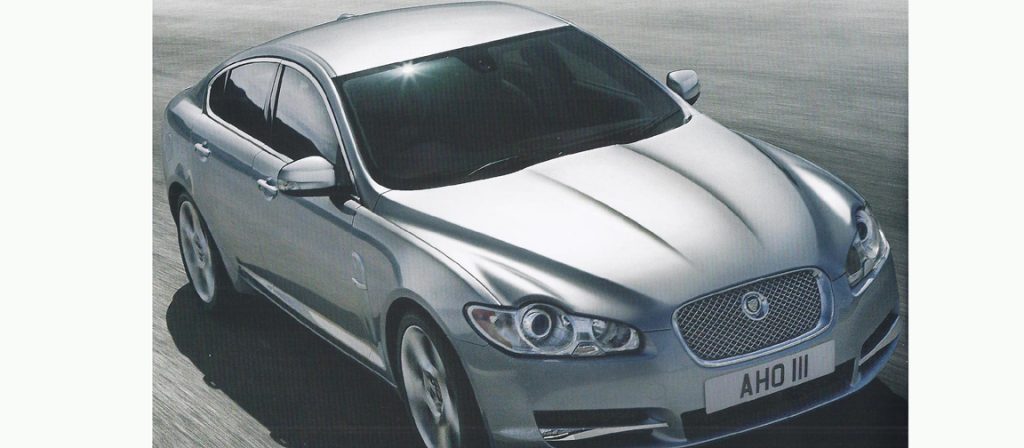 BX08 VCP was featured in the Summer 2018 edition of Jaguar World magazine.
This car is the first XF production model and is fitted with the supercharged engine and finished in the colour Vapour Grey.  It was gifted to the Jaguar Daimler Heritage Trust collection straight from the production line on 23 November 2007.
With the launch of the C-XF concept car at the Detroit Motor Show in January 2007, Jaguar set out in a completely new direction for future designs, developed by Design Director Ian Callum and the Head of the Advanced Studio Julian Thomson.  The C-XF received a tremendous welcome for its modern and distinctive styling.  Before the C-XF was revealed, Jaguar had announced that the replacement for the S-Type saloon would be called the XF, and now confirmed that the forthcoming production model would be very close to the concept car.
The XF production car made its debut at the Frankfurt Motor Show in September 2007, and was in turn warmly welcomed, as the first new car of Jaguar's future.  Despite the XF being a departure from previous Jaguars, Ian Callum was very conscious of Jaguar's heritage.  In his view, throughout its history Jaguar had created some of the most striking, modern and beautiful saloons.  The objective with XF was to create a car which in the modern age had an equally great impact, as the Jaguars of the past had in their day.
The XF still had some Jaguar design cues.  The recessed radiator grille was inspired by the 1968 XJ6. The grille in turn defined the rest of the shape, which was more like the XK fastback coupé, than a traditional saloon.  The headlamp fairings and the rear side window shape also nodded to tradition. The Jaguar leaper was still found but only on the rear!  The interior featured wood and leather, but used in a contemporary and innovative manner.
The new car was built on a developed S-Type platform and used the same engines, ranging from the acclaimed 2.7-litre Diesel V6 to the range-topping supercharged 4.2-litre V8.
Registration Mark: BX08 VCP
Chassis Number: SAJAC07R491R00277
Owner: The Jaguar Daimler Heritage Trust
Inventory Number: 173/J.112
Price when new: £54.900
Price: 131 Weeks Average Wage