2013 Jaguar F-Type R AWD Bloodhound Parachute Test Car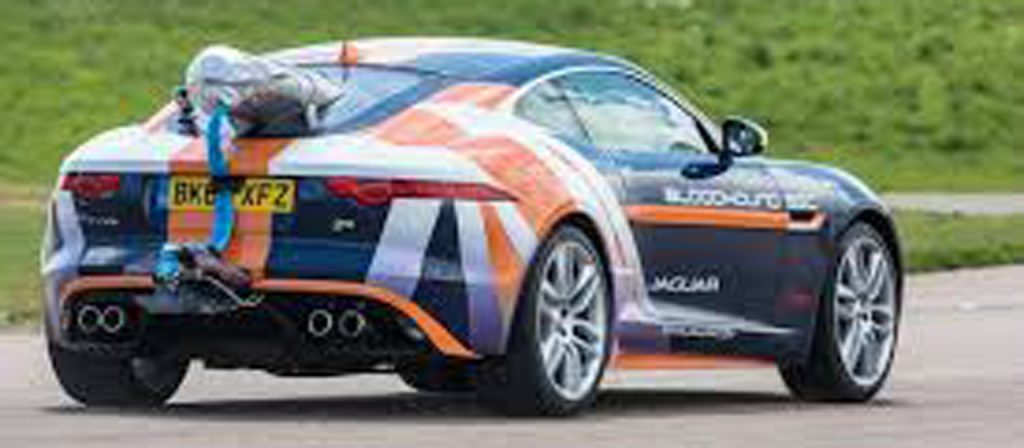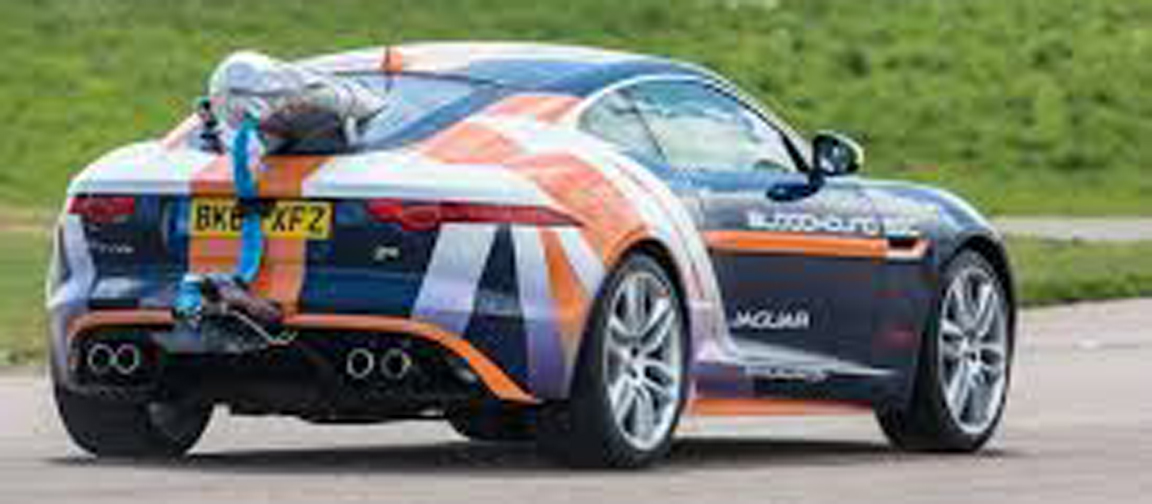 This modified F-Type is the product of Jaguar Land Rover's Special Operations division.  Based on an F-Type R AWD coupé, it was developed as a Rapid Response Vehicle (RRV) to support the Bloodhound SSC programme for which Jaguar is a technical partner.  Following an initial outing at Coventry Motofest and Goodwood Festival of Speed in 2015, the car was further modified to support a high speed test of the parachute system that will be used to slow down the Bloodhound SSC when it makes its attempt on the world speed record.
With Bloodhound driver Andy Green at the wheel, the parachute was successfully deployed from the F-Type RRV at
170 mph during a test at Bentwaters Air Force Base in Suffolk!  As this car has now completed its support duties, the
car has been passed to the Jaguar Daimler Heritage Trust for preservation.
After a gap of nearly 40 years, Jaguar returned to the true sports car market with the new F-Type which was unveiled in convertible form at the Paris Motor Show in September 2012.  F-Type is the spiritual successor to the legendary E-Type and was engineered for high performance and instantaneously responsive handling – the latest model in a distinguished bloodline.
The design team, led by Ian Callum, developed the F-Type from the C-X16 concept car that received a rapturous reception at Frankfurt in 2011.  F-Type features a lightweight aluminium body structure with high torsional rigidity which is the ideal platform for a convertible sports car and is fundamental to the way it performs, handles and feels.
The powertrain line-up at launch featured three highly advanced supercharged petrol engines – 3.0 V6 340 PS, 3.0 V6 380 PS and 5.0 V8 495 PS.  These were all coupled to a new 'Quickshift' eight speed close ratio automatic transmission designed to keep the engine in the optimum power band at all speeds.
A coupé model was added in 2014 together with a new 'R' variant (available in both coupé and convertible form) featuring a 550 PS version of the supercharged V8 engine which provides acceleration from 0-100 km/h (0-60 mph) in 4.0 seconds.  An all-wheel drive option was also added for 'S' and 'R' models.
The original Bloodhound Project ran out of money and went into administration in December 2018 but was re-structured, re-financed and re-launched in March 2019 as the 'Bloodhound Land Speed Record (LSR)'. High speed testing is planned towards the end of 2019.
Registration Mark: BK63 XFZ
Chassis Number: SAJWA6DAXFMK07480
Owner: The Jaguar Daimler Heritage Trust
Inventory Number: 202/J.138