2014 Jaguar F-Type R One-off Conversion by SVO for Team Sky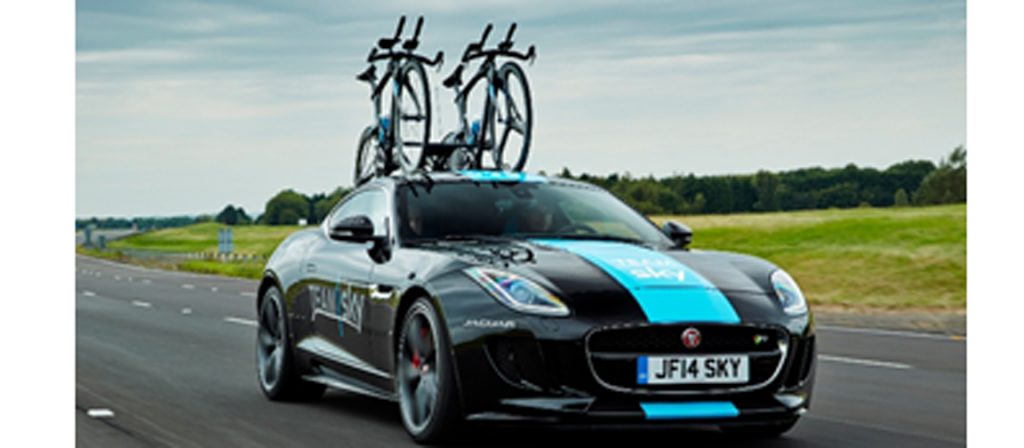 This car is a one-off conversion created by Jaguar Land Rover's Special Operations division to support Team Sky on the time trial Stage 20 of the 2014 Tour de France.  Based on an F-Type R coupé, it incorporates a number of bespoke features including a new racking solution, which carried two of the team's Pinarello Bolide TT bikes.  The vehicle exterior is finished in Team Sky's famous livery, with colour ways and other Team Sky graphic design features also present inside the car.  Further features include a separate electric supply in the boot which provides power to the radios, amplifiers, microphones, horns and televisions which supported communications between Team Sky's Sports Director and the rider.
After a gap of nearly 40 years, Jaguar returned to the true sports car market with the new F-Type which was unveiled in convertible form at the Paris Motor Show in September 2012.  F-Type is the spiritual successor to the legendary E-Type and was engineered for high performance and instantaneously responsive handling – the latest model in a distinguished bloodline.
The design team, led by Ian Callum, developed the F-Type from the C-X16 concept car that received a rapturous reception at Frankfurt in 2011.  F-TYPE features a lightweight aluminium body structure with high torsional rigidity which is the ideal platform for a convertible sports car and is fundamental to the way it performs, handles and feels.
The powertrain line-up at launch featured three highly advanced supercharged petrol engines – 3.0 V6 340PS, 3.0 V6 380PS and 5.0 V8 495PS.  These are all coupled to a new 'Quickshift' eight speed close ratio automatic transmission designed to keep the engine in the optimum power band at all speeds.  A coupé model was added in 2014 together with a new 'R' variant (available in both coupé and convertible form) featuring a 550PS version of the supercharged V8 engine which provides acceleration from 0-100km/h in 4.0 seconds.  An all-wheel drive option was also added for 'S' and 'R' models
F-Type's interior combines functional ergonomics with sporting style through its precisely considered cockpit architecture, its simple controls and its clear instrumentation.  It is designed to put the driver first and, with a wide choice of interior colours and textures, is an opportunity for individual expression.
Chassis Number: SAJAA63H6FMK13091
Owner: The Jaguar Daimler Heritage Trust
Inventory Number: 203/J.139