2019 Jaguar XJ 3.0 V6 Diesel SWB Portfolio Saloon
The last Right Hand Drive XJ (X351) off the line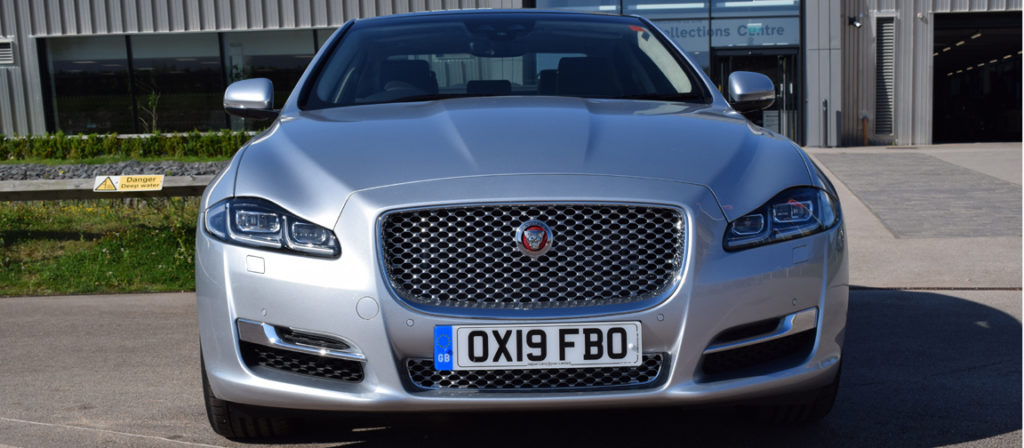 This car is the last UK Right Hand Drive (RHD) production example of the Jaguar XJ Saloon.  It is the final UK specification, traditionally powered XJ – as the next generation is planned to offer hybrid and electric vehicles (EV).  It is fitted with the 3.0 litre V6 diesel engine and came to the Jaguar Daimler Heritage Trust in July 2019 for preservation.  XJ production finished on 5 July 2019.
The eighth generation of Jaguar's flagship XJ (codenamed X351), launched in 2010, was the first to incorporate Design Director Ian Callum's new design language initiated with the XK in 2006.  It was unveiled by US TV celebrity Jay Leno at the Saatchi Gallery in London on 9 July 2009 and the US model was subsequently launched at the 2009 Pebble Beach Concours d'Elegance.  Production began in March 2010, with sales commencing from May.
It was the first model to feature the next-generation of Jaguar's aerospace-inspired body architecture, constructed primarily of aluminium, but also using magnesium and composite alloys.  The XJ was claimed to be the lightest car in its class by 150 kg at its launch.  The new XJ introduced very high standards of personal luxury and specification, including an innovative panoramic glass roof as standard and a level of choice in colours, veneers and leathers not seen before in a Jaguar.  Four trim levels were offered at launch – Luxury, Premium Luxury, Portfolio and Supersport.
At launch, three of Jaguar's new ultra-efficient Gen III petrol and diesel engines were available in the new XJ – the 3.0-litre 275 PS V6 diesel, 510 PS 5.0-litre supercharged V8 and a 5.0-litre 385 PS naturally aspirated petrol engine.  In 2012, 3.0-litre V6 Supercharged and 2.0-litre i4 Turbocharged petrol engines were added to the line-up, the latter primarily for the growing Chinese market.  A flagship XJR model was launched in 2013 featuring an uprated 5.0-litre supercharged V8 engine producing 550 PS and 680 Nm of torque.
In February 2015, a significant milestone was reached when the one millionth Jaguar XJ to be produced came off the production line at Jaguar's Castle Bromwich plant – 47 years after the original XJ6 was launched in 1968.
2018 saw the launch of two special edition versions: the XJR 575 and then to celebrate 50 years since the launch of the original XJ6 in 1968 – the XJ50.
Between its launch in 2010 and the end of production in 2019 more than 120,000 X351s were built.
Registration Mark: OX19 FBO
Chassis Number: SAJAC16P6KNW22292
Owner: The Jaguar Daimler Heritage Trust
Inventory Number: 214/J.150