What's On
'Back to Blackpool' Centenary Tour September 2022
Saturday 3rd September 9:30am to Saturday 10th September 11:30pm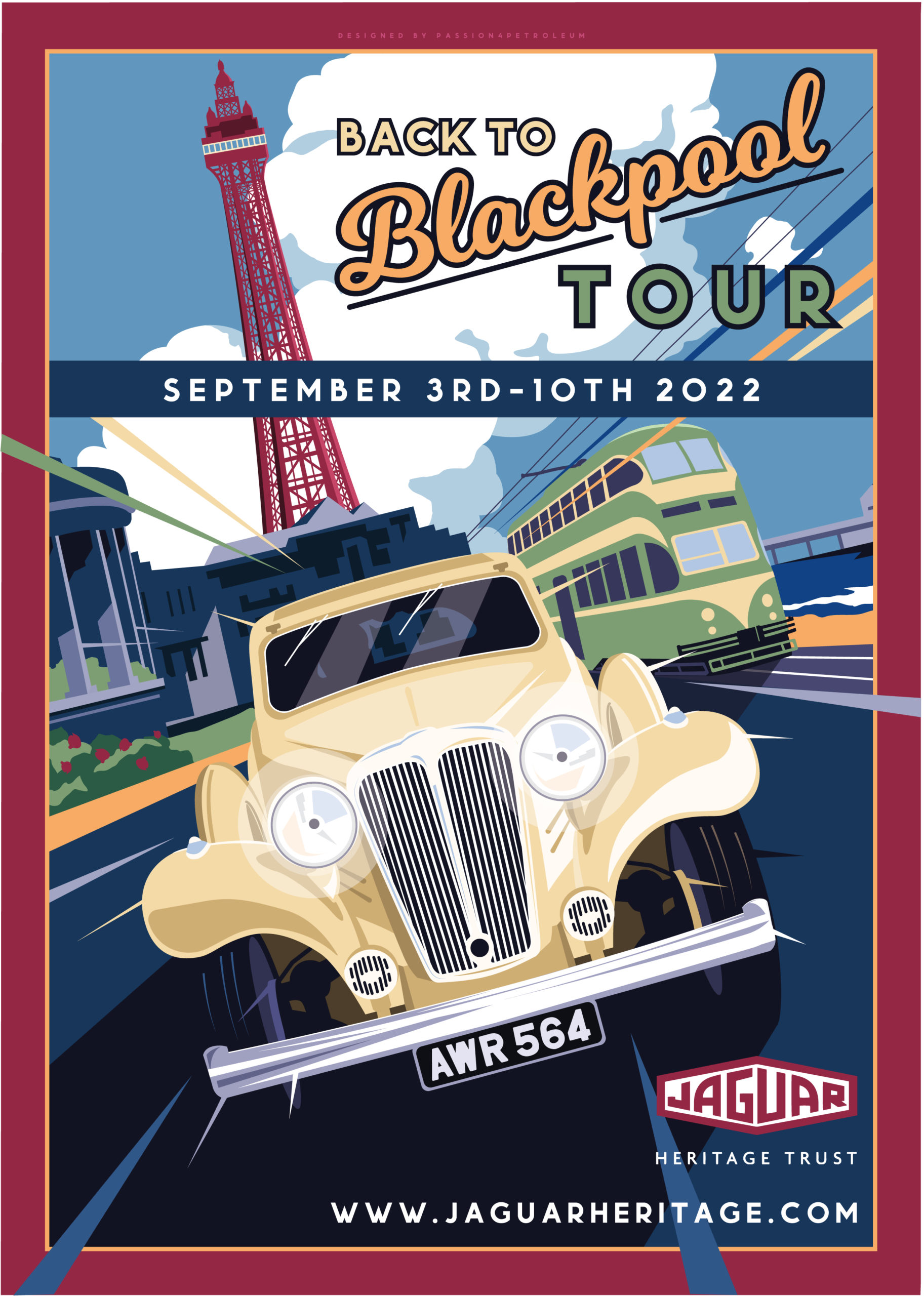 Event Contact Name: Jaguar Daimler Heritage Trust
Contact phone: 02476564420
Contact email: tours@jaguarheritage.com
Add to Calendar
09/03/22 09:30 am
09/10/22 11:30 pm
Europe/London
'Back to Blackpool' Centenary Tour September 2022
The Jaguar Daimler Heritage Trust will be celebrating the Centenary of the formation of the Swallow Sidecar Company, which evolved into SS Cars and ultimately Jaguar Cars, with a series of events throughout 2022.
Our main event of the Centenary year will be our 'Back to Blackpool' Tour starting on Saturday 3rd September 2022.
STOP PRESS
We currently have entries from UK and Europe and have received interest from further afield who might find transporting their vehicles challenging.  While JDHT does not usually rent out cars from our Collection, for this historic event we have decided to make an exception.  A limited number of reliable vehicles will be available for a cost of £1,800 including VAT per car, in addition to the Tour entry fee.  For this opportunity, please email tours@jaguarheritage.com
The Saturday will follow the format of the successful Jaguars at Gaydon event that we held in September 2020 and 2021.  We are planning to include a 'closed arena' so that special cars can be driven in for display and we have already booked that well-known walking Jaguar encyclopaedia, Bob Beecham as commentator for the day.  In between Jaguar related activities in the Arena, you will be entertained by 'My Favourite Things'.
This is a friendly and informal gathering and not restricted to members of any specific Jaguar club.  We will welcome any owner from the Swallow Register, Wolseley Hornet Specials Club, Daimler and Lanchester Owners Club, Jaguar Breakfast Club, Jaguar Drivers' Club, Jaguar Enthusiasts' Club, XJS Club, XK8 Enthusiasts Club, XK Car Club or non club members are welcome to join us for a great day out.  
All Tour Participants will park up in pole position on the grass in front of the Museum.  We will have separate areas setup for cars from the 'Early Years' – Swallow Sidecar,  Austin Seven Swallows, SS Cars etc.
We are planning to finish off the day with a Gala Dinner in the Sky Suite at the Museum and so you don't have to worry about how much you drink we will arrange coaches to transfer you to your hotel for the night and back again on the Sunday morning.
On the morning of Sunday (4th) we will be setting off on our 'Back to Blackpool' Centenary Tour back to where it all began, the long way round.  Our six day Tour starts with a visit to Sir William's family home at Wappenbury Hall before driving off into the Warwickshire and Worcestershire countryside and the Malvern Hills.
The following morning we head north-west through Worcestershire and Shropshire taking us through mid-Wales and North Wales.  We have booked Anglesey Circuit so we can all have a bit of fun, before continuing north through Cheshire arriving in Blackpool on the afternoon of Friday 9th September.
Our finish in Blackpool will include a drive past the old Bloomfield Road factory site before finishing at Stanley Park which the Swallow Company used for photoshoots back in the 1920s.  We will park up for the afternoon in the Italian Gardens and enjoy a light lunch in the 1930's surroundings of the Park's Art Deco Cafe.  We stay overnight Friday and Saturday in Blackpool.
On Friday night we have our end of Tour dinner in the Spanish Room at the Winter Gardens, the same room that the company used for their dinners on their 1930s staff outings to Blackpool.
On Saturday 10th we join the Jaguar Enthusiasts' Club for a big day on Blackpool seafront and we then join the JEC for a gala dinner on Saturday evening.
Details of the Tour, including price, were announced at Sir William's 120th Birthday event at Gaydon on Saturday 4th September 2021 and the entry list was opened – with our first participant signing up at the show!
The Tour price is £4,500 for 2 people sharing one car and accommodation.
To secure your place a deposit of £500 is required. To continue please click here.