What's On
Coventry Leofric Lions Classic Car Run 2019
Sunday 1st September 8:30am 5:00pm
THIS EVENT HAS NOW ENDED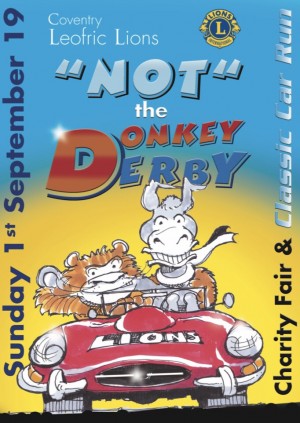 The Jaguar Daimler Heritage Trust will be joining the Leofric Lions for the first year of the Coventry Leofric Lions Classic Car Run.   Continuing with this year's theme of the 60th anniversary of the Jaguar Mark II we will be sending our Mark II and our Daimler V8 250 variant among others.
The Trust normally enters two of our  early Lanchester's, our 1901 and our 1904, for the annual London to Brighton run in November so we have decided to enter our 1904 Lanchester for this event as a pre London to Brighton shakedown.
If we drive it from Gaydon to Coventry, complete the run, and back to Gaydon, then London to Brighton will be a doddle!
This event is also going under the name of "Not the Donkey Derby" so keep your eyes peeled.  The day begins at Coombe Country Park in Coventry where over 200 Classic Cars and Motor Cycles will assemble for a run out in to the Warwickshire countryside, this will follow a set route finishing at War Memorial Park, Coventry.
Vehicles will need to be inside War Memorial Park by 11:30 to adhere to the Health and Safety requirements of the park when pedestrians are at the event.
Once at the War Memorial Park vehicles will park up on the bottom field to join in with the Charity Fair and Fun Day – Vehicles will be displayed around the field and members of the public will explore the Classic Cars from the Run.
The event will close at 17:00 and vehicles will be allowed to exit the venue then.