Jaguar Daimler Heritage Trust (JDHT) has a collection of approximately 160 vehicles. As well as attending numerous events throughout the year, in order to share our vehicles with the public, we have two main permanent display locations in Gaydon and Coventry.
Collections Centre, British Motor Museum, Gaydon
Since November 2015, JDHT have considered the Collections Centre to be our home. Not only do our offices and workshop reside there but it also houses over 70 vehicles in our collection.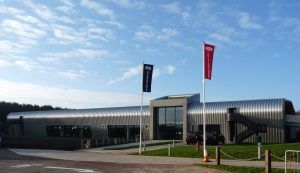 The portraits of Sir William Lyons and Lady Lyons welcome you to our collection which ranges from a 1907 Daimler TP35 through to a 2015 Jaguar XF R-Sport that was the last XF (X250) to be produced. In between these bookends is a fascinating array of vehicles that includes many unique concept cars as well as examples of most key Jaguar production models from the last 80 years. Many of these vehicles had not been on public display before. Where possible, we try to group the cars into the following categories;
Early Cars SS to XK

E-types to XJS

Modern Sports

Medium Saloons

High Speed

Concepts

Large Saloons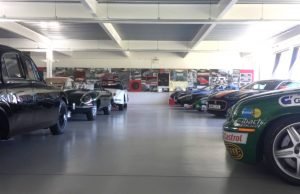 At the end of 2017, our collection of vehicles within the Collections Centre was greatly enhanced by wall displays that were introduced to help us tell the Jaguar Story and to display some of our artefacts. You are able to discover facts and figures as well as getting up close to artefacts such as the original damaged bonnet of JDHT's C-Type NDU 289 and the original SS Factory doors from Foleshill, Coventry. The walls depict the following themes;
Early Years

Timeline

Paintings

Engines

SS door

Artefacts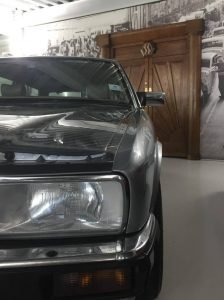 You can browse the collection at your leisure with volunteers on hand to answer any questions you may have.
Within the British Motor Museum itself, approximately a further 9 vehicles from JDHT's collection can be seen in a special Jaguar Zone. The display showcases some of Jaguar's finest sports and racing cars and the core vehicles regularly on display* range from the famous 1950 Jaguar XK120 'NUB 120' through to the 1988 Le Mans winning Jaguar XJR-9.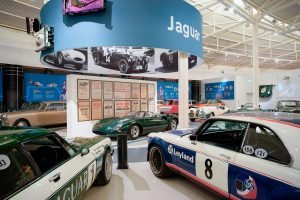 Other models include a 1953 Jaguar C-type, the only surviving D-type prototype from 1954 and the unique XJ13 – the only one of its kind in existence.  Also on regular display* are the 1974 Group 44 E-type, mighty 1986 Broadspeed XJ12 Coupé and 1983 TWR XJS race cars.
The majority of these vehicles are very original and are maintained in full working order.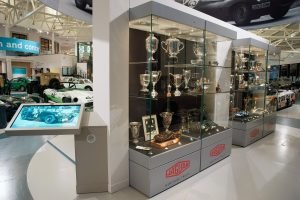 The vehicle display is supplemented by five trophy cabinets containing a selection of cups, medals and other awards gained by Jaguar over its many years in competition. These include trophies from Jaguar's successful campaigns in the Alpine and Monte Carlo rallies as well as in the Production Touring Cars series and the famous Le Mans 24 hour race.
For more information on how to visit the Collections Centre and the British Motor Museum, including opening times and directions, please visit the British Motor Museum website by clicking here.
Coventry Transport Museum, Coventry City Centre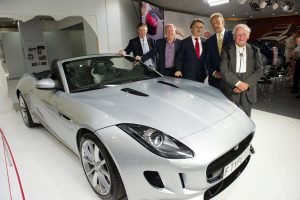 The JDHT Gallery at the Coventry Transport Museum was officially opened on August 1 2013 by Jaguar Land Rover Chief Executive Officer Dr. Ralf Speth.
At the opening ceremony, he also presented the first production example of Jaguar's new F-TYPE sports car to JDHT.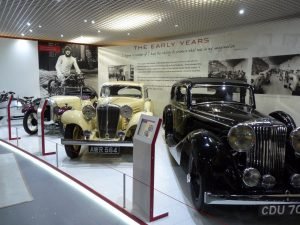 The JDHT Gallery at Coventry Transport Museum is titled 'The Jaguar Story – A History of Design and Technical Innovation' and is split into five sections:
'The Early Years' (1920s to 1940s)

'The Post War Boom and Glamorous 50s'

'The Swinging 60s'

'Growth and Consolidation' (70s to 00s)

'Jaguar Present and Future' (2005 and on..)
To take a virtual tour of the new gallery, click here (opens in new window).  The Jaguar Gallery was chosen by Google to pilot its recent extension of 'street view' to cover interior views as well.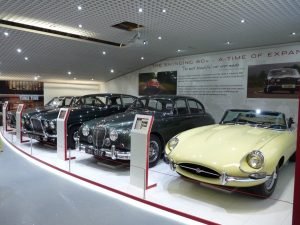 In addition to the stunning collection of 17 cars covering ten decades of Jaguar and the role of the company in Coventry history, the gallery also references the many technological and design innovations behind these great vehicles.
Contemporary storyboards, archive film clips and spectacular imagery complement the sequential journey through the gallery, with historic artefacts to further illustrate Jaguar's rich heritage.
The vehicles on display range from a 1928 Blackpool built Swallow Sidecar up to the very latest 2013 F-TYPE first production car. The line-up also includes:
Early Years

1928 Austin 7 Swallow
1935 SS Airline
1937 SS Jaguar 2½ litre

Post War Boom

1949 Jaguar Mark V
1953 Jaguar XK120 FHC
1956 Jaguar Mark VllM
1958 XK150 FHC

Swinging 60s

1963 Mark X
1967 E-type OTS
1969 Jaguar 240
1969 XJ6 Series 1

Growth and Consolidation

1975 XJS V12 Coupé
1996 XK8 Coupé
1998 S-TYPE

Present and Future

2010 C-X75 Concept Car
2013 F-TYPE Convertible
For further information and details of opening hours, directions etc. please visit the Coventry Transport Museum website by clicking here.
*Please Note: As JDHT's vehicles are very much a living collection, they are frequently out and about at classic car events in the UK and abroad, particularly during the summer season.  Consequently, the display of cars at the BMM changes quite frequently but wherever possible the gaps are filled with other vehicles that are associated with Jaguar's motorsport past. To find out if a particular car is going to be on display at any given time, please contact JDHT by e-mail to enquiries@jaguarheritage.com or by calling +44 (0)24 7656 4431.