During the first half of the 1960s Jaguar Cars Ltd took over a number of companies, including Coventry Climax, transforming it from a stand alone car company into Jaguar Group, a manufacturing conglomerate that spanned large sections of the British Motor Industry. In August 1964 Jaguar Cars produced a booklet called 'Case History' for their employees summarising the history of all the companies in Jaguar Group, starting with the history of Jaguar from the early days of Swallow Sidecars in Blackpool, right to the then current product line.
Part Two of the booklet told the story of Daimler Cars from 1896 to the takeover in 1960 together with the story of Lanchester who BSA had bought in 1930 and merged into Daimler.  Part Three covered the history of Guy Motors which Jaguar bought out of liquidation in 1961.  Part Four covered engine and fork lift truck manufacturer Coventry Climax which Jaguar bought in the spring of 1963.  Part Five covered engine manufacturer Henry Meadows, a supplier to Guy Motors, which Jaguar bought in 1965.
This article comes from the May 1968 revised edition of Case History and was updated to include the 1965 acquisition and show the range of vehicles available across the whole Group.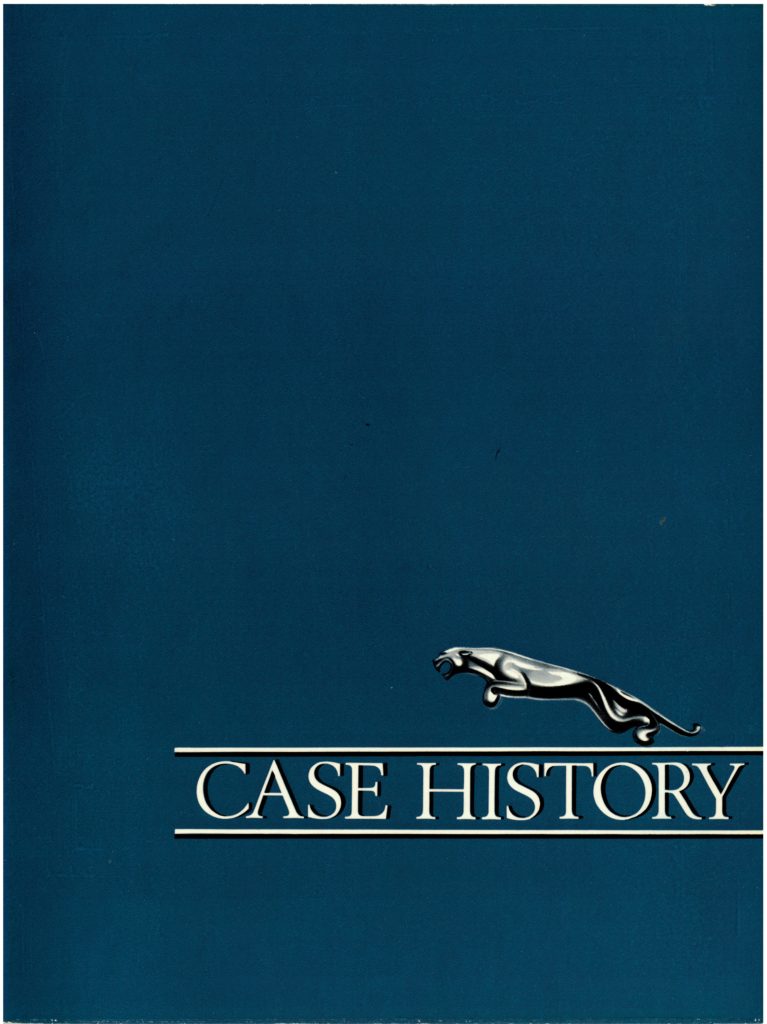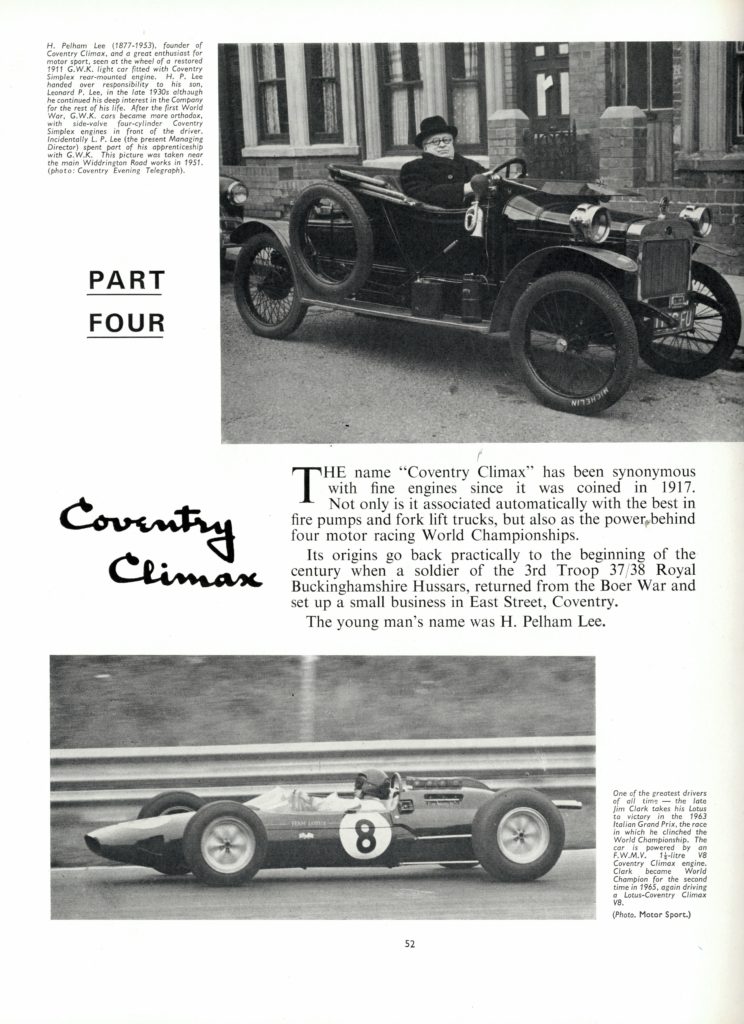 THE name "Coventry Climax" has been synonymous with fine engines since it was coined in 1917. Not only is it associated automatically with the best in fire pumps and fork lift trucks, but also as the power behind four motor-racing World Championships. Its origins go back practically to the beginning of the century when a soldier of the 3rd Troop 37/38 Royal Buckinghamshire Hussars returned from the Boer War and set up a small business in East Street, Coventry.
The young man's name was H. Pelham Lee.
Picture Caption – Left H. Pelham Lee (1877-1953) founder of Coventry Climax and a great enthusiast for motor sport, seen at the wheel of a restored 1911 G.W.K. light car fitted with Coventry Simplex rear-mounted engine. H.P. Lee handed over responsibility to his son Leonard P Lee, in the late 1930s although he continued his deep interest in the Company for the rest of his life. 
After the first World War, G.W.K. cars became more orthodox, with side-valve four-cylinder Coventry Simplex engines in front of the driver. Incidentally L.P. Lee (the present Managing Director [1968] ) spent part of his apprenticeship with G.W.K. This picture was taken near the main Widdrington Road works in 1951. (Photo: Coventry Evening Telegraph)
Picture Caption – Lower Left  One of the greatest drivers of all time – the late Jim Clark takes his Lotus to victory in the 1963 Italian Grand Prix. The race in which he clinched the World Championship. 
The car is powered by an F.W.M.V. 1½ litre V8 Coventry Climax engine. Clark became World Champion for the second time in 1965, again driving a Lotus Coventry Climax V8. (Photo: Motor Sport)
The son of a London architect, H.P. Lee was born at Putney in 1877 and educated at Bradfield College before becoming an electrical engineering student in Kensington. Later he joined the engineering firm of W. H. Allen, Bedford, as a pupil. On conclusion of his previously-mentioned military service he came to Coventry to complete his engineering training as an 'improver' with the Daimler Company.
Although he had started out as an electrical engineer, he was convinced that it was in the internal combustion engine that his future lay, and that Coventry was the place to put his ideas into practice. So – soon after leaving Daimler – he created his own firm in East Street, in partnership with a Dane named Stroyer. The year was 1903. Little is known of the Lee-Stroyer motor car. It was made chiefly as a test-bed in which to demonstrate the efficiency of Lee's petrol engine, and partly because of Lee's great enthusiasm for motoring (his son, L. P. Lee, remembers being taken for rides on one of these cars when he was a child).
Manufacture of complete cars by such a small firm resulted in the limited capital being tied up for long periods, and Lee decided to abandon car manufacture and to concentrate on engine building. Stroyer left and Lee re-named the company 'Coventry Simplex' and moved from East Street into part of the old Humber Works at the Gosford Green end of Paynes Lane.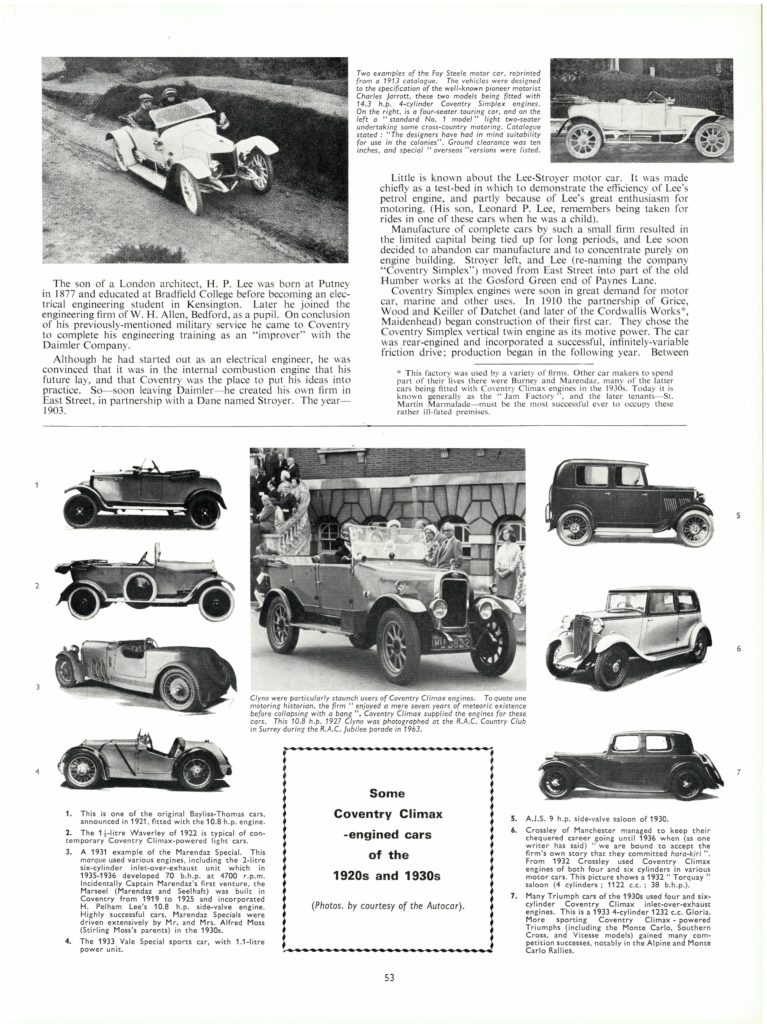 Coventry Simplex engines were soon in great demand for motor car, marine and other uses. In 1910 the partnership of Grice, Wood and Keiller (G.W.K.) of Datchet (and later of the Cordwallis Works, Maidenhead), began construction of their first car. They chose the Coventry Simplex vertical twin engine as its motive power. The car was rear engined and incorporated a successful, infinitely-variable friction drive; production began in the following year.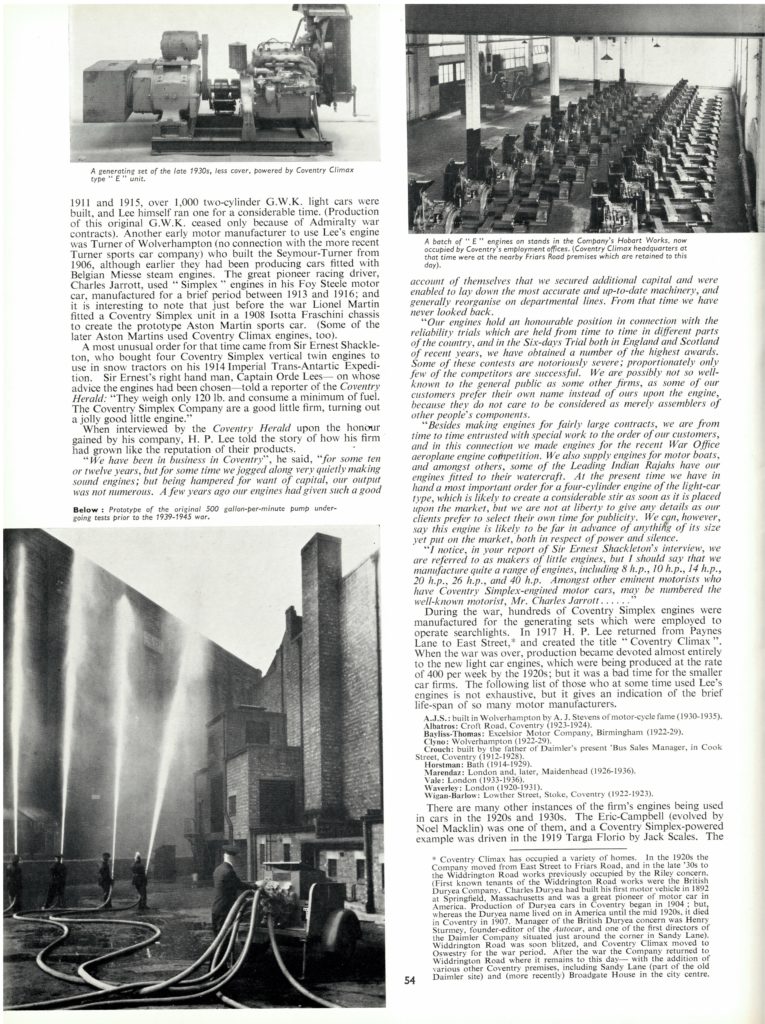 Between 1911 and 1915, over 1,000 two-cylinder G.W.K. light cars were built and Lee himself ran one for a considerable time. (Production of this original G.W.K. ceased only because of Admiralty war contracts).
Another early motor manufacturer to use Lee's engine was Turner of Wolverhampton (no connection with the more recent Turner sports car company) who built the Seymour-Turner from 1906, although earlier they had been producing cars fitted with Belgian Miesse steam engines.
The great pioneer racing driver, Charles Jarrott, used "Simplex" engines in his Foy Steele motor car, manufactured for a brief period between 1913 and 1916; and it is interesting to note that just before the war, Lionel Martin fitted a Coventry Simplex unit in a 1908 Isotta Fraschini chassis to create the prototype Aston Martin sports car. (Some of the later Aston Martins used Coventry Climax engines, too).
A most unusual order for that time came from Sir Ernest Shackleton, who bought four Coventry Simplex vertical twin engines to use in snow tractors on his 1914 Imperial Trans-Antarctic Expedition. Sir Ernest's right hand man, Captain Orde Lees– on whose advice the engines had been chosen – told a reporter of the Coventry Herald : "They weigh only 120 lb. and consume a minimum of fuel. The Coventry Simplex Company are a good little firm, turning out a jolly good little engine."
When interviewed by the Coventry Herald upon the honour gained by his company, H. P. Lee told the story of how his firm had grown like the reputation of their products.
"We have been in business in Coventry", he said, "for some ten or twelve years, but for some time we jogged along very quietly making sound engines; but being hampered for want of capital, our output was not numerous. A few years ago our engines had given such a good account of themselves that we secured additional capital and were enabled to lay down the most accurate and up-to-date machinery, and generally reorganise on departmental lines. From that time we have never looked back .
"Our engines hold an honourable position in connection with the reliability trials which are held from time to time in different parts of the country, and in the Six-days Trial both in England and Scotland of recent years, we have obtained a number of the highest awards. Some of these contests are notoriously severe; proportionately only few of the competitors are successful. We are possibly not so well known to the general public as some other firms, as some of our customers prefer their own name instead of ours upon the engine, because they do not care to be considered as merely assemblers of other people's components.
"Besides making engines for fairly large contracts, we are from time to time entrusted with special work to the order of our customers, and in this connection we made engines for the recent War Office aeroplane engine competition. We also supply engines for motor boats and amongst others, some of the Leading Indian Rajahs  have our engines fitted to their watercraft. At the present time we have in hand a most important order for a four-cylinder engine of the light-car type, which is likely to create a considerable stir as soon as it is placed upon the market, but we are not at liberty to give any details as our clients prefer to select their own time for publicity. We can, however, say this engine is likely to be far in advance of anything of its size yet put on the market, both in respect of power and silence.
"I notice, in your report of Sir Ernest Shackleton's interview, we are referred to as makers of little engines, but I should say that we manufacture quite a range of engines, including 8 h.p., 10 h.p., 14 h.p., 20 h.p.. 26 h.p., and 40 h.p. Amongst other eminent motorists who have Coventry Simplex-engined motor cars, may be numbered the well-known motorist, Mr. Charles Jarrott ."
During the war, hundreds of Coventry Simplex engines were manufactured for the generating sets which were employed to operate searchlights. In 1917 H. P. Lee returned from Paynes Lane to East Street and created the title "Coventry Climax". When the war was over, production became devoted almost entirely to the new light car engines, which were being produced at the rate of 400 per week by the 1920s; but it was a bad time for the smaller car firms.
Users of Lee's Engines
The following list of those who at some time used Lee's engines is not exhaustive, but it gives an indication of the brief life-span of so many motor manufacturers.
A.J.S.: built in Wolverhampton by A. J. Stevens of motor-cycle fame (1930 – 1935)
Albatros: Croft Road, Coventry (1923 – 1924)
Bayliss-Thomas: Excelsior Motor Company, Birmingham (1922 – 1929)
Clyno: Wolverhampton (1922 – 1929 )
Crouch: built by the father of Daimler's present 'Bus Sales Manager', in Cook Street, Coventry (1912 – 1928)
Horstman: Bath (1914 – 1929)
Marendaz: London and later, Maidenhead (1926 – 1936)
Vale: London (1933 – 1936)
Waverley: London (1920 – 1931 )
Wigan-Barlow: Lowther Street, Stoke, Coventry (1922 – 1923)
Coventry Climax Locations
Coventry Climax has occupied a variety of homes. 
In the 1920s the Company moved from East Street to Friars Road.
In the late '30s they moved to the Widdrington Road works previously occupied by the Riley concern.
(First known tenants of the Widdrington Road Works were the British Duryea Company. Charles Duryea had built his first motor vehicle in 1892 at Springfield, Massachusetts and was a great pioneer of motor cars in America. Production of Duryea cars in Coventry began in 1904; but, whereas the Duryea name lived on in America until the mid 1920s, it died in Coventry in 1907. Manager of the British Duryea concern was Henry Sturmey, founder -editor of the Autocar, and one of the first directors of the Daimler Company situated just around the corner in Sandy Lane).
Widdrington Road was soon blitzed, and Coventry Climax moved to Oswestry for the war period.
After the war the Company returned to Widdrington Road where it remains to this day [1968].
Two other sites were occupied in Coventry: Sandy Lane (part of the old Daimler site) and (more recently) Broadgate House in the city centre.
There are many other instances of the firm's engines being used in cars in the 1920s and 1930s. The Eric-Campbell (evolved by Noel Macklin) was one of them, and a Coventry Simplex-powered example was driven in the 1919 Targa Florio by Jack Scales. The marque was short-lived, but made its impact on the motoring scene, for it was the predecessor of both the Invicta and the Railton (The prototype Invicta also had one of Lee's engines). 
Swift of Coventry Ltd. – which began life in 1859 as a sewing machine company, and later made bicycles – manufactured cars up to 1931, some of their last models being fitted with Sir William Lyons' Swallow coachwork and Coventry Climax engines.
The last car to be fitted with a Coventry Climax unit before World War II was the little 1,100 c.c. Morgan 4/4 sports car, from which the Autocar  staff obtained 78.26 m.p.h. in a 1938 road test, and which was raced at Le Mans and elsewhere. Morgan is one of the few firms mentioned so far in this article to have survived to the present day; but the wisdom of H. P. Lee's early decision not to make complete motor cars was shown, on numerous occasions, to be fully justified.
With so many of the small firms falling by the wayside between the wars as a result of economic rationalisation in the industry, Coventry Climax sought fresh applications for their well-proven engines.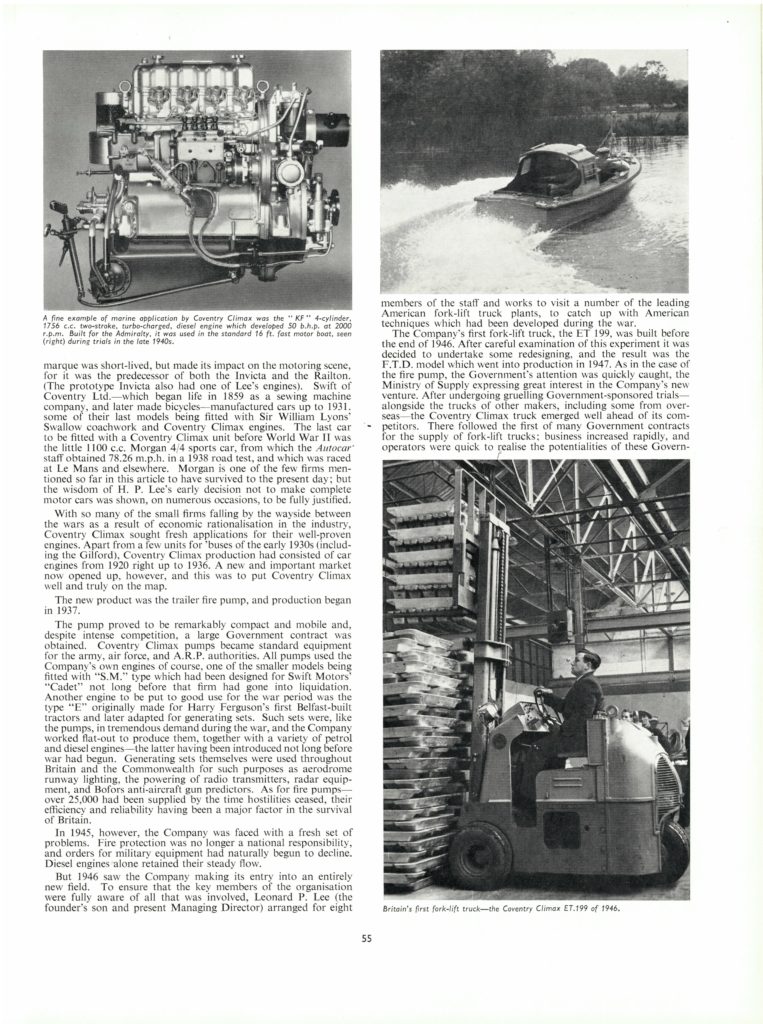 Apart from a few units for 'buses of the early 1930s (including the Gilford), Coventry Climax production had consisted of car engines from 1920 right up to 1936. A new and important market now opened up, however, and this was to put Coventry Climax well and truly on the map.
The new product was the trailer fire pump, and production began in 1937.
The pump proved to be remarkably compact and mobile and, despite intense competition, a large Government contract was obtained. Coventry Climax pumps became standard equipment for the army, air force, and A.R.P. authorities. All pumps used the Company's own engines of course, one of the smaller models being fitted with "S.M." type which had been designed for Swift Motors "Cadet" not long before that firm had gone into liquidation.
Another engine to be put to good use for the war period was the type "E" originally made for Harry Ferguson's first Belfast-built tractors and later adapted for generating sets. Such sets were, like the pumps, in tremendous demand during the war, and the Company worked flat-out to produce them, together with a variety of petrol and diesel engines – the latter having been introduced not long before war had begun.
Generating sets themselves were used throughout Britain and the Commonwealth for such purposes as aerodrome runway lighting, the powering of radio transmitters, radar equipment, and Bofors anti-aircraft gun predictors. As for fire pumps, over 25,000 had been supplied by the time hostilities ceased, their efficiency and reliability having been a major factor in the survival of Britain.
In 1945, however, the Company was faced with a fresh set of problems. Fire protection was no longer a national responsibility, and orders for military equipment had naturally begun to decline. Diesel engines alone retained their steady flow.
But 1946 saw the Company making its entry into an entirely new field. To ensure that the key members of the organisation were fully aware of all that was involved, Leonard P. Lee (the founder's son and present Managing Director [1968]) arranged for eight members of the staff and works to visit a number of the leading American fork-lift truck plants, to catch up with American techniques which had been developed during the war. 
The Company's first fork-lift truck, the ET 199, was built before the end of 1946. After careful examination of this experiment it was decided to undertake some redesigning and the result was the F.T.D. model which went into production in 1947. 
As in the case of the fire pump, the Government's attention was quickly caught, the Ministry of Supply expressing great interest in the Company's new venture. After undergoing gruelling Government-sponsored trials alongside the trucks of other makers, including some from overseas – the Coventry Climax truck emerged well-ahead of its competitors. 
There followed the first of many Government contracts for the supply of fork-lift trucks: business increased rapidly, and operators were quick to realise the potentialities of these Government – recognised machines which were beginning to revolutionise the whole system of mechanical handling.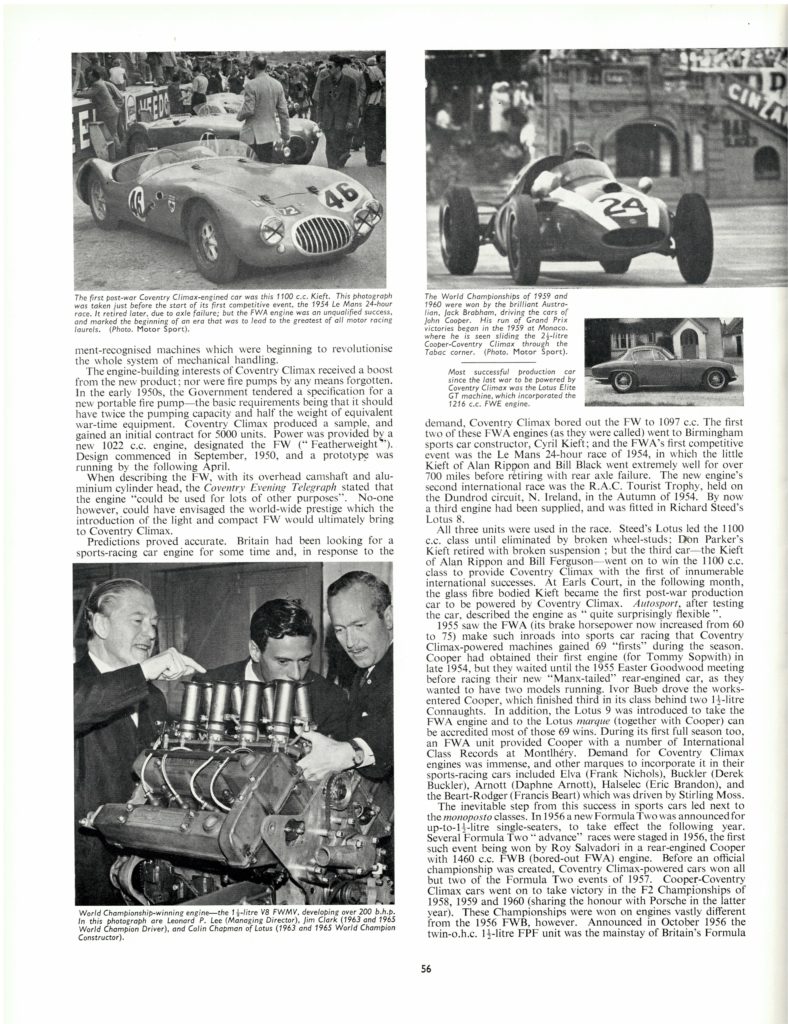 The engine-building interests of Coventry Climax received a boost from the new product; nor were fire pumps by any means forgotten. In the early 1950s, the Government tendered a specification for a new portable fire pump – the basic requirements being that it should have twice the pumping capacity and half the weight of equivalent war-time equipment. Coventry Climax produced a sample, and gained an initial contract for 5,000 units. Power was provided by a new 1,022 c.c. engine, designated the FW ("Featherweight"). 
Design commenced in September, 1950, and a prototype was running by the following April.  When describing the FW, with its overhead camshaft and aluminium cylinder head, the Coventry Evening Telegraph stated that the engine "could be used for lots of other purposes". 
No-one however, could have envisaged the world-wide prestige which the introduction of the light and compact FW would ultimately bring to Coventry Climax. 
Predictions proved accurate. Britain had been looking for a sports-racing car engine for some time and, in response to the demand, Coventry Climax bored out the FW to 1,097 c.c.
The first two of these FWA engines (as they were called) went to Birmingham sports car constructor, Cyril Kieft;
and the FWA's first competitive event was the Le Mans 24-hour race of 1954, in which the little Kieft of Alan Rippon and Bill Black went extremely well for over 700 miles before retiring with rear axle failure.
The new engine's second international race was the R.A.C. Tourist Trophy, held on the Dundrod circuit, N. Ireland in the Autumn of 1954. By now a third engine had been supplied, and was fitted in Richard Steed's Lotus 8. All three units were used in the race. Steed's Lotus led the 1,100 c.c. class until eliminated by broken wheel-studs; Don Parker's Kieft retired with broken suspension; but the third car – the Kieft of Alan Rippon and Bill Ferguson went on to win the 1,100 c.c. class to provide Coventry Climax with the first of innumerable international successes. At Earls Court, in the following month, the glass fibre bodied Kieft became the first post-war production car to be powered by Coventry Climax. Autosport,  after testing the cars described the engine as "quite surprisingly flexible".
1955 saw the FWA (its brake horsepower now increased from 60 to 75) make such inroads into sports car racing that Coventry Climax-powered machines gained 69 "firsts" during the season. Cooper had obtained their first engine (for Tommy Sopwith) in late-1954 but they waited until the 1955 Easter Goodwood meeting before racing their new "Manx-tailed" rear-engined car, as they wanted to have two models running. Ivor Bueb drove the works entered Cooper, which finished third in its class behind two 1½ litre Connaughts. In addition, the Lotus 9 was introduced to take the FWA engine and to the Lotus marque (together with Cooper) can be accredited most of those 69 wins. During its first full season too, an FWA unit provided Cooper with a number of International Class Records at Montlhery. Demand for Coventry Climax engines was immense, and other marques wanted to incorporate it in their sports-racing cars included Elva (Frank Nichols), Buckler (Derek Buckler), Arnott (Daphne Arnott), Halselec (Eric Brandon), and the Beart-Rodger ( Francis Beart ) which was driven by Stirling Moss.
The inevitable step from this success in sports cars led next to the monoposto classes. In 1956 a new Formula Two was announced for up-to-1½ -litre single-seaters, to take effect the following year. Several Formula Two "advance" races were staged in 1956, the first such event being won by Roy Salvadori in a rear-engined Cooper with 1,460 c.c. FWB (bored-out FWA) engine. Before an official championship was created, Coventry Climax-powered cars won all but two of the Formula Two events of 1957. Cooper-Coventry-Climax cars went on to take victory in the F2 Championships of 1958, 1959 and 1960 (sharing the honour with Porsche in the latter year). These Championships were won on engines vastly different from the 1956 FWB, however.  
Announced in October 1956 the twin-o.h.c. 1½-litre FPF unit was the mainstay of Britain's Formula Two engines throughout those three successful seasons. This was not the first 2 o.h.c. engine to be built by Coventry Climax, incidentally. Back in the mid-thirties, the Lagonda-designed Rapier had been fitted with one and later, in 1953, there had been the twin o.h.c. V8 FPE.
The first serious assault on Formula One (Grand Prix) racing came in 1958, when several FPF engines were stretched to 2 litres. Matched against the finest 2½ -litre G.P. machinery 2-litre Coopers driven by Stirling Moss and Maurice Trintignant amazed the experts by winning two World Championship events in that year – the Grands Prix of Argentine and Monaco respectively. 
For 1959, a new crankcase was designed, putting the FPF's capacity up to 2,462 c.c., and the power to 239 b.h.p. The victories gained by Cooper and Lotus cars (particularly the former) in 1959 and 1960 are legendary, and Jack Brabham won the World Championship for Cooper in both years.
A new Formula One (1½ instead of 2½ litres) was created in 1961, and Coventry Climax supplied the British teams with an interim engine in the form of the 1½-litre FPF Mk. 2, developing 152 b.h.p. Although more than 30 b.h.p. down on the Ferraris' quoted output, Stirling Moss's Lotus nevertheless snatched two World Championship race victories from the Italians. Towards the end of the season, a brand new Coventry Climax V8 engine, the FWMV (developed from the FWM marine unit) made its debut.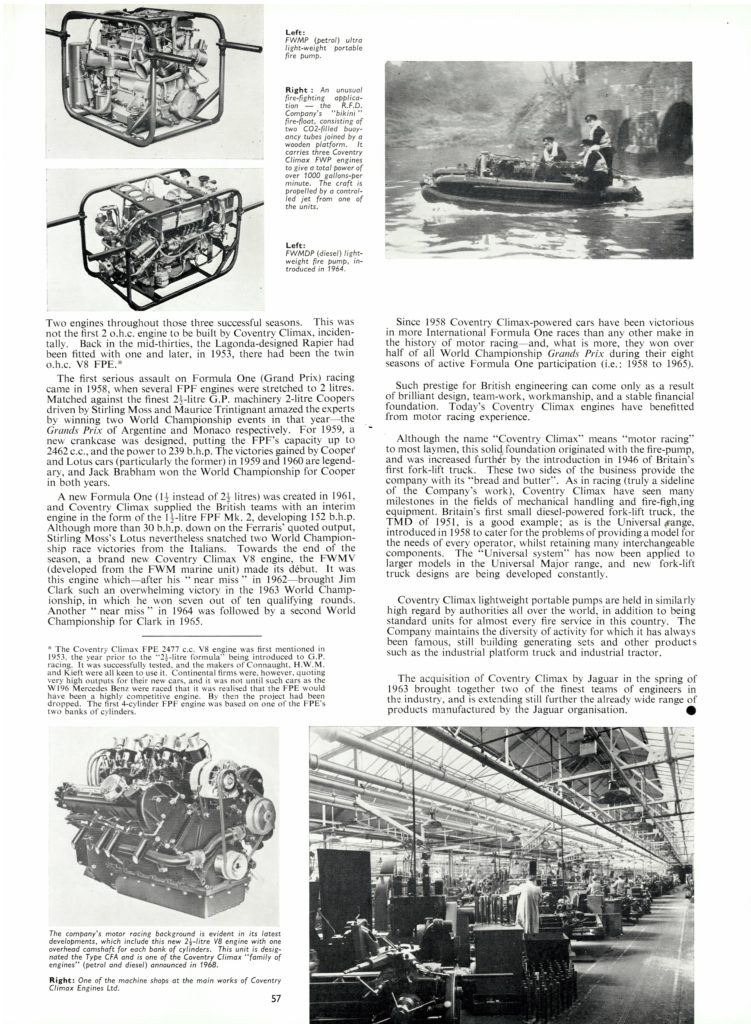 It was this engine which–after his "near miss" in 1962 – brought Jim Clark such an overwhelming victory in the 1963 World Championship, in which he won seven out of ten qualifying rounds. Another "near miss" in 1964 was followed by a second World Championship for Clark in 1965.
Since 1958 Coventry Climax-powered cars have been victorious in more International Formula One races than any other make in the history of motor racing [as of 1968] and, what is more, they won over half of all World Championship Grands Prix during their eight seasons of active Formula One participation (i.e. : 1958 to 1965).
Such prestige for British engineering can come only as a result of brilliant design, team-work, workmanship, and a stable financial foundation. Today's Coventry Climax engines have benefitted from motor racing experience.
Although the name "Coventry Climax" means "motor racing" to most laymen, this solid foundation originated with the fire-pump, and was increased further by the introduction in 1946 of Britain's first fork-lift truck. These two sides of the business provide the company with its "bread and butter". As in racing (truly a sideline of the Company's work), Coventry Climax have seen many milestones in the fields of mechanical handling and fire-fighting equipment. Britain's first small diesel-powered fork-lift truck, the TMD of 1951, is a good example; as is the Universal range, introduced in 1958 to cater for the problems of providing a model for the needs of every operator, whilst retaining many interchangeable components. The "Universal system" has now been applied to larger models in the Universal Major range, and new fork-lift truck designs are being developed constantly.
Coventry Climax lightweight portable pumps are held in similarly high regard by authorities all over the world, in addition to being standard units for almost every fire service in this country. The Company maintains the diversity of activity for which it has always been famous, still building generating sets and other products such as the industrial platform truck and industrial tractor.
The acquisition of Coventry Climax by Jaguar in the spring of 1963 brought together two of the finest teams of engineers in the industry, and is extending still further the already wide range of products manufactured by the Jaguar organisation.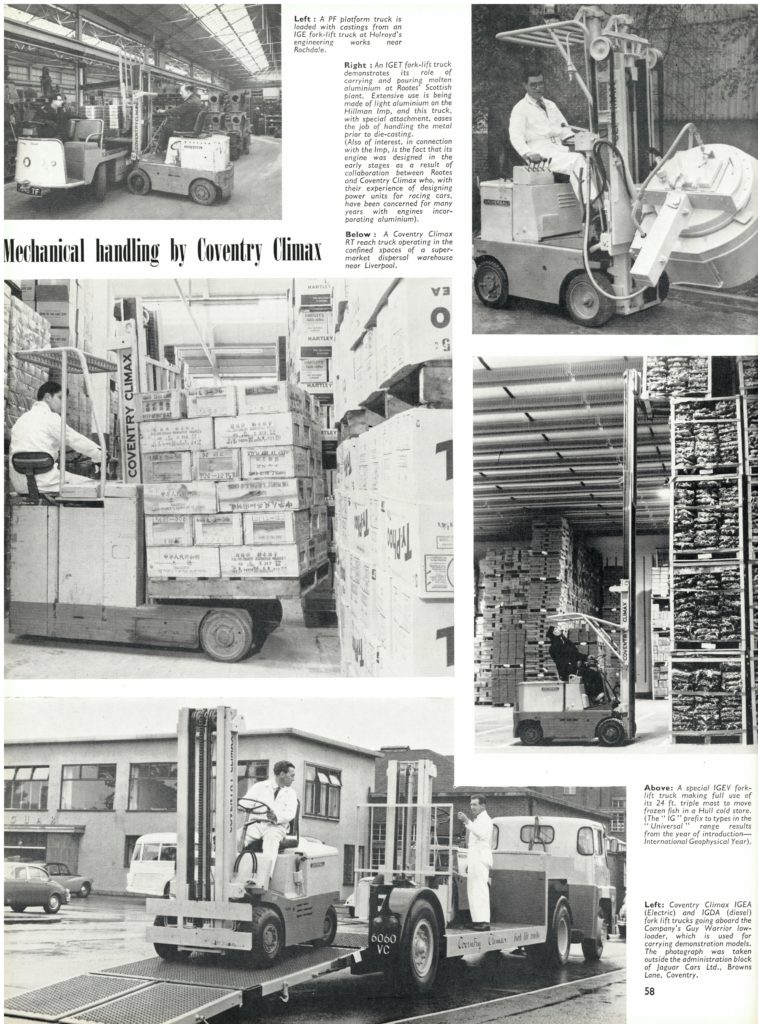 Mechanical Handling by Coventry Climax
Picture Captions Clockwise From Top Right
An IGET fork-lift truck demonstrates its role of carrying and pouring molten aluminium at Rootes' Scottish plant. Extensive use is being made of light aluminium on the Hillman Imp, and this truck, with special handing attachment, eases the job of handling the metal prior to die-casting. (Also of interest, in connection with the the Imp, is the fact that its engine was designed in the early stages as a result of collaboration between Rootes and Coventry Climax who, with their experience designing power units for racing cars, have been concerned for many years with engines incorporating aluminium).
A special IGEV fork-lift truck making full use of its 24 ft. triple mast to move frozen fish in a Hull cold store. (The "IG" prefix to types in the "Universal" range results from the year of introduction – International Geophysical Year).
Coventry Climax IGEA (Electric) and IGDA (diesel) fork-list trucks going aboard the Company's Guy Warrior low-loader, which is used for carrying demonstration models.  The photograph was taken outside the administration block of Jaguar Cars Ltd., Browns Lane, Coventry.
A Coventry Climax RT reach truck operating in the confined spaces of a supermarket dispersal warehouse near Liverpool.
A PF platform truck is loaded with castings from an IGE fork-lift truck at Holroyd's engineering works near Rochdale.
COVENTRY CLIMAX
INDUSTRIAL VEHICLES
at Home and Abroad
Picture Captions Clockwise From Top Right
An IGEFA fork-lift truck, with shovel attachment, in action at the Golden Wonder potato crisp factory, Corby.
This Coventry Climax, electric "Universal" IGEV model , fitted with 16½ ft. triple-lift mast and rotating clamp, handles paper reels destined for the presses of the Birmingham Post and Mail newspapers.
A Coventry Climax IGPA model , fitted with L.P. gas equipment and power-assisted steering, seen on dock-work in Denmark.
"We gave them carte blanche on our handling problem."
(Russell Brockbank's view of Coventry Climax is reprinted by permission of "MOTOR").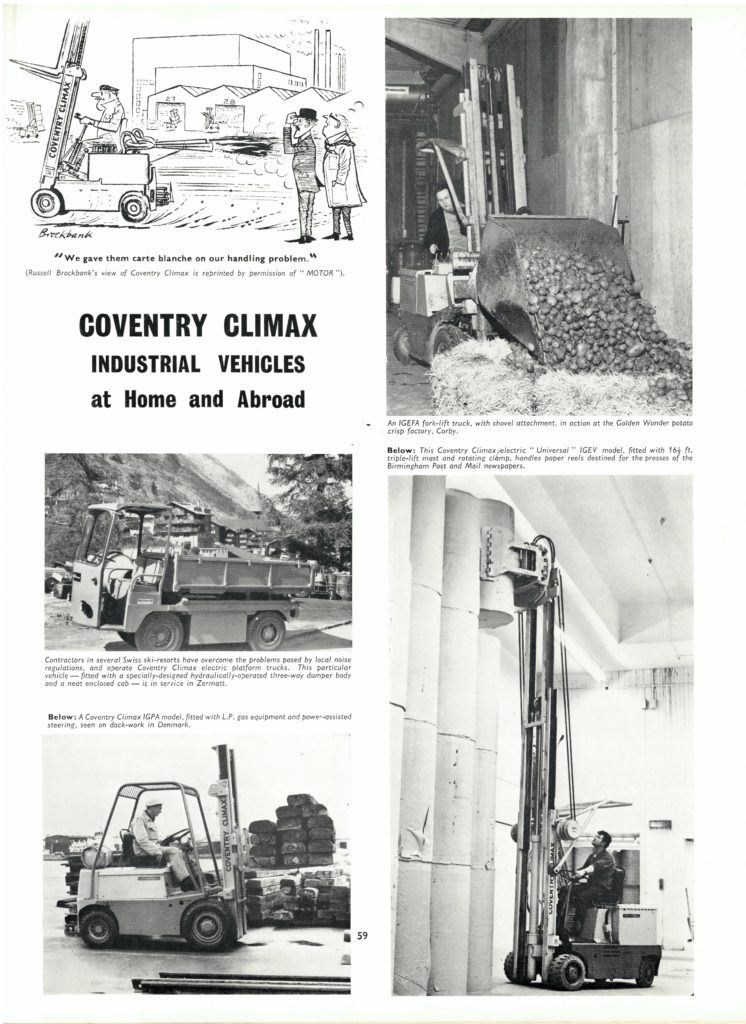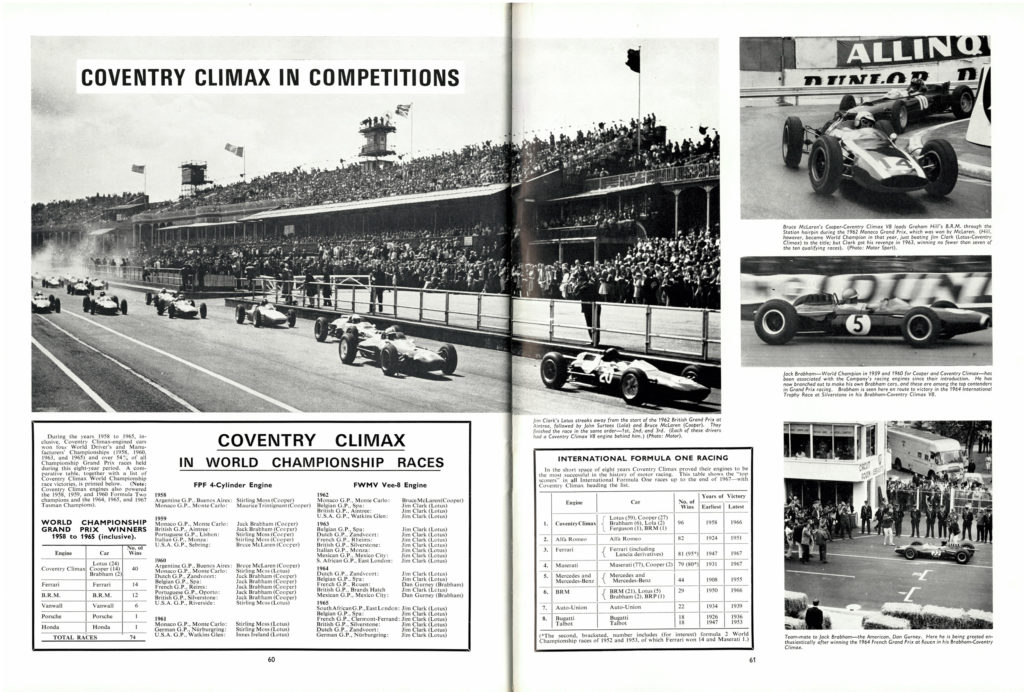 Coventry Climax World Championship Wins 
FPF 4-Cylinder Engine
| | | | |
| --- | --- | --- | --- |
| Year | Race | Driver | Team |
| 1958 | Argentine GP | Stirling Moss | Cooper |
|   | Monaco GP | Maurice Trintignant | Cooper |
| 1959 | Monaco GP | Jack Brabham | Cooper |
|   | British GP | Jack Brabham | Cooper |
|   | Portuguese GP | Stirling Moss | Cooper |
|   | Italian GP | Stirling Moss | Cooper |
|   | USA GP | Bruce McLaren | Cooper |
| 1960 | Argentine GP | Bruce McLaren | Cooper |
|   | Monaco GP | Stirling Moss | Lotus |
|   | Dutch GP | Jack Brabham | Cooper |
|   | Belgian GP | Jack Brabham | Cooper |
|   | French GP | Jack Brabham | Cooper |
|   | Portuguese GP | Jack Brabham | Cooper |
|   | British GP | Jack Brabham | Cooper |
|   | USA GP | Stirling Moss | Lotus |
| 1961 | Monaco GP | Stirling Moss | Lotus |
|   | German GP | Stirling Moss | Lotus |
|   | USA GP | Innes Ireland | Lotus |
Coventry Climax World Championship Wins
FWMV Vee-8 Engine
| | | | |
| --- | --- | --- | --- |
| Year | Race | Driver | Team |
| 1962 | Monaco GP | Bruce McLaren | Cooper |
|   | Belgian GP | Jim Clark | Lotus |
|   | British GP | Jim Clark | Lotus |
|   | USA GP | Jim Clark | Lotus |
| 1963 | Belgian GP | Jim Clark | Lotus |
|   | Dutch GP | Jim Clark | Lotus |
|   | French GP | Jim Clark | Lotus |
|   | British GP | Jim Clark | Lotus |
|   | Italian GP | Jim Clark | Lotus |
|   | Mexican GP | Jim Clark | Lotus |
|   | South African GP | Jim Clark | Lotus |
| 1964 | Dutch GP | Jim Clark | Lotus |
|   | Belgian GP | Jim Clark | Lotus |
|   | French GP | Dan Gurney | Brabham |
|   | British GP | Jim Clark | Lotus |
|   | Mexican GP | Dan Gurney | Brabham |
| 1965 | South African GP | Jim Clark | Lotus |
|   | Belgian GP | Jim Clark | Lotus |
|   | French GP | Jim Clark | Lotus |
|   | British GP | Jim Clark | Lotus |
|   | Dutch GP | Jim Clark | Lotus |
|   | German GP | Jim Clark | Lotus |
Walter Hassan and Jaguar V12 Engine
One of the side benefits of Jaguar acquiring Coventry Climax, was the return of engineer Walter (Wally) Hassan. Hassan had joined SS Cars Ltd in 1938 after a recommendation to William Lyons from friend and racing driver Tommy Wisdom. His initial work was on chassis for the SS 100 Jaguar but he moved onto engine work. Except for a short spell at Bristol Aircraft at the outbreak of  War he spent the duration at SS Cars and was one of the team of four engineers who developed the XK Engine and launched the XK120 in 1948.
Having seen the XK engine through its development phase, Hassan left Jaguar and joined Coventry Climax. Here he worked with Harry Mundy on the FW engine and the two of them went on to develop it for Formula One racing.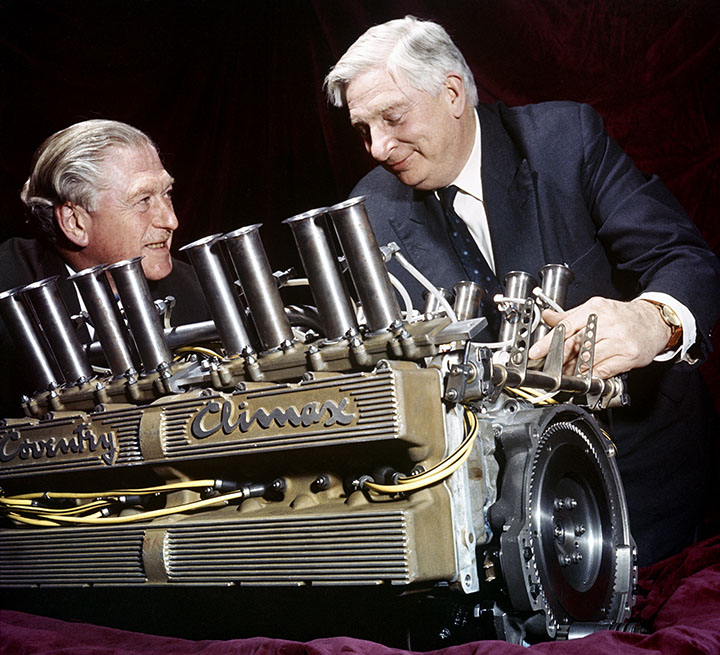 When Lyons acquired Climax in 1963 Hassan came back into the fold and together with Mundy joined Bill Heynes and Claude Baily who were already working on developing a new V12 engine for Jaguar. Hassan and Mundy found the existing V12 too heavy and would not fit the saloon car for which it was intended, the Jaguar XJ6 then in design. Together they set about designing an alternative V12 engine, with various configurations being proposed and tested. Heynes, as Chief Engineer, and Baily were both closely involved with the new unit and eventually, after many years of testing, the 5.3 litre Jaguar V12 was unveiled in 1971. 
Changing Ownership of Coventry Climax
By the time of the Jaguar takeover, Coventry Climax had already announced the withdrawal from building Formula One engines. At Earls Court in 1962, L. P.  Lee stated that the company was losing money and not gaining enough publicity from their involvement although they remained in Formula One until the rules changed to introduce the three-litre formula.
The takeover by Jaguar Cars in 1963 was just the start of a series of major changes of ownership. Jaguar itself merged with the British Motor Corporation (BMC) in 1966 to form British Motor Holdings (BMH). Then at the behest of the Labour Government BMH merged with the Leyland Motor Corporation in 1968 to form the British Leyland Motor Corporation. Following a number of years of financial difficulties this Company was nationalised in 1975 as British Leyland (BL).
In the early 1970s, the fire pump business was sold back into private ownership, and the Godiva Fire Pumps company was formed in Warwick. Coventry Climax became part of the British Leyland Special Products Division, alongside Alvis, Aveling-Barford, and others. In 1977 Coventry Climax acquired the Warrington forklift truck business of Rubery Owen Conveyancer, renaming it Climax Conveyancer. At the end of 1978, BL brought together Coventry Climax Limited, Leyland Vehicles Limited (trucks, buses, and tractors), Alvis Limited (military vehicles), and Self-Changing Gears Limited (heavy-duty transmissions) into a new group called BL Commercial Vehicles (BLCV) under managing director David Abell.
In 1982 BL sold off the Coventry Climax forklift truck business back into private ownership to Coventry Climax Holdings Limited. Sir Emmanuel Kaye, also chairman and a major shareholder of Lansing Bagnall at the time, formed the company, independent of his other interests for the purpose of acquiring Coventry Climax. Then in 1986 Coventry Climax went into receivership and was acquired by Cronin Tubular. 
In 1990, a further change of ownership came with the engine business being sold to Horstman Defence Systems of Bath, Somerset, thus breaking the link with Coventry. Kalmar Industries acquired the forklift truck interests of Coventry Climax in 1985. The company traded as "Kalmar Climax" for a few years but is now trading as Kalmar Industries Ltd.  
The Coventry Climax logo trademark is the property of Canadian Peter Schömer, based in Chichester.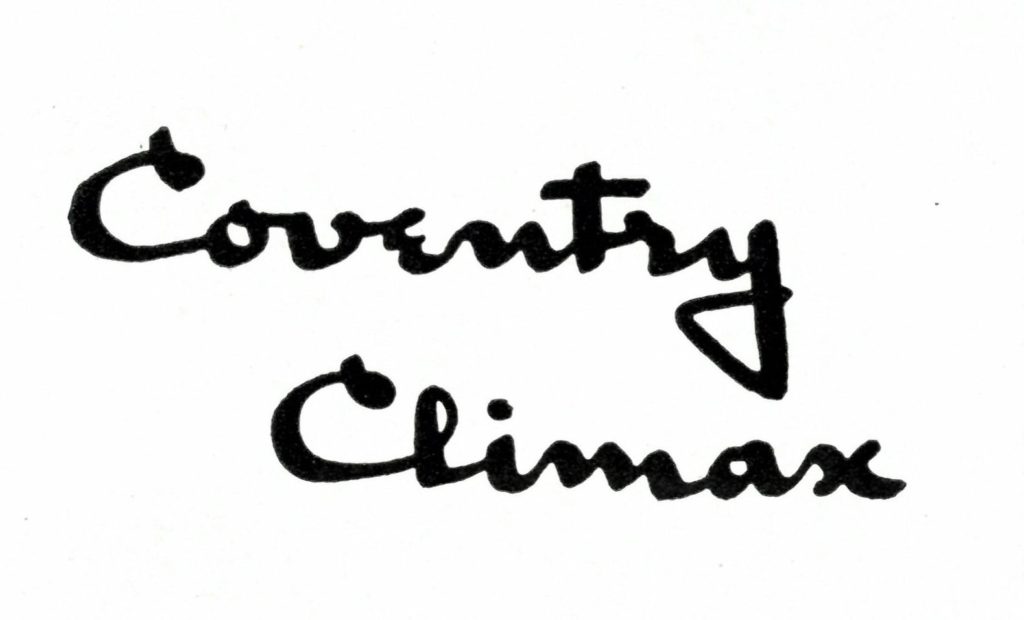 RAC Dewar Trophy
In May 1964, the Royal Automobile Club presented the Dewar Trophy, which is given at the recommendation of RAC's Technical and Engineering Committee for the most outstanding British achievement in the automotive field, to Leonard Pelham Lee. The citation reads: "Awarded to Coventry Climax Engines Ltd. for the design, development, and production of engines which have brought British cars to the forefront in the field of Grand Prix racing." . The history of this trophy dates back to 1906. The last time the Dewar Trophy was awarded before 1964, the recipient was Alec Issigonis for British Motor Corporation (BMC) in 1959 on the design and production of the ADO15 Mini.
Authors: Jaguar Cars Ltd (1968) with additional information from Tony Merrygold
© Text and Images – Jaguar Cars Ltd and Jaguar Daimler Heritage Trust