During the first half of the 1960s Jaguar Cars Ltd took over a number of companies, including Guy Motors, transforming it from a stand alone car company into Jaguar Group, a manufacturing conglomerate that spanned large sections of the British Motor Industry. In August 1964 Jaguar Cars produced a booklet called 'Case History' for their employees summarising the history of all the companies in Jaguar Group, starting with the history of Jaguar from the early days of Swallow Sidecars in Blackpool, right to the then current product line.
Part Two of the booklet told the story of Daimler Cars from 1896 to the takeover in 1960 together with the story of Lanchester who BSA had bought in 1930 and merged into Daimler. Part Three covered the history of Guy Motors which Jaguar bought out of liquidation in 1961. Part Four covered engine and fork lift truck manufacturer Coventry Climax which Jaguar bought in the spring of 1963. Part Five covered engine manufacturer Henry Meadows, a supplier to Guy Motors, which Jaguar bought in 1965.
This article comes from the May 1968 revised edition of Case History and was updated to include the 1965 acquisition and show the range of vehicles available across the whole Group.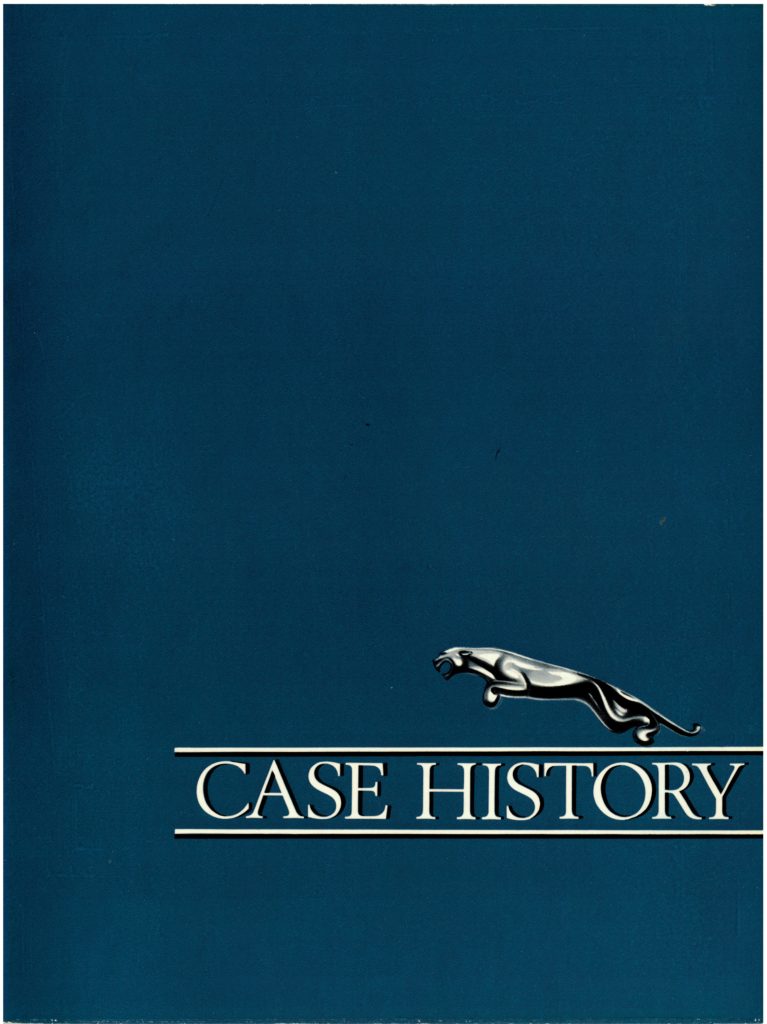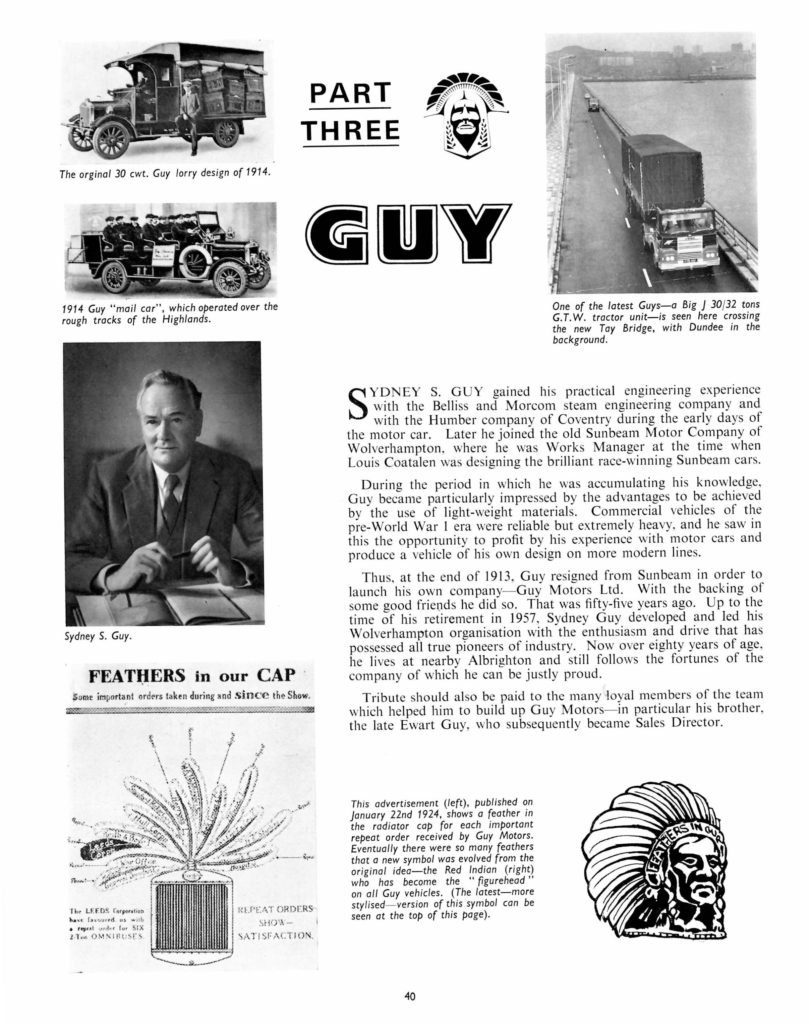 SYDNEY S. GUY gained his practical engineering experience with the Belliss and Morcom steam engineering company and with the Humber company of Coventry during the early days of the motor car. Later he joined the old Sunbeam Motor Company of Wolverhampton, where he was Works Manager at the time when Louis Coatalen was designing the brilliant race-winning Sunbeam cars.
During the period in which he was accumulating his knowledge, Guy became particularly impressed by the advantages to be achieved by the use of light-weight materials. Commercial vehicles of the pre-World War 1 era were reliable but extremely heavy, and he saw in this the opportunity to profit by his experience with motor cars and produce a vehicle of his own design on more modern lines.
Thus, at the end of 1913, Guy resigned from Sunbeam in order to launch his own company – Guy Motors Ltd. With the backing of some good friends he did so. That was fifty-five years ago. Up to the time of his retirement in 1957, Sydney Guy developed and led his Wolverhampton organisation with the enthusiasm and drive that has possessed all true pioneers of industry. Now over eighty years of age, he lives at nearby Albrighton and still follows the fortunes of the company of which he can be justly proud.
Tribute should also be paid to the many loyal members of the team which helped him to build up Guy Motors – in particular his brother, the late Ewart Guy, who subsequently became Sales Director. This advertisement (left), published on January 22nd 1924, shows a feather in the radiator cap for each important repeat order received by Guy Motors. Eventually there were so many feathers that a new symbol was evolved from the original idea – the Red Indian (right) who has become the "figurehead" on all Guy vehicles. (The latest – more stylised–version of this symbol can be seen at the top of this page).
Picture Captions Clockwise From Top Right:
One of the latest Guys – a Big J 30/32 tons G.T.W. tractor unit – is seen here crossing the new Tay Bridge with Dundee in the background.
Sydney S. Guy.
1914 Guy "mail car", which operated over the rough tracks of the Highlands.
The original 30 cwt. Guy lorry design of 1914.
GUY MOTORS LIMITED was floated in May 1914, and a factory built at Fallings Park, Wolverhampton, Staffordshire.
The company's first product was a 30 cwt. lorry of advanced design. To get away from the more commonly used heavy rolled steel channel frames of the time, Guy employed a much lighter form of pressed steel frame, and patented a three-point flexible suspension to prevent any distortion from being transmitted to the engine and gearbox. The direct third gear was intended for use when the vehicle was fully laden, whilst fourth gear, which was used only when travelling light, was indirect. A governor–controlled by road speed and – not engine speed – was another novel feature and this limited the maximum to 30 m.p.h. without affecting the engine's ability to "rev'' in the lower ratios when ascending hills. This governor was somewhat unpopular with drivers, who much preferred the economical overdrive top gear which they could engage when no load was being carried. Variations on these features became standard practice in the industry in later years.
Guy's first passenger – carrying vehicle was also built in 1914, and took the form of an open "mail car". It operated a combined mail and passenger service between Achnasheen railway station (on the Inverness-Kyle of Lochalsh line) and Aultbea on the coast, north of Gairloch. The few roads of Wester Ross remain narrow and steep to this day, but the conditions in which the mail car made its regular journey were nothing short of hazardous.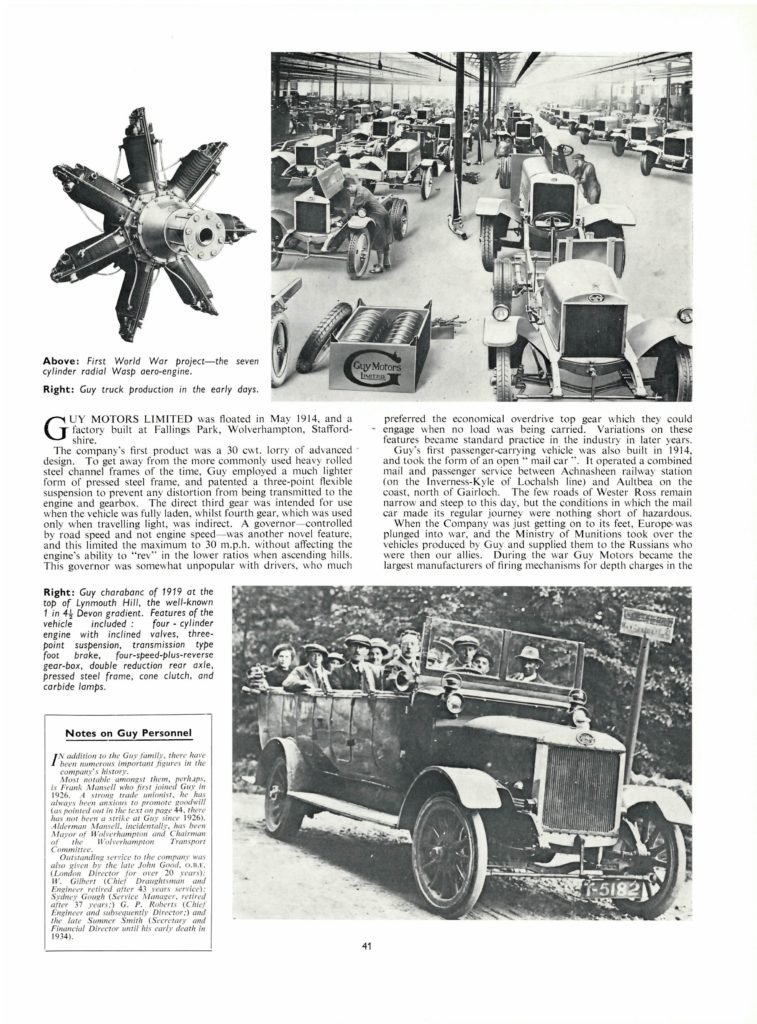 When the Company was just getting on to its feet, Europe was plunged into war, and the Ministry of Munitions took over the vehicles produced by Guy and supplied them to the Russians who were then our allies.
Picture Captions Clockwise From Top Right:
Guy truck production in the early days.
Guy charabanc of 1919 at the top of Lynmouth Hill, the well-known 1 in 4½ Devon gradient. Features of the vehicle included: four-cylinder engine with inclined valves, three-point suspension, transmission type foot brake, four-speed-plus-reverse gear-box, double reduction rear axle, pressed steel frame, cone clutch, and carbide lamps.
First World War project – the seven cylinder radial Wasp aero-engine.
Notes on Guy Personnel
In addition to the Guy family, there have been numerous important figures in the company's history.
Most notable amongst them, perhaps, is Frank Mansell who first joined Guy in 1926. A strong trade unionist, he has always been anxious to promote goodwill (as pointed out on page 44, there has not been a strike at Guy since 1926). Alderman Mansell, incidentally, has been Mayor of Wolverhampton and Chairman of the Wolverhampton Transport Committee.
Outstanding service to the company was also given by the late John Good, O.B.E. (London Director for over 20 years); W. Gilbert (Chief Draughtsman and Engineer retired after 43 years service); Sydney Gough (Service Manager, retired after 37 years); G.P. Roberts (Chief Engineer and subsequently Director); and the late Sumner Smith (secretary and Financial Director until his early death in 1934).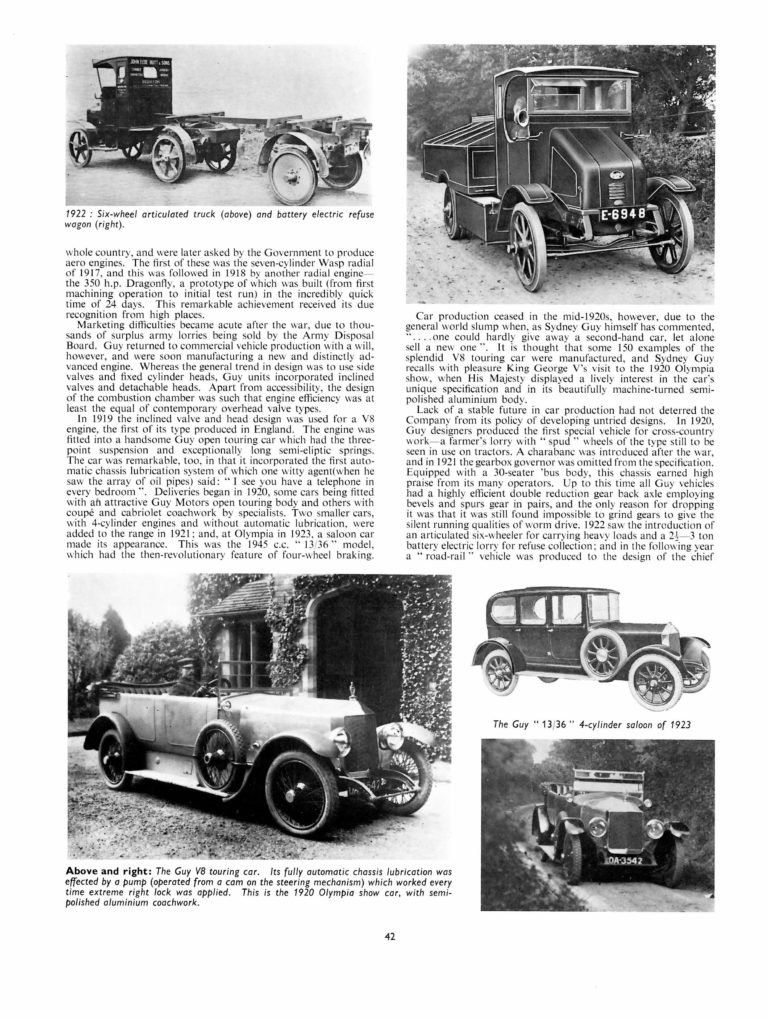 During the war Guy Motors became the largest manufacturers of firing mechanisms for depth charges in the whole country, and were later asked by the Government to produce aero engines. The first of these was the seven-cylinder Wasp radial of 1917, and this was followed in 1918 by another radial engine the 350 h.p. Dragonfly, a prototype of which was built (from first machining operation to initial test run) in the incredibly quick time of 24 days. This remarkable achievement received its due recognition from high places.
Marketing difficulties became acute after the war, due to thousands of surplus army lorries being sold by the Army Disposal Board. Guy returned to commercial vehicle production with a will, however, and were soon manufacturing a new and distinctly advanced engine.  Whereas the general trend in design was to use side valves and fixed cylinder heads, Guy units incorporated inclined valves and detachable heads. Apart from accessibility, the design of the combustion chamber was such that engine efficiency was at least the equal of contemporary overhead valve types.
In 1919 the inclined valve and head design was used for a V8 engine, the first of its type produced in England. The engine was fitted into a handsome Guy open touring car which had the three-point suspension and exceptionally long semi-elliptic springs.
The car was remarkable, too, in that it incorporated the first automatic chassis lubrication system of which one witty agent (when he saw the array of oil pipes) said: " I see you have a telephone in every bedroom". Deliveries began in 1920, some cars being fitted with an attractive Guy Motors open touring body and others with coupe and cabriolet coachwork by specialists. Two smaller cars, with 4-cylinder engines and without automatic lubrication, were added to the range in 1921; and, at Olympia in 1923, a saloon car made its appearance. This was the 1,945 c.c. "13/36″ model, which had the then-revolutionary feature of four-wheel braking.
Picture Captions Clockwise From Top Right:
1922 Battery electric refuse wagon.
The Guy "13/36" 4-cylinder saloon of 1923.
BOTH BOTTOM PICTURES The Guy V8 touring car. Its fully automatic chassis lubrication was effected by a pump (operated from a cam on the steering mechanism) which worked every time extreme right lock was applied. This is the 1920 show car, with semi-polished aluminium coachwork.
1922 Six-wheel articulated truck.
Car production ceased in the mid-1920s. However, due to the general world slump when, as Sydney Guy himself has commented, "one could hardly give away a second-hand car, let alone sell a new one". It is thought that some 150 examples of the splendid V8 touring car were manufactured, and Sydney Guy recalls with pleasure King George V's visit to the 1920 Olympia show, when His Majesty displayed a lively interest in the car's unique specification and in its beautifully machine-turned semi polished aluminium body. 
Lack of a stable future in car production had not deterred the Company from its policy of developing untried designs. In 1920, Guy designers produced the first special vehicle for cross-country work – a farmer's lorry with "spud" wheels of the type still to be seen in use on tractors. A charabanc was introduced after the war, and in 1921 the gearbox governor was omitted from the specification. Equipped with a 30-seater 'bus body, this chassis earned high praise from its many operators. Up to this time all Guy vehicles had a highly efficient double reduction gear back axle employing bevels and spurs gear in pairs, and the only reason for dropping it was that it was still found impossible to grind gears to give the silent running qualities of worm drive.  
1922 saw the introduction of an articulated six-wheeler for carrying heavy loads and a 2½–3 ton battery electric lorry for refuse collection; and in the following year a "road-rail" vehicle was produced to the design of the chief engineer of South African Railways. Some twenty to twenty-five of these machines were built, with twin engines driving a single propeller shaft through a special gearbox. For running on rails, a bogie was fitted at the front, whilst the large rear wheels ran outside the track; and, with the bogie uncoupled, the vehicle was equally at home on the road. It was used mainly for shunting railway trucks in marshalling yards, and was highly effective at its job except for the obvious problem of negotiating points.
Long before the emergency exit became obligatory in 'buses, Guy Motors incorporated one in their one-man-operated bus of 1923. The result of further pioneer work by Guy also appeared in 1924 when the Company produced Britain's first dropped-frame bus chassis, the previous general practice of manufacturers having
been to adapt goods vehicle chassis for passenger work. Thus
began the era of the low-loading vehicle and it is worthy of note that when, one day, a representative of Rio de Janeiro's Tramway and Power department suddenly turned up at the works, the resultant order was for no less than 170 Guy buses – a gigantic order, considering that the year was 1926. These 'buses were, incidentally, fitted with Daimler sleeve-valve engines.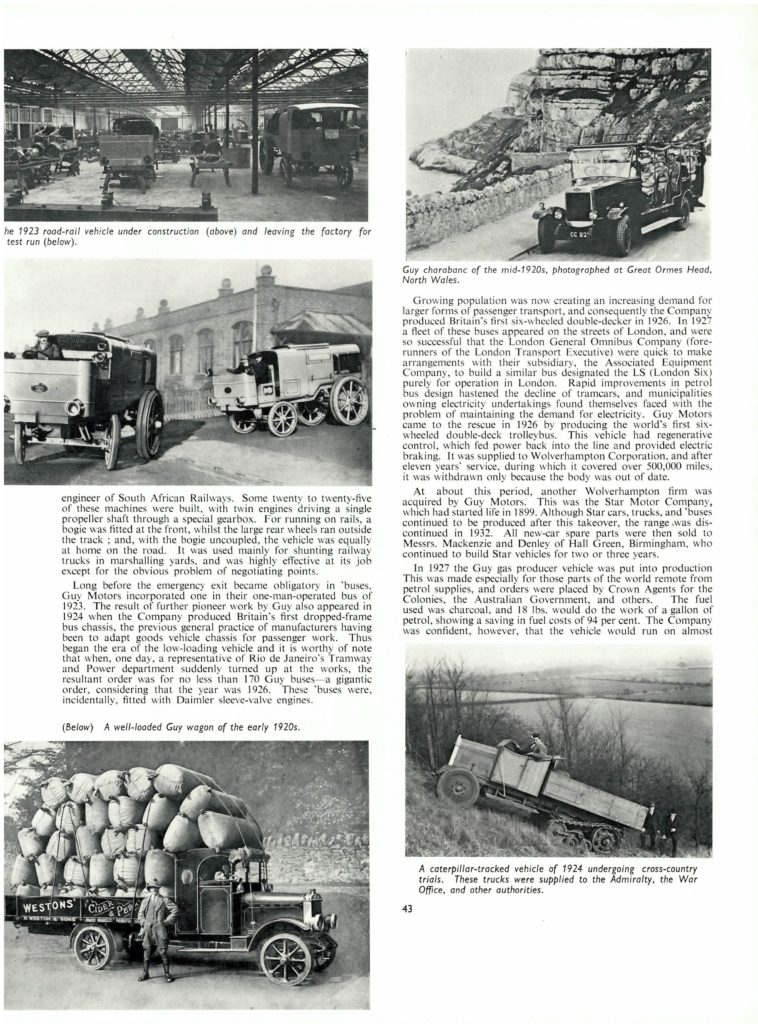 Growing population was now creating an increasing demand for larger forms of passenger transport, and consequently the Company produced Britain's first six-wheeled double-decker in 1926. In 1927 a fleet of these buses appeared on the streets of London, and were so successful that the London General Omnibus Company (forerunners of the London Transport Executive) were quick to make arrangements with their subsidiary, the Associated Equipment Company, to build a similar bus designated the LS (London Six) purely for operation in London.
Picture Captions Clockwise From Top Right:
Guy charabanc of the mid-1920s, photographed at Great Ormes Head, North Wales.
A caterpillar-tracked vehicle of 1924 undergoing cross-country trials. These trucks were supplied to the Admiralty, the War Office, and other authorities.
A well-loaded Guy wagon of the early 1920s.
TOP TWO LEFT – The 1923 road-rail vehicle under construction and leaving the factory for a test run.
Rapid improvements in petrol bus design hastened the decline of tramcars, and municipalities owning electricity undertakings found themselves faced with the problem of maintaining the demand for electricity. Guy Motors came to the rescue in 1926 by producing the world's first six-wheeled double-deck trolleybus. This vehicle had regenerative control, which fed power back into the line and provided electric braking. It was supplied to Wolverhampton Corporation, and after eleven years' service, during which it covered over 500,000 miles, it was withdrawn only because the body was out of date.
At about this period,  another Wolverhampton firm was acquired by Guy Motors. This was the Star Motor Company, which had started life in 1899. Although Star cars, trucks, and 'buses continued to be produced after this takeover, the range was discontinued in 1932. All new-car spare parts were then sold to Messrs. Mackenzie and Denley of Hall Green, Birmingham, who continued to build Star vehicles for two or three years.
In 1927 the Guy gas producer vehicle was put into production. This was made especially for those parts of the world remote from petrol supplies, and orders were placed by Crown Agents for the Colonies, the Australian Government, and others. The fuel used was charcoal, and 18 lbs. would do the work of a gallon of petrol, showing a saving in fuel costs of 94 per cent. The Company was confident, however, that the vehicle would run on almost anything combustible, and one well-known municipality is understood to have operated a fleet of Guy trucks on sewer gas.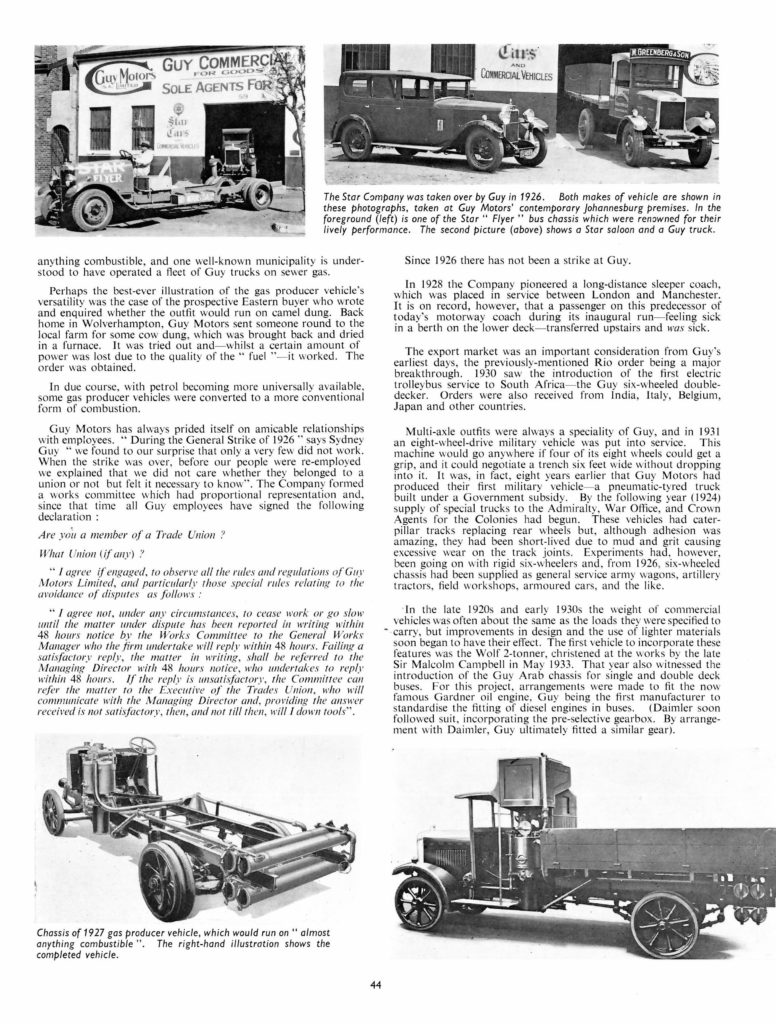 Perhaps the best-ever illustration of the gas producer vehicle's versatility was the case of the prospective Eastern buyer who wrote and enquired whether the outfit would run on camel dung. Back home in Wolverhampton, Guy Motors sent someone round to the local farm for some cow dung, which was brought back and dried in a furnace. It was tried out and–whilst a certain amount of power was lost due to the quality of the "fuel" – it worked. The order was obtained. 
In due course, with petrol becoming more universally available, some gas producer vehicles were converted to a more conventional form of combustion.
Guy Motors has always prided itself on amicable relationships with employees. "During the General Strike of 1926″ says Sydney Guy "we found to our surprise that only a very few did not work. When the strike was over, before our people were re-employed we explained that we did not care whether they belonged to a union or not but felt it necessary to know". The Company formed a works committee which had proportional representation and, since that time all Guy employees have signed the following declaration :
Are you a member of a Trade Union?  What Union (if any) ?
" I agree if engaged, to observe all the rules and regulations of Guy Motors Limited, and particularly those special rules relating to the avoidance of disputes as follows:
"I agree not, under any circumstances, to cease work or go slow until the matter under dispute has been reported in writing within 48 hours notice by the Works Committee to the General Works Manager who the firm undertake will reply within 48 hours. Failing a satisfactory reply, the matter in writing, shall be referred to the Managing Director with 48 hours notice, who undertakes to reply within 48 hours, if the reply is unsatisfactory, the Committee can refer the matter to the Executive of the Trades Union, who will communicate with the Managing Director and, providing the answer received is not satisfactory, then, and not till then, will I down tools".
Since 1926 there has not been a strike at Guy.
Picture Captions Clockwise From Top Right:
The Star Company was taken over by Guy in 1926. Both makes of vehicle are shown in the top two photographs, taken at Guy Motors' contemporary Johannesburg premises. 
A Star saloon and a Guy truck.
The completed 1927 gas producer vehicle.
Chassis of 1927 gas producer vehicle, which would run on "almost anything combustible".
One of the Star "Flyer" bus chassis which were renowned for their lively performance.
In 1928 the Company pioneered a long-distance sleeper coach, which was placed in service between London and Manchester. It is on record, however, that a passenger on this predecessor of today's motorway coach during its inaugural run – feeling sick in a berth on the lower deck – transferred upstairs and was sick.
The export market was an important consideration from Guy's earliest days, the previously-mentioned Rio order being a major breakthrough. 1930 saw the introduction of the first electric trolleybus service to South Africa, the Guy six-wheeled double-decker. Orders were also received from India, Italy, Belgium, Japan and other countries. 
Multi-axle outfits were always a speciality of Guy, and in 1931 an eight-wheel-drive military vehicle was put into service. This machine would go anywhere if four of its eight wheels could get a grip, and it could negotiate a trench six feet wide without dropping into it. It was, in fact, eight years earlier that Guy Motors had produced their first military vehicle – a pneumatic-tyred truck built under a Government subsidy. By the following year (1924) supply of special trucks to the Admiralty, War Office, and Crown Agents for the Colonies had begun. 
These vehicles had caterpillar tracks replacing rear wheels but, although adhesion was amazing, they had been short-lived due to mud and grit causing excessive wear on the track joints. Experiments had, however, been going on with rigid six-wheelers and, from 1926, six-wheeled chassis had been supplied as general service army wagons, artillery tractors, field workshops, armoured cars, and the like.
In the late 1920s and early 1930s the weight of commercial vehicles was often about the same as the loads they were specified to carry, but improvements in design and the use of lighter materials soon began to have their effect. The first vehicle to incorporate these features was the Wolf 2-tonner, christened at the works by the late Sir Malcolm Campbell in May 1933. That year also witnessed the introduction of the Guy Arab chassis for single and double deck buses. For this project, arrangements were made to fit the now famous Gardner oil engine, Guy being the first manufacturer to standardise the fitting of diesel engines in buses.
Daimler soon followed suit, incorporating the pre-selective gearbox. By arrangement with Daimler, Guy ultimately fitted a similar gearbox.
The Vixen 3–4 tonner and the Otter came shortly afterwards. The latter was something in the nature of a triumph for, although weighing only 21 tons fully equipped, it could carry a load of 6 tons.
The new Guys continued to be improved, but in 1936 their production had to be curtailed due to Government contracts, and by 1938 ceased altogether. The first Government order of 1936 was for a four-wheeled military truck and, after exhaustive testing, the Ant (as it was designated) was approved and ordered in large quantities. Further requests resulted in the production in 1938 of the Quad-Ant and Lizard (both being four-wheel-drive units), and of the searchlight generator chassis. The latter's engine was coupled directly to the generator, driving through the armature to the gearbox but supplying current to the searchlight only when the vehicle was stationary and out of gear. When the War Department suddenly gave notice to stop production during the war, the Company was naturally worried; only on subsequent reflection was it realised that cancellation of the order had coincided with the introduction of radar.
As a development of the four-wheel drive Guy "Quad-Ant" the Company produced the first British rear-engined, four-wheel drive armoured car, and suggested to the War Office that the hull and turret, of Bullet-Proof, Homogeneous, Hard, Unmachinable, Plate, should be a welded instead of riveted construction; but the Government Technical Department advised that it was not commercially possible to weld this material.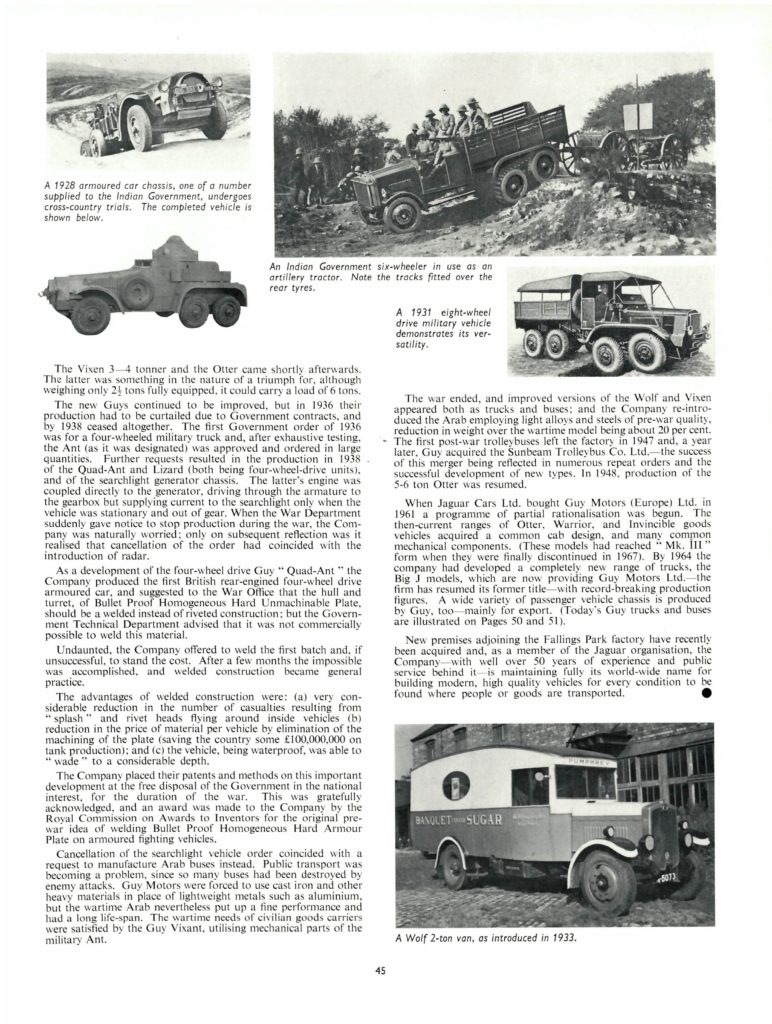 Undaunted, the Company offered to weld the first batch and, if unsuccessful, to stand the cost. After a few months the impossible was accomplished, and welded construction became general practice.
Picture Captions Clockwise From Top Right:
An Indian Government six-wheeler in use as an artillery tractor. Note the tracks fitted over the rear tyres.
A 1931 eight-wheel drive military vehicle demonstrates its versatility.
A Wolf 2-ton van, as introduced in 1933.
A 1928 armoured car chassis, one of a number supplied to the Indian Government, undergoes cross-country trials. The completed vehicle is shown below.
The advantages of welded construction were: (a) very considerable reduction in the number of casualties resulting from "splash" and rivet heads flying around inside vehicles (b) reduction in the price of material per vehicle by elimination of the machining of the plate (saving the country some £100,000,000 on tank production); and (c) the vehicle, being waterproof, was able to "wade" to a considerable depth.
The Company placed their patents and methods on this important development at the free disposal of the Government in the national interest, for the duration of the war. This was gratefully acknowledged, and an award was made to the Company by the Royal Commission on Awards to Inventors for the original prewar idea of welding Bullet Proof Homogeneous Hard Armour Plate on armoured fighting vehicles. 
Cancellation of the searchlight vehicle order coincided with a request to manufacture Arab buses instead. Public transport was becoming a problem, since so many buses had been destroyed by enemy attacks. 
Guy Motors were forced to use cast iron and other heavy materials in place of lightweight metals such as aluminium, but the wartime Arab nevertheless put up a fine performance and had a long life-span.
The wartime needs of civilian goods carriers were satisfied by the Guy Vixant, utilising mechanical parts of the military Ant.
The war ended, and improved versions of the Wolf and Vixen appeared both as trucks and buses; and the Company re-introduced the Arab employing light alloys and steels of pre-war quality, reduction in weight over the wartime model being about 20 per cent. The first post-war trolleybuses left the factory in 1947 and a year later, Guy acquired the Sunbeam Trolleybus Co. Ltd. – the success of this merger being reflected in numerous repeat orders and the successful development of new types. In 1948, production of the
5-6 ton Otter was resumed.
When Jaguar Cars Ltd. bought Guy Motors (Europe) Ltd. in 1961 a programme of partial rationalisation was begun. The then-current ranges of – Otter, Warrior, and Invincible goods vehicles acquired a common cab design, and many common mechanical components. (These models had reached "Mk. III" form when they were finally discontinued in 1967). By 1964 the company had developed a completely new range of trucks, the Big -J models, which are now [1968] providing Guy Motors Ltd. – the firm has resumed its former title – with record-breaking production figures. A wide variety of passenger vehicle chassis is produced by Guy too, mainly for export.  Today's Guy trucks and buses are illustrated on Pages 50 and 51.
New premises adjoining the Fallings Park factory have recently been acquired and, as a member of the Jaguar organisation, the Company – with well over 50 years of experience and public service behind it – is maintaining fully its world-wide name for building modern, high quality vehicles for every condition to be found where people or goods are transported.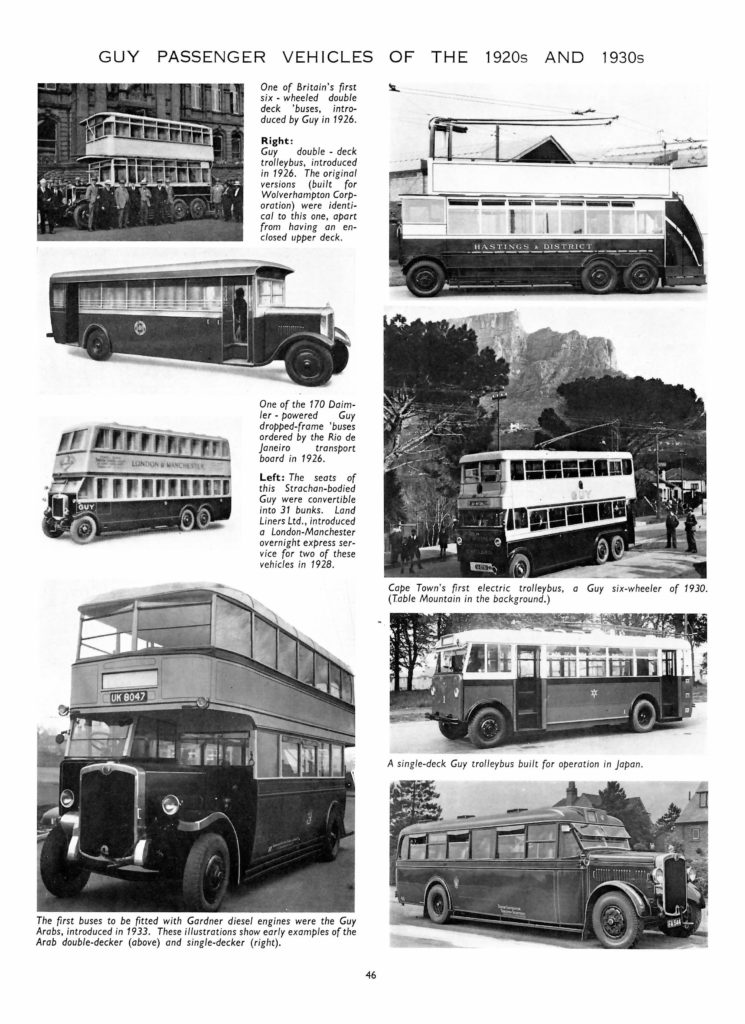 GUY PASSENGER VEHICLES
OF THE 1920s AND 1930s
Picture Captions Clockwise From Top Right:
Guy double-deck trolleybus, introduced in 1926.  The original versions (built for Wolverhampton Corporation) were identical to this one, apart from having an enclosed upper deck.
Cape Town's first electric trolleybus, a Guy six-wheeler of 1930.  (Table Mountain in the background.)
A single-deck Guy trolleybus built for operation in Japan.
The first buses to be fitted with Gardner diesel engines were the Guy Arabs, introduced in 1933 – single-decker.
Arab double-decker.
The seats of this Strachan-bodied Guy were convertible into 31 bunks.  Land Liners Ltd., introduced a London-Manchester overnight express service for two of these vehicles in 1928.
One of the 170 Daimler-powered Guy dropped-frame 'buses ordered by the Rio de Janeiro transport board in 1926.
One of Britain's first six-wheeled double deck 'buses, introduced by Guy in 1926.
GUY WARTIME ACTIVITIES
Picture Captions – Clockwise From Top Right:
Four-wheel drive QuadAnt vehicles engaged in tough training.
Four-wheel drive QuadAnt vehicle engaged in tough training.
War-time version of the Guy Arab, which was built in large quantities.
The Vixant, a development of the shorter-wheelbase Ant, was introduced for civilian operators in 1941.
Guy armoured cars on desert patrol during the war.
The first British rear-engined, four wheel-drive, armoured car of all-welded bulletproof armour plate.  The prototype is in the Imperial War Museum.
The Ant military truck.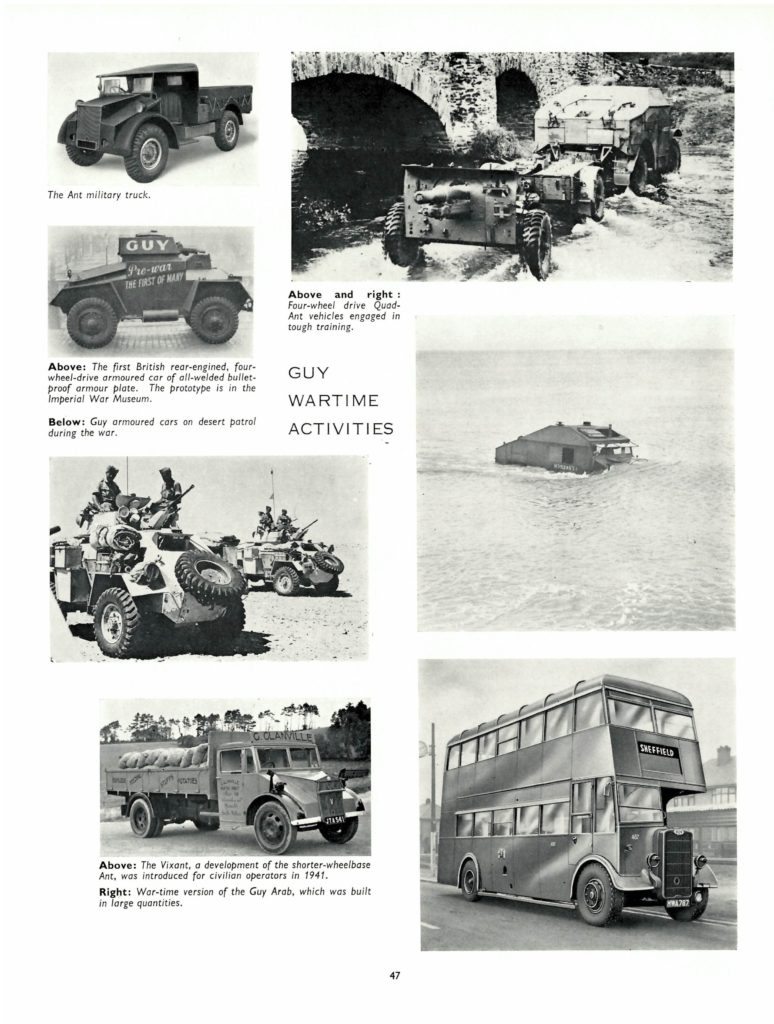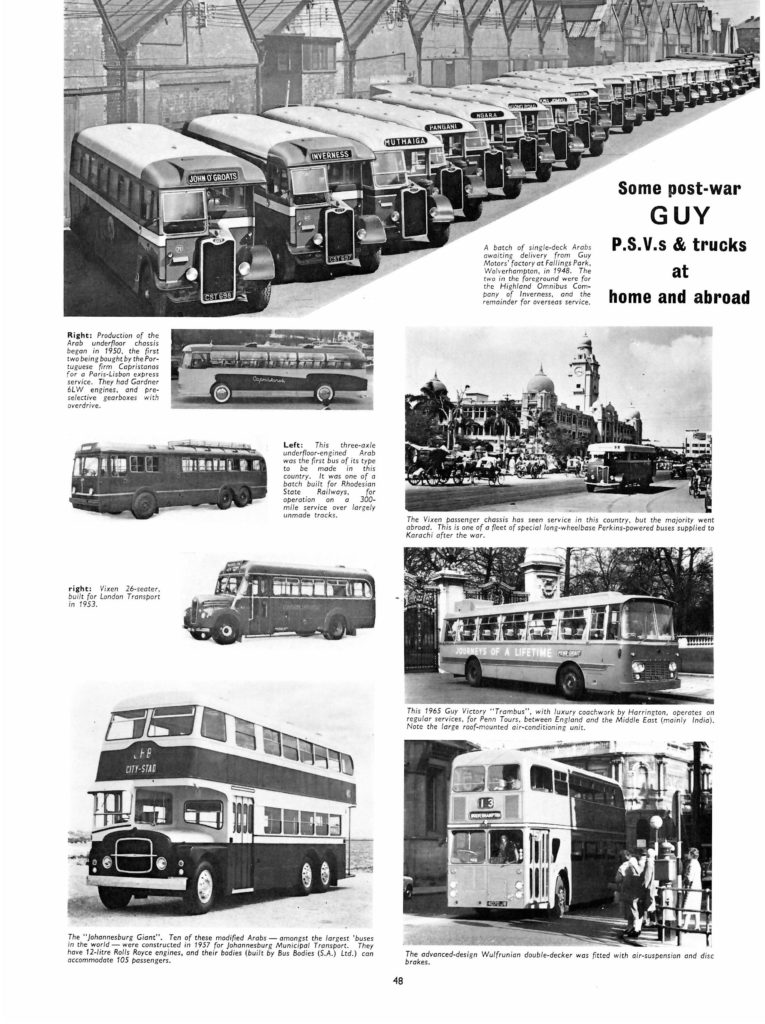 Some post-war GUY P.S.V.s & trucks at home and abroad 
Picture Captions Clockwise From Top Right
A batch of single-deck Arabs awaiting delivery from Guy Motor's factory at Fallings Park, Wolverhampton in 1948.  The two in the foreground were for the Highland Omnibus Company of Inverness, and the remainder for overseas service.
The Vixen passenger chassis has seen service in this country, but the majority went abroad.  This is one of a fleet of special long-wheelbase Perkins-powered buses supplied to Karachi after the war.
This 1965 Guy Victory "Trambus", with luxury coachwork by Harrington, operates on regular services, for Penn Tours, between England and the Middle East (mainly India).  Note the large, roof-mounted, air-conditioning unit.
The advanced-design Wulfrunian double-decker was fitted with air-suspension and disc brakes.
The "Johannesburg Giant".  Ten of these modified Arabs – amongst the largest 'buses in the world – were constructed in 1957 for Johannesburg Municipal Transport.  They have 12-litre Rolls Royce engines, and their bodies (built by Bus Bodies (S.A.) Ltd) can accommodate 105 passengers.
Vixen 26-seater, built for London Transport in 1953.
This three-axle underfloor-engined Arab was the first bus of its type to be made in this country.  It was one of a batch built for Rhodesian State Railways, for operation on a 300-mile service over largely unmade tracks.
Production of the Arab underfloor chassis began in 1950, the first two being bought by the Portuguese firm Capristanos for a Paris-Lisbon express service.  They had Gardner 6LW engines, and pre-selective gearboxes with overdrive.
Some post-war GUY P.S.V.s & trucks at home and abroad 
Picture Captions Clockwise From Top Right
The Guy truck and trailer unit is an example of specialised transport for use in Holland.
"Bonneted" version of a six-wheeled Invincible tractor unit fitted with a large-capacity trailer for South African operation.


The range of Guy trucks immediately preceding the Guy Big J series is easily recognised by its distinctive "hooded" glass-fibre cab, which was current from 1958 to 1967.  This cab was fitted to three basic chassis – the Otter, the Warrior, and the Invincible.  The Guy Warrior tractor unit, operated by Scandsmith Road Transport and coupled to a York box-van semi-trailer, is seen at the start of a journey to Kabul, Afghanistan, with printing machinery.

The Guy Otter is one of a large fleet owned by the mattress and divan manufacturing company, Silentnight Ltd. 
Robert Wynn & Sons Ltd., the well-known heavy haulage specialists, operate numerous Guy vehicles.  This Guy Invincible eight-wheeler is fitted with a turntable and special steering bogie.  It is seen carrying one of 32 deck units for the new George Street Bridge, Newport, Monmouthshire.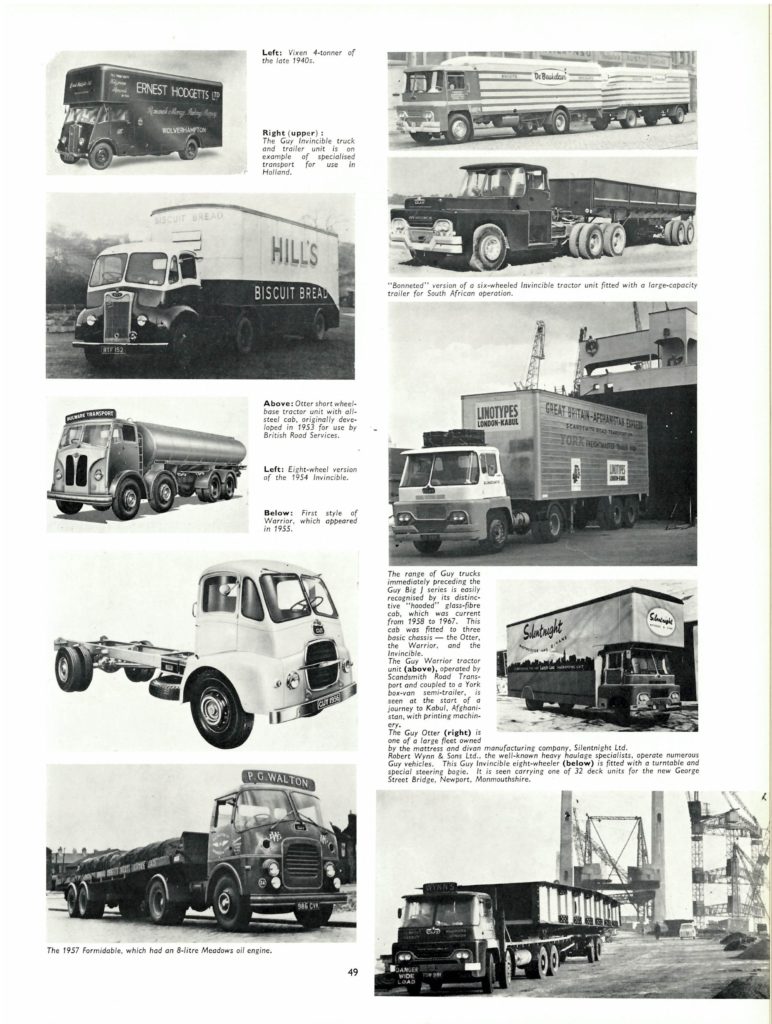 The 1957 Formidable, which had an 8-litre Meadows oil engine.
First style of Warrior, which appeared in 1955.
Eight-wheel version of the 1954 Invincible.
Otter short wheel-base tractor unit with all-steel cab, originally developed in 1953 for use by British Road Services.
Vixen 4-tonner of the late 1940s.
EXAMPLES OF GUY'S CURRENT RANGES OF PASSENGER AND GOODS VEHICLES
FOR WORLD-WIDE OPERATION
Picture Captions Clockwise From Top Right – Page 50
Typical of the many GUY ARAB Mk. Vs in service in the U.K. is this forward-entrance double-decker fitted with Northern Counties bodywork for Lancashire United Transport.
The GUY "TRAMBUS" models are designed specifically for rough going overseas. The name "Trambus" identifies the vehicle as having a vertical engine mounted ahead of the front wheels to permit the fitting of a front entrance. The Warrior "Trambus" is a 66-seater, operating from Mbali, Uganda.
The GUY VICTORY UF (underfloor-engined) chassis is used chiefly by luxury touring coach and inter-city bus operators on the Continent. This example is one of a fleet operated by Auto-Res, Madrid, and is used for the Madrid-Valencia service. The coachwork is by Maiso of Spain, and the power unit is a Leyland Type 0.680.
An unusual application of the GUY VICTORY UF passenger chassis is the Gardner-engined transporter in which Cooper company carries its team of Grand Prix racing cars to races all over Europe. Its bodywork was constructed by Tiverton Coachbuilders, and incorporates a luxury cab. The photograph was taken during an international meeting at Silverstone.
CENTRE PICTURE – The GUY VICTORY "Trambus" is one of a large fleet in Port Elizabeth operated by the Cape Tramways group of companies. Coachwork is by Bus Bodies, South Africa.
This weighted test, GUY ARAB Mk. V chassis is the prototype of 50 Arab Mk. Vs constructed recently for the East Pakistan Road Transport Board, and is shown when it was undergoing rigorous trials in the Welsh hills.
The GUY CONQUEST features a rear-mounted "Vee" diesel engine, semi-automatic transmission, and Metalastik rubber suspension. These examples form part of the fleet of the Société National des Chemins de Fer Vicinaux – Belgium's biggest passenger transport organisation. 
Picture Captions Clockwise From Top Right – Page 51
GUY BIG J6: The Big J 6-wheeler operates at a gross weight of 20 or 22 tons in standard form, or at 26 tons if the 20-ton capacity two-spring articulating bogie is fitted. This short wheelbase model features a Ritemixer ready-mixed concrete unit.
GUY BIG J8: The Shell-Mex and B.P. group is just one of many fuel-oil organisations using fleets of Big Js. This road tanker operates at 24 tons G.V.W.
GUY BIG J6T: This 32 tons (gross train weight) outfit, with Big J 6-wheeler tractor unit, features a Haynor tipping trailer – one of the largest of its kind.
GUY BIG J 4T: The Big J "medium-weight" tractor unit can be plated to 24, 25 or 26 tons G.T.W. This is a heavy duty (30/32 tons G.T.W.) tractor unit coupled to a Carrimore tandem axle semi-trailer. This outfit is used by Henlys Ltd., the main U.K. distributor of Jaguar cars.
This GUY BIG J 4T with beer-tanker semi-trailer, is seen awaiting delivery to its operator from the Johannesburg premises of Guy and Daimler Transport Vehicles South Africa (Pty.) Ltd.
GUY BIG J4: This example is fitted with an hydraulically-operated crane, and is in service with the Electricity Supply Commission of South Africa. The Big J 4-wheeler has a gross vehicle weight of 16 tons.
Company Decline and The Jaguar Takeover
Sydney Guy retired in 1957 leaving A. L. Blower as Chairman and Colonel Merrett as Managing Director with two family members, Robin and Trevor Guy as directors.  
Although new designs such as the Warrior Mark II were being produced and despite the fact that their lorry division was performing well, by 1960, Guy faced seemingly insurmountable financial problems. The failure of the Wulfrunian was a commercial disaster and the operation in South Africa was losing them £300,000 a year and by 1961, Guy had no choice but to enter receivership. 
The liquidators valued the whole business at £2,220,299 but thought a realistic price was £1,200,000. Sir William Lyons, Managing Director of Jaguar, looked at the company and after  initially saying 'we were not interested'  he made an offer of £800,000. There being no other interested parties, this offer was accepted by the liquidators. 
The assets, including the 23 acre (9.3 hectare) site in Wolverhampton, the range of vehicles and 825 employees, were transferred to a new company, Guy Motors (Europe) Limited, leaving all the liabilities with the now defunct Guy Motors Limited, the name eventually reverting to "Guy Motors Ltd" in 1966. 
Jaguar immediately set about rationalisation, reducing the number of employees, including sacking Robin and Trevor Guy, and reducing the range of vehicles in production.
The Cummins V6-200 engine gave poor fuel economy and reliability problems and it was soon replaced by engines from other sources – including: AEC AV505; Leyland O.401 and Gardner 6LXB. Cummins NH180/NTK265 and Rolls-Royce Eagle 220/265 were popular choices dependent on Gross Vehicle Weight.
Gearboxes were sourced from AEC, David Brown and Fuller with rear axles from ENV and Kirkstall Forge, and the distinctive, non-tilt cab was sourced from Motor Panels.
In 1966, Jaguar merged with the British Motor Corporation to form British Motor Holdings which itself merged with Leyland in 1968, to form the British Leyland Motor Corporation. British Leyland ceased the production of Guy-badged buses in 1972, although Leyland-badged versions of the Guy Victory were produced at Wolverhampton and Leyland until 1986. Despite the mergers, the British motor industry continued its steady decline and British Leyland looked for where it could make savings.
Guy Motors was able to avoid closure for a while, in part due to the success of its Big J range, because it was one of the few companies owned by British Leyland operating at a profit. Nevertheless, in 1981, Leyland took the decision to close the Fallings Park plant, as part of a rationalisation drive and, in August 1982, the doors were shut at the cost of 740 jobs. On 5 October, the factory was stripped clean and the contents auctioned off. The closure of Guy Motors had a devastating effect on the factory's neighbouring areas, including Heath Town and Low Hill, where many of the company's workers lived, contributing to a rise in the already high unemployment in these areas.
The site has been re-developed as Guy Motors Industrial Park, housing a number of light industrial and retail units.
Authors: Jaguar Cars Ltd (1968) with additional information from Tony Merrygold
© Text and Images – Jaguar Cars Ltd and Jaguar Daimler Heritage Trust