During the first half of the 1960s Jaguar Cars Ltd took over a number of companies, including engine manufacturer Henry Meadows in 1965, transforming it from a stand alone car company into Jaguar Group, a manufacturing conglomerate that spanned large sections of the British Motor Industry. In August 1964 Jaguar Cars produced a booklet called 'Case History' for their employees summarising the history of all the companies in Jaguar Group, starting with the history of Jaguar from the early days of Swallow Sidecars in Blackpool, right to the then current product line.
Part Two of the booklet told the story of Daimler Cars from 1896 to the takeover in 1960 together with the story of Lanchester who BSA had bought in 1930 and merged into Daimler. Part Three covered the history of Guy Motors which Jaguar bought out of liquidation in 1961. Part Four covered engine and fork lift truck manufacturer Coventry Climax which Jaguar bought in the spring of 1963. Part Five covered engine manufacturer Henry Meadows, a supplier to Guy Motors.
This article comes from Part Five of the May 1968 revised edition of Case History which included the acquisition of Meadows and was updated to show the range of vehicles available across the whole Group.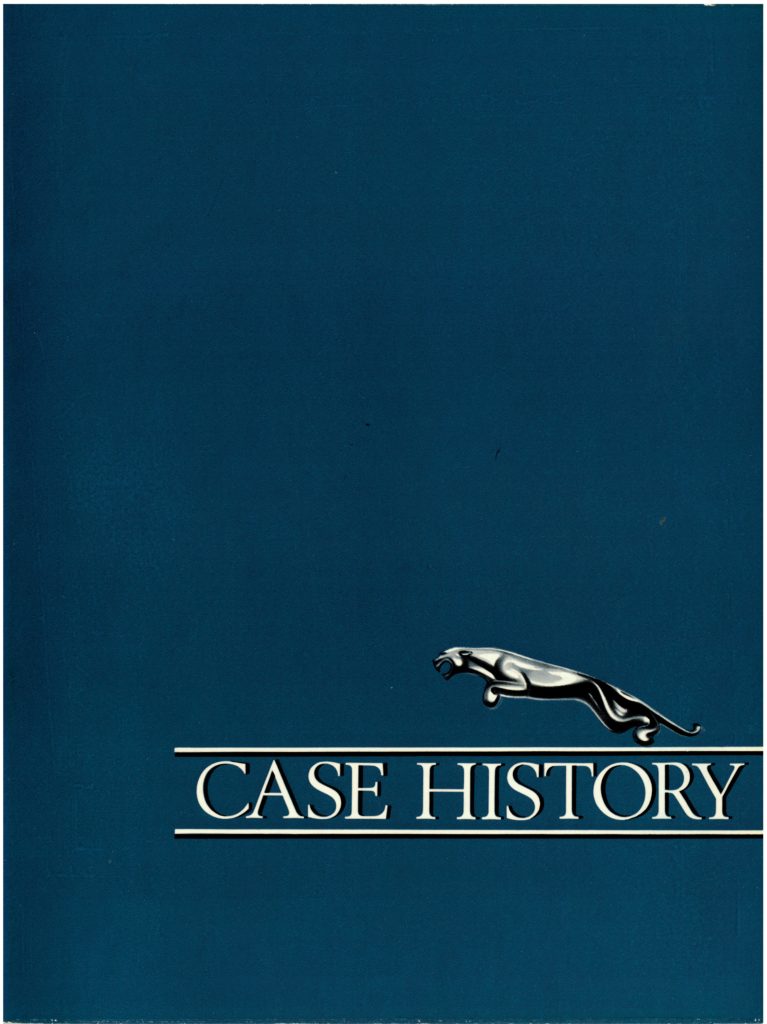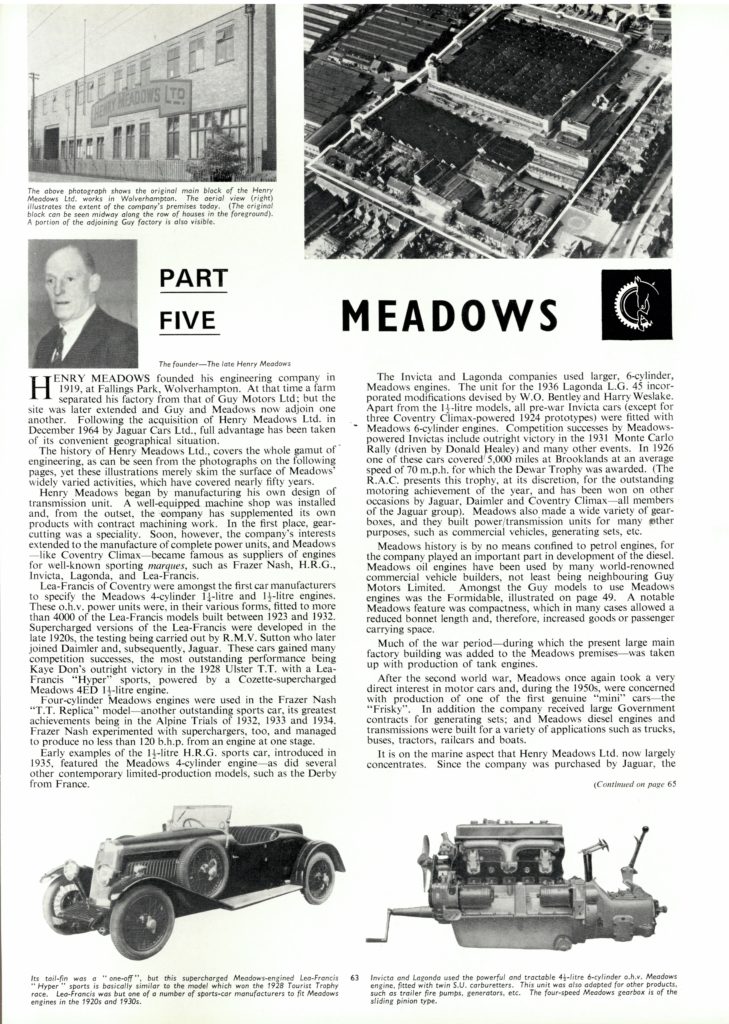 HENRY MEADOWS founded his engineering company in 1919, at Fallings Park, Wolverhampton. At that time a farm separated his factory from that of Guy Motors Ltd, but the site was later extended and Guy and Meadows now adjoin one another.  Following the acquisition of Henry Meadows- Ltd. in December 1964 by Jaguar Cars Ltd., full advantage has been taken of its convenient geographical situation.
The history of Henry Meadows Ltd., covers the whole gamut of engineering, as can be seen from the photographs on the following pages, yet these illustrations merely skim the surface of Meadow's widely varied activities, which have covered nearly fifty years.
Henry Meadows began by manufacturing his own design of transmission unit.  A well-equipped machine shop was installed and, from the outset, the company has supplemented its own products with contract machining work.  In the first place, gear-cutting was a speciality.  Soon, however, the company's interests extended to the manufacture of complete power units, and Meadows – like Coventry Climax – became famous as suppliers of engines for well-known sporting marques, such as Frazer Nash, H.R.G., Invicta, Lagonda, and Lea-Francis.
Lea-Francis of Coventry were amongst the first car manufacturers to specify the Meadows 4-cylinder 1¼ -litre and 1½-litre engines. These o.h.v. power units were, in their various forms, fitted to more than 4,000 of the Lea-Francis models built between 1923 and 1932.
Supercharged versions of the Lea-Francis were developed in the late 1920s, the testing being carried out by R.M.V. Sutton who later joined Daimler and, subsequently, Jaguar. These cars gained many competition successes, the most outstanding performance being Kaye Don's outright victory in the 1928 Ulster T.T. with a Lea-Francis "Hyper'' sports, powered by a Cozette-supercharged Meadow's 4ED 1½-litre engine.
Four-cylinder Meadows engines were used in the Frazer Nash 'T. T. Replica' model–another outstanding sports car, its greatest achievements being in the Alpine Trials of 1932, 1933 and 1934. Frazer Nash experimented with superchargers, too, and managed to produce no less than 120 b.h.p. from an engine at one stage.
Early examples of the 1½-litre H.R.G. sports car, introduced in 1935, featured the Meadows 4-cylinder engine – as did several other contemporary limited-production models, such as the Derby from France.
The Invicta and Lagonda companies used larger, 6-cylinder, Meadows engines. The unit for the 1936 Lagonda L.G. 45 incorporated modifications devised by W.O. Bentley and Harry Weslake.  Apart from the 1½-litre models, all pre-war Invicta cars (except for three Coventry Climax-powered 1924 prototypes) were fitted with Meadow's 6-cylinder engines. Competition successes by Meadow's powered Invictas include outright victory in the 1931 Monte Carlo Rally (driven by Donald Healey) and many other events.  In 1926 one of these cars covered 5,000 miles at Brooklands at an average speed of 70 m.p.h. for which the Dewar Trophy was awarded.  (The R.A.C. presents this trophy, at its discretion, for the outstanding motoring achievement of the year, and has been won on other occasions by Jaguar, Daimler and Coventry Climax – all members of the Jaguar group).
Meadows also made a wide variety of gearboxes, and they built power/transmission units for many other purposes, such as commercial vehicles, generating sets, etc. 
Meadows history is by no means confined to petrol engines, for the company played an important part in development of the diesel Meadows oil engines have been used by many world-renowned commercial vehicle builders, not least being neighbouring Guy Motors Limited.  Amongst the Guy models to use Meadows engines was the Formidable, illustrated on page 49.  A notable Meadows feature was compactness, which in many cases allowed a reduced bonnet length and, therefore, increased goods or passenger carrying space.
Much of the war period – during which the present large main factory building was added to the Meadow's premises – was taken up with production of tank engines.
After the second world war, Meadows once again took a very direct interest in motor cars and, during the 1950s, were concerned with production of one of the first genuine "mini" cars – the 'Frisky'.  In addition the company received large Government contracts for generating sets; and Meadows diesel engines and transmissions were built for a variety of applications such as trucks, buses, tractors, railcars and boats.
It is on the marine aspect that Henry Meadow's Ltd. now largely concentrates [as of 1968].  Since the company was purchased by Jaguar, the well-proven range of Meadows-T.M.P. Type 12,000 marine gearboxes has been broadened considerably, to suit a multitude of hull layouts.
The Type 12,000 Mark 2 hydraulically-operated gearbox is completely self-contained and extremely compact.  It can be supplied as a direct drive unit or with a built-in reduction gear with two or three pinion single helical gear trains for right or left-hand propellers in ratios of 2:1 and 3:1.  The latest variants of the Meadows – T.M.P. range are port or starboard offset versions of the 2:1 reduction models, permitting a high degree of flexibility in the relative positioning of engine and propeller shaft within the hull. 
The 'Seamaster 34' cruiser, illustrated on this page, is a good example of the advantages of the reduction offset gearbox; the diesel engines have been mounted far enough apart to allow for a central passage, which links the fore and aft cabins.  By fitting the port engine with Meadows-T.M.P. starboard-offset reduction gearbox, and vice versa, it has been possible to increase the inter-engine space to a greater degree than the hull-imposed limitation on distance between the propeller shafts normally permit – thus overcoming a major problem of boat designers.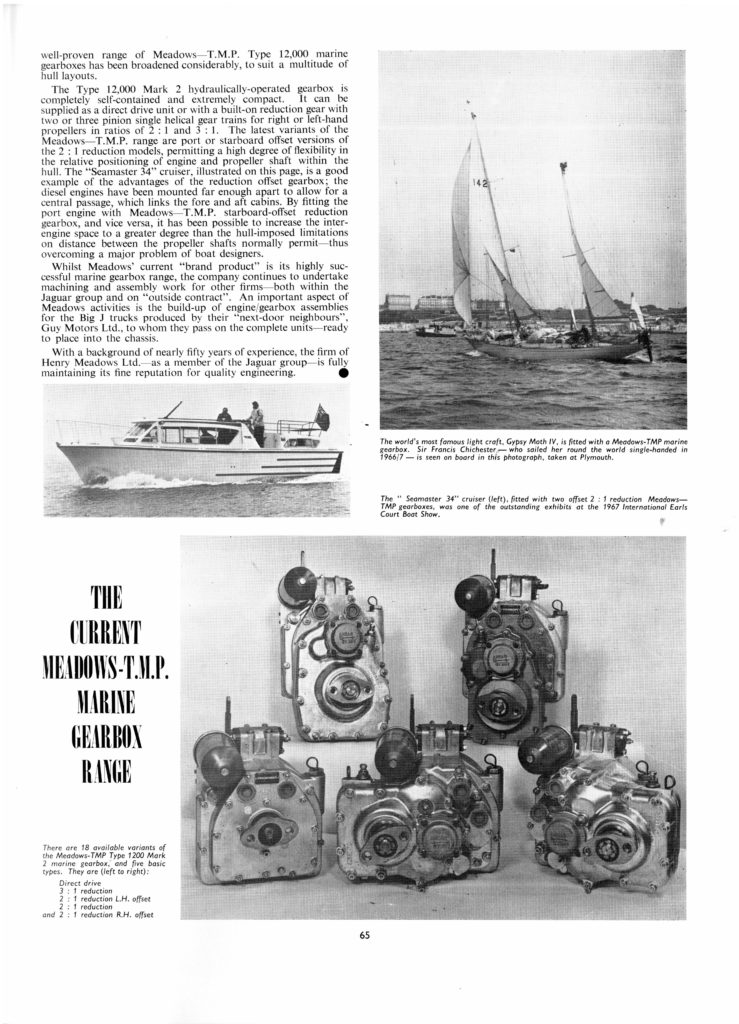 Picture Captions for images in page 65 (above):
RIGHT: The world's most famous light craft, Gypsy Moth IV, is fitted with a Meadows -TMP marine gearbox.  Sir Francis Chichester – who sailed her round the world single-handed in 1966/7 – is seen in this photograph, taken at Plymouth.
LEFT: The "Seamaster 34" cruiser, fitted with two offset 2:1 reduction Meadows-TMP gearboxes, was one of the outstanding exhibits at the 1967 International Earls Court Boat Show.
LOWER: THE CURRENT MEADOWS-T.M.P. MARINE GEARBOX RANGE
There are 18 available variants of the meadows-TMP Type 1200 Mark 2 marine gearbox, and five basic types. They are (left to right):
Direct drive
3:1 reduction
2:1 reduction L.H. offset
2;1 reduction
2:1 reduction R.H. offset
Whilst Meadows' current 'brand product, is its highly successful marine gearbox range, the company continues to undertake machining and assembly work for other firms – both within the Jaguar group and on 'outside contract'. An important aspect of Meadows activities is the build-up of engine/gearbox assemblies for the Big J trucks produced by their 'next-door neighbours', Guy Motors Ltd., to whom they pass on the complete units – ready to place into the chassis.
With a background of nearly fifty years of experience, the firm of Henry Meadows Ltd. – as a member of the Jaguar group – is fully maintaining its fine reputation for quality engineering.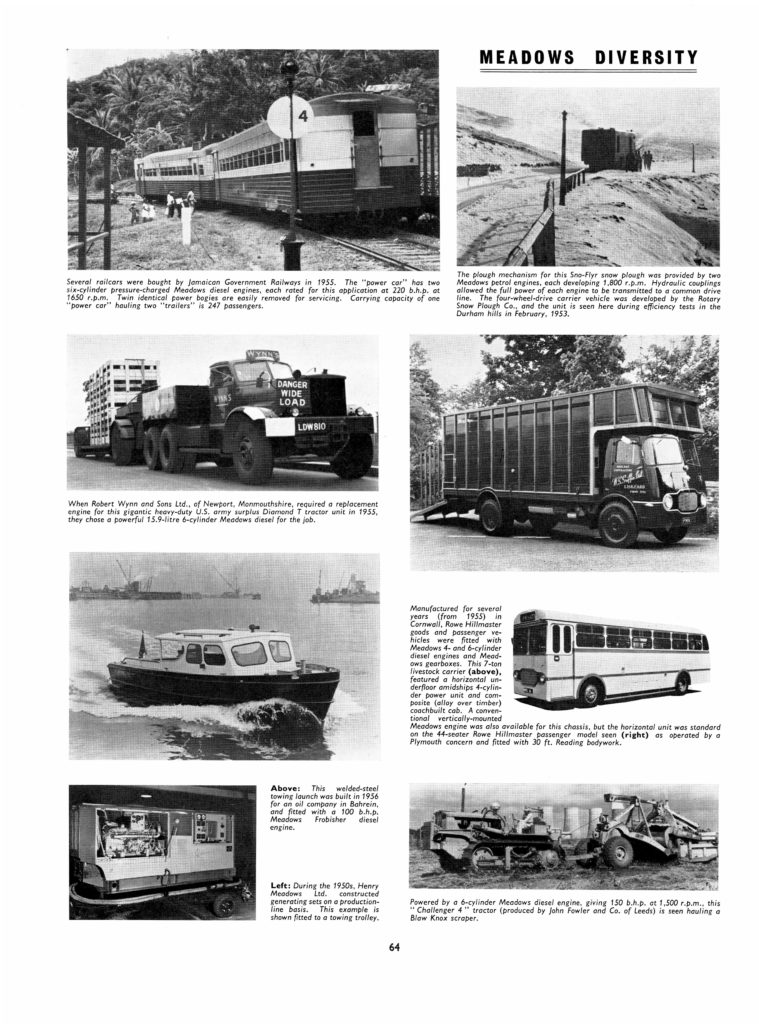 MEADOWS DIVERSITY
Picture Captions – From Top Right
The plough mechanism, for this Sno-Flyr snow plough was provided by two Meadows petrol engines, each developing 1,800 r.p.m.  Hydraulic couplings allowed the full power of each engine to be transmitted to a common drive line. The four-wheel-drive carrier vehicle was developed by the Rotary Snow Plough Co., and the unit is seen here during efficiency tests in the Durham hills in February, 1953.
Manufactured for several years (from 1955) in Cornwall, Rowe Hillmaster goods and passenger vehicles were fitted with Meadows 4- and 6-cylinder diesel engines and Meadows gearboxes. This 7-ton livestock carrier, featured a horizontal underfloor amidships 4-cylinder power unit and composite (alloy-over-timber) cab.
This 44-seater Rowe Hillmaster passenger model, operated by a Plymouth concern is fitted with 30 ft. Reading bodywork, has the horizontal engine as standard.
Powered by a 6-cylinder Meadows diesel engine, giving 150 b.h.p. at 1,500 r.p.m., this 'Challenger 4' tractor (produced by John Fowler and Co. of Leeds) is seen hauling a Blaw Knox scraper.
Picture Captions From Top Left
Several railcars were bought by Jamaican Government Railways in 1955. The 'power car' has two six-cylinder pressure-charged Meadows diesel engines, each rated for this application at 220 b.h.p. at 1,650 r.p.m. Twin identical power bogies are easily removed for servicing.  
When Robert Wymm and Sons Ltd., of Newport, Monmouthshire, required a replacement engine for this gigantic heavy-duty U.S. army surplus Diamond T tractor unit in 1955, they chose a powerful 15.9 litre Meadows diesel for the job.
This welded-steel towing launch was built in 1956 for an oil company in Bahrein, and fitted with a 100 b.h.p. Meadows Frobisher diesel engine.
During the 1950s, Henry Meadows Ltd. constructed generating sets on a production-line basis. This one is fitted to a towing trolley.
The Jaguar Takeover, BL and Closure
On 1st January 1965 it was announced that Jaguar Cars had acquired Henry Meadows as they planned to use its new acquisition to augment the manufacturing facilities for the planned Jaguar-Cummins diesel engine project. Unfortunately the project did not materialise as planned. Instead of producing the engines in the UK, they were imported from Cummins' factory in Columbus, Indiana, USA.
In 1966 the Jaguar Group, consisting of Jaguar, Coventry Climax, Daimler, Guy Motors, and Henry Meadows, merged with BMC to form British Motor Holdings. Then in 1968, at the behest of the Labour Government,  British Motor Holdings and Leyland Motor Corporation merged to form British Leyland.
Sadly British Leyland decided to close Henry Meadows, Limited. On 14th November 1968 this was mentioned in Parliament when Labour MP for Wolverhampton North, Mrs. Renee Short, East asked Barbara Castle, the Secretary of State for Employment and Productivity under the Wilson Government, if she was aware of the decision by the British Leyland Motor Corporation to close down Henry Meadows and whether she would take action to ensure that the equipment was not left idle, and so safeguard the jobs of the employees.
Her reply was as follows:  I am aware of the decision. The disposal of the equipment is a matter for British Leyland Motor Corporation and my Department has no powers to intervene. As the closure of the factory is to be phased between February and May, 1969 and the employees have received early warning, I am hopeful that the majority will be able to find other jobs without any lengthy gap in employment. My local officers will do all they can to help.
The factory closed as planned, bringing an end to such a once-important manufacturer, and local employer. 
The site, has since been redeveloped, consisting of a mixture of light factory units and housing. 
Authors: Jaguar Cars Ltd (1968) with additional information from Meadows article on HistoryWebsite.co.uk and Tony Merrygold
© Text and Images – Jaguar Cars Ltd and Jaguar Daimler Heritage Trust