SS Jaguar Saloon, Gordon Crosby, 1937
The Artwork
This painting is one of two in the Jaguar Daimler Heritage Trust's artwork collection by English automotive artist Frederick Gordon Crosby. Painted in mixed media in 1937, it depicts an SS Jaguar 3½ litre saloon.
Unlike many of his pictures it does not portray either a specific driver or an actual sporting event and merely shows the car, with a full complement, being driven at speed in open country. The style is typical of Crosby combining a high degree of technical accuracy while capturing the scenery and exhibiting a very vivid sense of speed, travel and even adventure but lacking the drama of his racing paintings depicting the Monaco Grand Prix or the Alpine Rally.
Crosby took delivery of an SS Jaguar saloon early in 1937, registered CDU 604. The painting is most likely based on his own car as there is much more technical detail in this picture than his other paintings of the same period.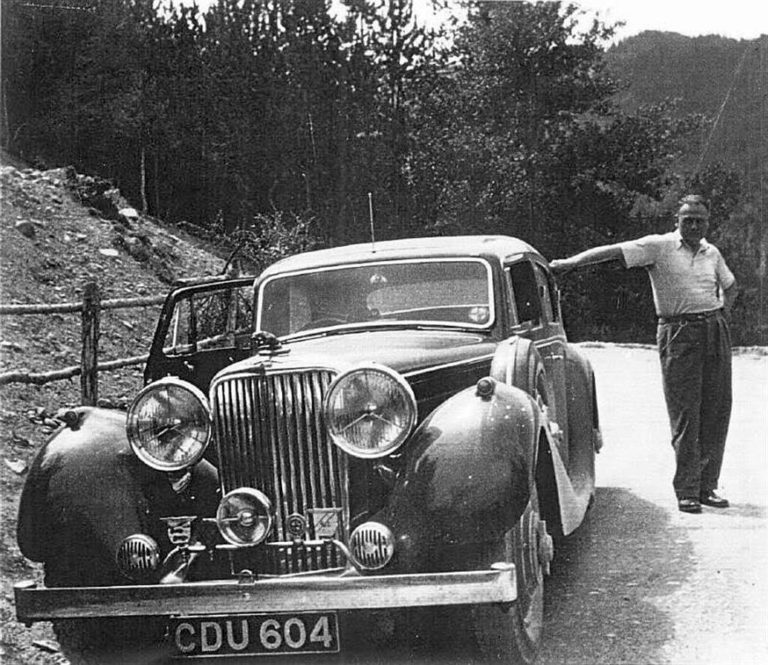 There is a well known photograph of Crosby taken with this car which must have been taken in 1938, or later, as it has a Jaguar Leaper fixed to the radiator cap which Crosby did not design until late 1937. Sadly Crosby's car no longer exists.
The painting is on display at the Collections Centre at the British Motor Museum.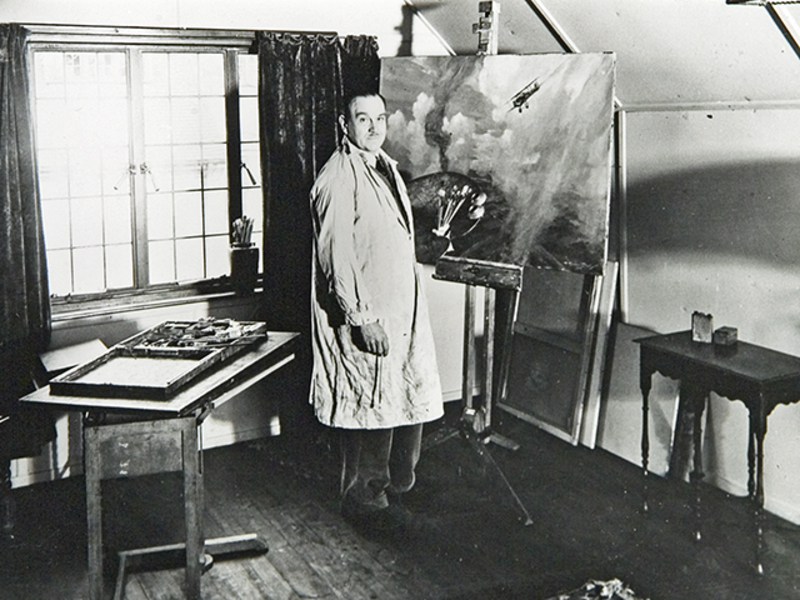 The Artist
Frederick Gordon Crosby, born in 1885, was an English automotive illustrator who worked for the magazine Autocar for most of his life. After the start of his professional career, he attended life classes at art school but aside from that, he had no formal training as an artist.
He started his career as a draughtsman in The Daimler Motor Company's drawing office in 1908 and that same year, at the age of 23, he moved to Autocar where one of his first jobs was to create a perspective drawing of the BTH magneto.
What he produced would later be termed an 'exploded view'. He is well known for his coverage of many of the great car races of the day, including Le Mans and the Monte Carlo Rally as well as the Alpine Rally. 
He best loved to illustrate the big, pre-World War One racing cars, which feature prominently in much of his work and his touring scenes reflect the atmosphere of the time. He made the transition from illustrator to artist and his creative and artistic ability raised his renderings of historic events into works of art while still retaining a high degree of technical accuracy. 
Many of his paintings were produced in gouache and oil paint, but most of his oil paintings are confined to works about wartime (WWI) aircraft. 
He exhibited at the Royal Academy three times, the first in 1916. Many of his paintings were featured on the front cover of Autocar but these were generally produced quickly in charcoal or crayon over a weekend so that they were ready for the Friday issue. For a long time Autocar held the originals in their archive although over the years many have been dispersed through a number of auction sales.  A large collection of his work is displayed at the first floor of the Louwman Museum in The Hague and from time to time both original works and prints still appear at auction.
In 1943 Crosby's eldest son, Peter, died in an aerial battle and unable to cope with this loss, Frederick Gordon Crosby committed suicide in August that year, aged just 58.
The Car
Crosby's car no longer exists but the JDHT does have a 1937 SS Jaguar 2½ litre saloon of similar specification. 
This car was used by William Lyons' wife, Mrs Greta Lyons (later Lady Lyons) for her own personal transport from 1937 until 1946. It was retained by Jaguar Cars with the intention of forming part of a future 'museum collection and is known as the Lady Lyons Car.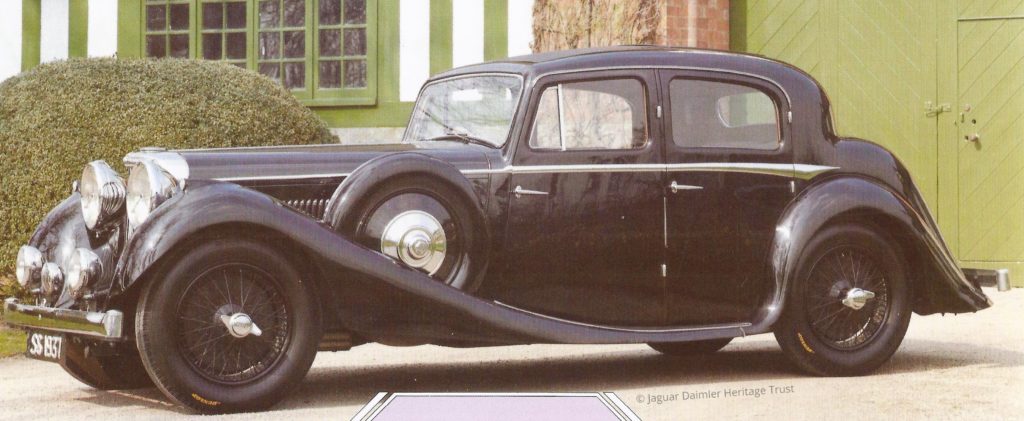 Click the button for more information on CDU 700: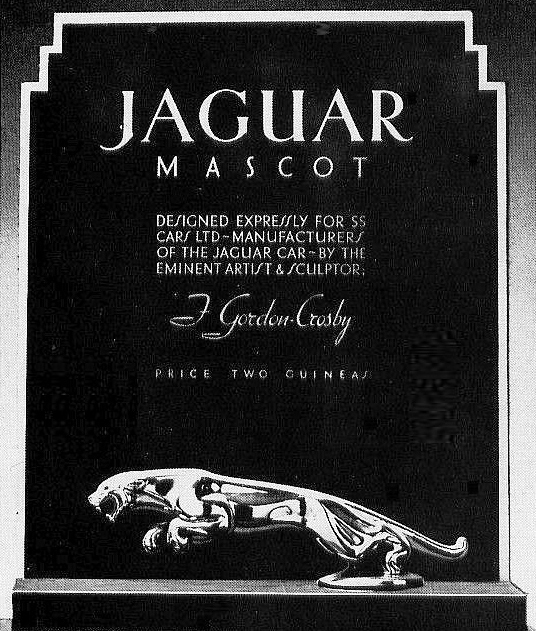 Additional Information
Crosby also worked as a sculptor producing plaques, medallions and sculptures. He is renowned in Jaguar circles for producing the first official Jaguar 'Leaper' mascot.   
William Lyons had seen a Jaguar car with a Desmo "Jaguar" mascot mounted on its radiator cap. He took an instant dislike to this describing it as 'like a cat shot off a fence'. The Desmo design was never sanctioned by the factory and Lyons commissioned Crosby to design an item that better suited his cars.
This was offered to the public from 1938 and stayed in production until 1951. Since then it has been subtly changed a number of times evolving into the current version.