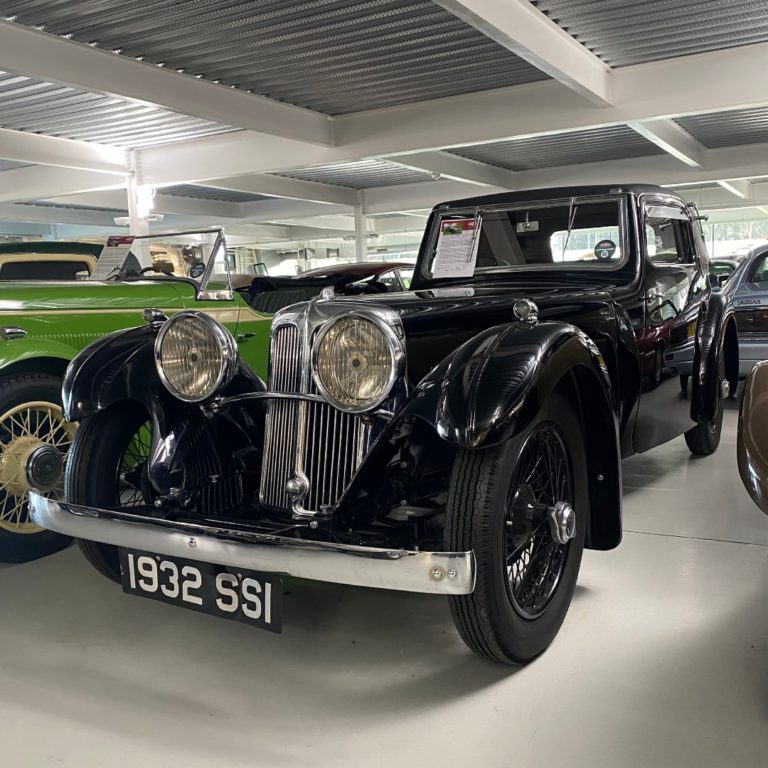 This car was originally delivered through Henlys in London and was bought by the Italian Prince Guido Pignatelli, Duke of Montecalvo (1906-67) from Naples and his first wife Princess Constance Wilcox Pignatelli. Constance was born in 1895, the daughter of a wealthy American lawyer, and was a familiar figure in New York high society. She married the Prince in August 1925, at the Wilcox family's summer estate Oakledge at Madison, Connecticut. The couple split their time between the USA and Europe, and must have bought the car during a stay in London, although it is believed that they also used it in Paris. It was laid up in 1953 and re-discovered in 1971 by a leading collector, who later sold it to the Jaguar Daimler Heritage Trust.
The SSI was the Swallow Company's first complete car. After having offered special bodies on chassis from other manufacturers since 1927, by 1931 Lyons wanted to become a car maker. He negotiated a deal with the Standard Motor Company who would supply a new special chassis, unique to Lyons' Swallow Company, as well as engines and other components. The result was the SSI car, launched in October 1931 in time for the London Motor Show, together with the smaller companion model called the SSII.
Lyons had wanted to build the car as low as possible, but when he was struck down with appendicitis during the development period, his partner William Walmsley raised the roof of the prototype, to provide adequate headroom! The result was still a striking looking car, the height of fashion at the time. The close-fitting helmet wings were a unique feature, found only on the first year's production of 500 cars. Similarly, the chassis which went above the rear axle was found only on this batch of cars. The 1933 models featured an underslung chassis, and flowing wing lines.
Priced at £310 with the 2 litre 16 hp engine, the SSI was labelled as 'the car with the £1000 look', and offered a top speed of 75 mph (120 km/h). A bigger 20 hp engine was available at extra cost. What did the initials SS really mean? Since Lyons had earlier used an 'SS' badge on the Swallow-bodied Standard, we may speculate that these initials were still supposed to mean Standard Swallow, or perhaps Swallow Special.
(Bought in 2003 with the aid of a grant from the PRISM fund)
Registration Mark: not road registered
Chassis Number: 135248
Owner: Jaguar Daimler Heritage Trust
Inventory Number: 140/J.84
Price when new: £310
Price: 110 Weeks Average Wage