1932 Wolseley Hornet Swallow Tourer WD 3790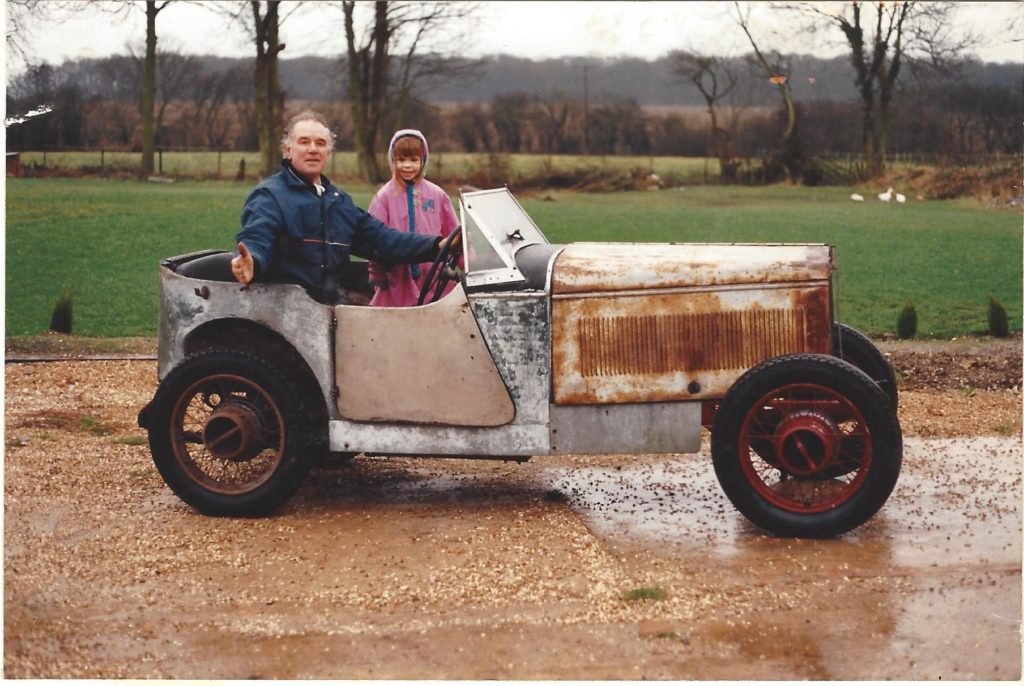 This car was found in a very sorry state in 1994 by Gavin Head who, understanding its importance as a Swallow bodied Wolseley, bought it and started its restoration. The picture shows Gavin's father and daughter in the car in the condition when he found it in 1994.
In 2003 the Jaguar Daimler Heritage Trust managed to convince Gavin to part with the car and finished the restoration to fill a gap in the history of the evolution of the Swallow cars.
The Wolseley Hornet and later the Hornet Special with Swallow bodies were a milestone in Swallow history. These were the first true sports cars that William Lyons of Swallow had offered, and were also his first six cylinder cars.
The Wolseley Company in Birmingham was one of the first British motor manufacturers, having built its first car in 1896.  
In 1927, Wolseley was taken over by the Morris Company, and in April 1930 launched the Hornet model. This was fitted with a small six-cylinder engine of 1,271cc with an overhead camshaft, and was based on the four-cylinder Morris Minor which had itself been a Wolseley design. The standard saloon body of the Hornet was also similar to that of the Morris.
The Hornet had excellent performance, coupled with refinement and flexibility, and quickly became popular. Soon a fashion started for fitting alternative more sporting bodies on the Hornet chassis, and in 1931 Wolseley introduced a special version of the Hornet, a chassis supplied exclusively to selected coachbuilders who finished it with many different types of sporting bodywork. In 1932, a twin-carburettor version of this car was added, the famous Hornet Special.
By this time, Swallow of Coventry was already one of the leading specialist coachbuilders on smaller chassis, and it was natural that Swallow should be supplied with Wolseley Hornet chassis. Two Swallow bodies were offered, a boat-tailed two-seater, and this four-seater costing £225 which was claimed to offer comfortable accommodation for four passengers. Both were very stylish and came in a wide variety of bright colour schemes. Production of these models was contemporary with the early SSI and continued until August 1933, later than any other Swallow-bodied car. Around 324 Hornets and 206 Hornet Specials were bodied by Swallow.
Registration Mark: WD 3790
Chassis Number: 105621
Owner: The Jaguar Daimler Heritage Trust
Inventory Number: 136/S.07
Price when new: £255
Price: 91 Weeks Average Wage