2015 Jaguar F-TYPE SVR Nurburgring 'Race Taxi'
A 575 bhp, 200 mph, version of the AWD F-TYPE SVR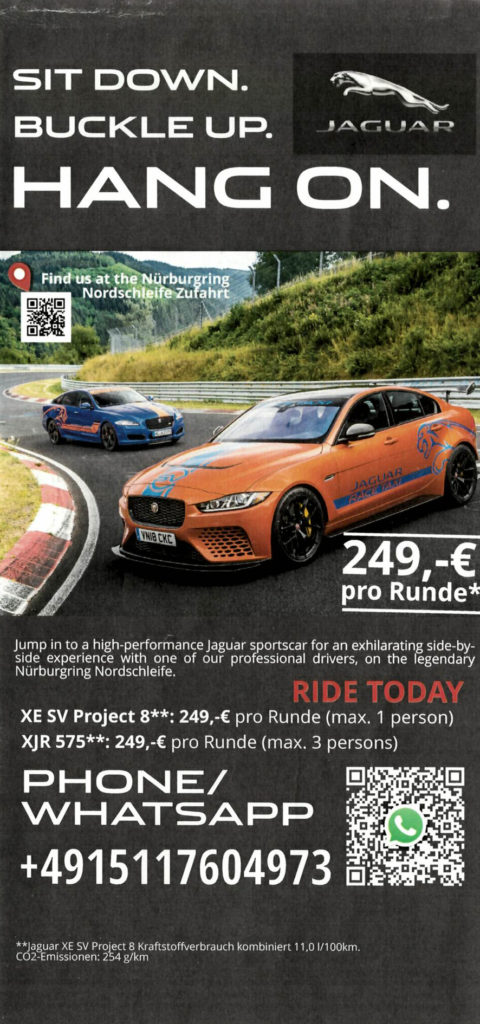 In May 2012 Jaguar announced that it would be offering passenger rides around the Nürburgring circuit in Germany, in an XJ Supersport, taking on the notorious BMW M5 'Ring Taxi'. Jaguar used a specially modified XJR Ring Taxi for the hot-laps based at the Jaguar engineering test centre near the Nürburgring. This was the ideal 'Ring Taxi' equipped with four race seats with full race harnesses and could carry a driver and 3 passengers round the 'Ring' in only 8 minutes and 30 seconds.
When the 'Ring Taxi' was retired in 2018, Jaguar replaced it with an XJR 575 saloon and this 575 hp Jaguar F-TYPE SVR.
This F-TYPE SVR started life as a 2017 Model Year, 'Tool Tryout' pre-production vehicle, built on 19 December 2015. It then went on to be developed by JLR Special Vehicle Operations (SVO) as a 200 mph, all-weather, supercar and is the pinnacle of the F-TYPE range. Powered by a 5.0-litre supercharged V8 engine with 575 PS and 700 Nm and benefiting from an enhanced chassis and driveline and active aerodynamics, the all-wheel drive F-TYPE SVR delivers supercar performance – in all conditions – and can accelerate from 0-100 km/h in just 3.7 seconds (0-60 mph in 3.5 seconds).
The interior was uprated for its role as a 'RACE TAXI' with the normal seats replaced by Recaro racing ones, equipped with full five-point race harnesses and a bespoke roll cage installed.
All you had to do was book a ride and part with €249 per lap and a professional driver would make sure you received the 'Taxi' ride of your life around the Nürburgring, complete with video to re-live the experience at home.
This car came to the Jaguar Daimler Heritage Trust when it was retired in 2019 and replaced by an XE SV Project 8 version of the Race Taxi.
The Jaguar F-TYPE SVR was the fastest production Jaguar ever, when launched in 2015, and Jaguar setup its first high speed test drive with Fast and Furious star Michelle Rodriguez at the wheel.  On a closed highway in the Nevada desert, home to the world's fastest road race, the Silver State Classic Challenge, the actress pushed the car to its top speed with the speedometer indicating 201 mph.
Registration Mark: Not UK Registered
Chassis Number: SAJAJ6844HMK34160    
Owner: Jaguar Daimler Heritage Trust