2017 Jaguar XE Project 8 Development Prototype VE67 OHR
Project 8 was announced in May 2018 as the 'World's Fastest Saloon' based on the Jaguar XE, with 600 PS from a 5.0 litre Supercharged V8 engine and is the most powerful, road legal, Jaguar in history. Total production was limited to 300 cars worldwide, each one hand-assembled at the SVO Technical Centre in Warwickshire, England. Available in either 'two-seat – Track Pack' version or a 'road-biased four-seater' – both exclusively available in left hand drive.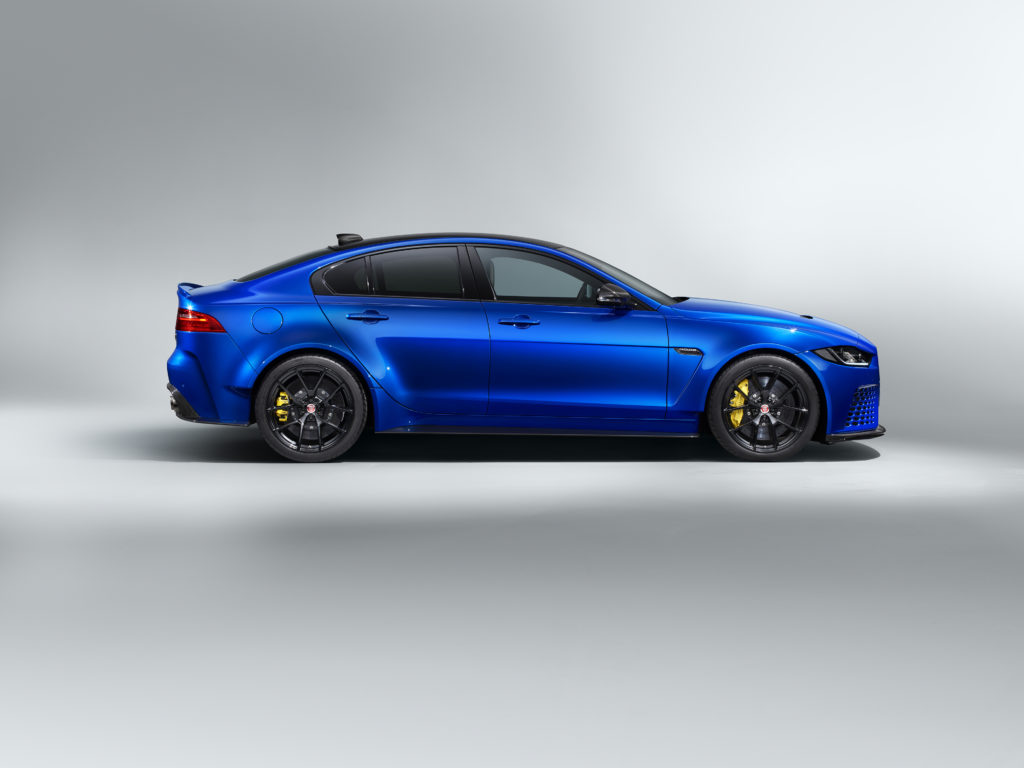 Prototype versions were tested at proving grounds across Europe including the Nürburgring Nordschleife achieving the fastest lap ever for a 4 door saloon car on the Nordschleife at 7 min 18.4 seconds. Project 8 also holds saloon car records at Laguna Seca (USA) and the Dubai Autodrome which means it holds records on three continents.
This car has had a fairly busy life as a development car, used for a whole series of engineering work and was then used at the Press Launch of the Project 8 at Portimao in Portugal in May 2018. It was used to develop the lower profile spoiler for the 'Touring Pack' which was announced on 5 June 2019. Only 15 Project 8 vehicles with the Touring Pack were made, all in the four-seat configuration.
Engineering development work carried out includes:
Emissions certification
Electrical integration sign off – including parking sensor tuning
Static part fitment trials
Wind tunnel aerodynamic development at FKFS Stuttgart
Fume ingress testing at Millbrook
NVH (Noise Vibration and Harshness) exhaust development and sign off
Press launch at Portimao, Portugal- used on track by 30+ journalists over 10 days, completed 1,800 miles of hard track work
Transmissions sign off
Vehicle dynamics sign off for CVD (Continuously Variable Damping) and EPAS (Electric Power Assisted Steering) – in both track and normal modes
High speed stability and SCS (Stability Control Systems) covering Traction Control, Anti-lock Brakes System and Intelligent Driveline dynamics for both dry and wet handling
Touring Pack (lip spoiler) sign off
Registration Mark: VE67 OHR  
Chassis Number: SAJAA4BE0KSX05407 
Owner: Jaguar Daimler Heritage Trust  
Inventory Number: 213/J.149